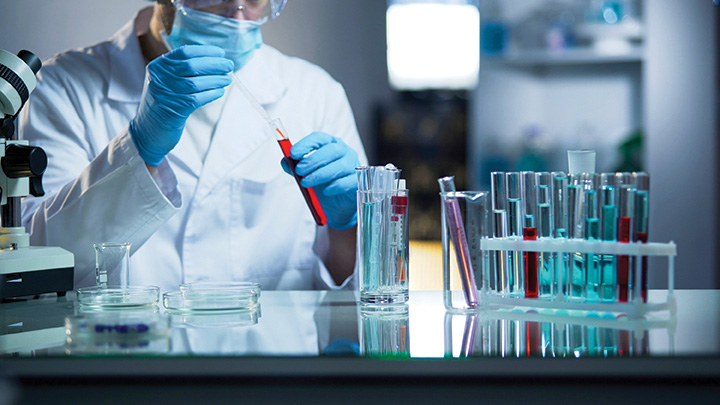 As endocrine science continues to be at the forefront of medical research, a wide array of treatment options, therapies, and products has been discovered. For the second year in a row, Endocrine News has compiled 2017's newest items to treat a variety of endocrine disorders.
As the Endocrine Society wrapped up its first century in 2016, the first year of the Society's next century was not without its share of medical breakthroughs in both research and science (see Eureka!) but also in new products, breakthroughs, and teamups that made waves in 2017.
Potential Breakthrough for Thyroid Cancer Patients
A next-generation test is showing promising results in changing thyroid cancer diagnoses, allowing more patients with indeterminate thyroid nodules to avoid unnecessary surgeries, as this new version can more clearly distinguish between benign and malignant thyroid nodules. This test, developed by Veracyte, is an upgrade of the company's Afirma Gene Expression Classifier. Veracyte calls this new development the Afirma Genomic Sequencing Classifier (GSC), as it combines Ribonucleic acid (RNA) sequencing and machine learning to leverage more enriched, previously undetectable genomic information.
"We are employing the same statistical methods that are being used in other fields such as social media and self-driving cars, but applying them to thyroid cancer diagnosis," says Endocrine Society member Giulia C. Kennedy, PhD, Veracyte's chief scientific officer. "Our approach uses RNA sequencing to interrogate the entire genome, and takes advantage of newer methods in machine learning to combine valuable features that provide a higher-resolution genomic picture of thyroid nodules. This enables the Afirma GSC to recognize nuances that distinguish benign from malignant nodules and which were previously not detectable."
Increasing the number of benign nodules identified is "important because increasing the number of benign nodules directly translates to patients avoiding unnecessary surgeries," Kennedy says. "The more you call benign, the more potential unnecessary surgeries you save. Before Afirma, [unnecessary surgeries were] a huge problem. The Afirma Gene Expression Classifier, or GEC, was the very first genomic test that actually helped solve much of that problem, and now our data suggest that the Afirma GSC — the nextgeneration version — is going to save even more surgeries. Before Afirma, people with indeterminate nodules from fine-needle aspiration cytopathology had about a 25% risk of having cancer. Therefore, doctors didn't feel comfortable leaving those nodules in the patient. Even though it's only a 25% risk, they would go on and have surgery, and of course, 75% of those patients would have benign nodules. So, when Afirma came on the market, our test allowed 52% of those patients to be spared an unnecessary surgery. And now this [enhanced] test has improved upon that by using some very sophisticated technology, both on the assay side and the algorithm side to raise that to 68%, which means that even more patients can safely avoid a surgery. The important word is 'safely.' You need a very high sensitivity and a high negative predictive value, or NPV, in order to make sure that those patients you're calling benign are actually benign. The Afirma GSC has a fantastic NPV and high sensitivity like the first test."
Positive Results for Short Course Therapy to Reduce Fractures
Radius Health this year announced positive results from the ACTIVExtend Trial, during which patients who had completed 18 months of abaloparatide or placebo in the ACTIVE Phase 3 trial were transitioned to receive 24 additional months of openlabel alendronate. Patients who received this sequential therapy demonstrated statistically significant fracture risk reductions through 3.5 years.
"We showed over this entire 43-month trial, in the group that received abaloparatide followed by alendronate an 84% reduction in new vertebral fractures, a 39% reduction in non-vertebral fractures, and major osteoporotic fractures were reduced by 50% compared to the group that got placebo followed by alendronate," says Endocrine Society member Felicia Cosman, MD, osteoporosis specialist and medical director of the Clinical Research Center at the Helen Hayes Hospital, senior clinical director of the National Osteoporosis Foundation, professor of medicine at Columbia University, who is a consultant to Radius, and lead investigator of the trial. "What's really exciting about these findings is that they show just how dramatic a benefit you can get with a short course — one and a half years — of a potent, bone-building therapy. If we could identify patients who are at high risk of fractures, based on their fracture history or their bone density, we could make a very big difference in their long-term fracture risk by starting with abaloparatide and then antiresorptive therapy."
Blood Glucose Monitoring System Improves Glycemic Control
Two journal articles published this past year showed that the OneTouch Verio Flex blood glucose monitoring system, especially when used with OneTouch's Reveal® mobile app, was associated with significant improvements in glycemic control. In a study published in the Journal of Diabetes Science and Technology, leading experts in self-monitoring of blood glucose tested the OneTouch Verio Flex blood glucose monitoring system and found that the "new system showed a high level of measurement accuracy." All three lots tested met and exceeded the minimum requirements of the International Organization for Standardization 15197:2013 standard for system accuracy. This study follows the publication of another study in the April issue of this same journal that detailed the OneTouch Verio platform's seven years of proven accuracy across more than 70,000 clinical data points.
Another study published in the August issue of JMIR Diabetes randomly assigned 128 adults with sub-optimally controlled type 1 and type 2 diabetes based on A1c into two groups: One group switched from their current blood glucose monitoring meter to the OneTouch Verio Flex blood glucose monitoring system; the other group switched from their current meter to the OneTouch Verio Flex blood glucose monitoring system combined with the OneTouch Reveal mobile app. (The OneTouch Verio Flex blood glucose monitoring system has built-in Bluetooth® Smart Technology that wirelessly connects and transmits results to the OneTouch Reveal mobile app.) Those who were in the OneTouch Reveal mobile app group also received texts from a healthcare provider every two weeks, based on a review of OneTouch Reveal data.
Results suggested improved glycemic control at 12 and 24 weeks in both the meter-only and meter-plus-mobile-app groups compared to baseline, further finding that:
88% of the study subjects said the Color Range Indicator on the OneTouch Verio Flex blood glucose monitoring system together with the OneTouch Reveal mobile app "could help me stay on track between visits to my healthcare provider;"
Improvements using the app were greatest in the participants with type 2 diabetes and those who received the highest number of healthcare provider text messages.
New Hope for Pancreatic Cancer Patients
Following compelling early pancreatic cancer data using MRIdian, an MRI-guided radiation therapy system, ViewRay has launched a multi-center prospective clinical trial for locally advanced unresectable pancreatic cancer. The novel abilities provided by live MR guidance combined with daily online treatment adaptation have potentially enabled a new approach in pancreatic cancer therapy. Through this trial the group looks to explore new opportunities to improve survival and quality of life for this deadly disease.
One particular impetus for the trial was compelling early results presented as part of the scientific sessions at the American Society for Radiation Oncology (ASTRO) annual meeting. The poster, titled "Higher Maximum Biologic Effective Dose Utilizing Adaptive MRI Guided Radiation Therapy Improves Survival of Inoperable Pancreatic Cancer Patients," provided a retrospective review of 42 locally advanced pancreatic cancer patients treated at four institutions (Washington University, UCLA, University of Wisconsin, and VUmc). The study found that stereotactic dosing regimens guided by MRI and daily online adaptation had led to significantly prolonged patient survival and resulted in favorably low toxicity.
"Based on compelling early evidence on the use of MRIdian to treat locally advanced pancreatic cancer, we are eager to further explore the system's capabilities and associated toxicity, local control and patient outcomes," says Parag Parikh, MD, associate professor of Radiation Oncology at Washington University and lead investigator of the trial. "We believe MRIdian's excellent real-time visualization of organs at risk within the abdomen and its daily treatment adaptation will allow us to deliver higher, more effective doses to the target while minimizing impact on the normal surrounding tissue. The findings of this study could truly change the standard of care for many pancreatic cancer patients."
New Technology May Prevent or Reduce Pediatric Type 1 Diabetes
IBM and JDRF announced a new collaboration to develop and apply machine learning methods to analyze years of global type 1 diabetes research data and identify factors leading to the onset of type 1 diabetes in children. IBM scientists will look across at least three different data sets and apply machine learning algorithms to help find patterns and factors at play, with the goal of identifying ways that could delay or prevent type 1 diabetes in children. In order to match variables and data formats and compare the differing data sets, the scientists plan to leverage previously collected data from global research projects. Data analysis will explore the inclusion of genetic, familial, autoantibody, and other variables to create a foundational set of features that is common to all data sets. The models that will be produced will quantify the risk for type 1 diabetes from the combined data set using this foundational set of features. As a result, JDRF will be in a better position to identify top predictive risk factors for type 1 diabetes, cluster patients based on top risk factors, and explore a number of data-driven models for predicting onset.
"At JDRF, we are absolutely committed to seeing a world without type 1 diabetes, and with this partnership, we're adding some of the most advanced computing power in the world to our mission," says Derek Rapp, JDRF president and CEO. "JDRF supports researchers all over the world, but never before have we been able to analyze their data comprehensively, in a way that can tell us why some children who are at risk get type 1 diabetes and others do not. IBM's analysis of the existing data could open the door to understanding the risk factors of type 1 diabetes in a whole new way, and to one day finding a way to prevent type 1 diabetes altogether."
New Test Could Improve IVF Outcomes
The ReceptivaDx test seeks to help in vitro fertilization (IVF) centers and other healthcare providers identify barriers to implantation, including one of the key underlying causes of unexplained infertility — endometriosis. Current diagnostic techniques for endometriosis require the use of laparoscopy, an invasive and expensive surgical procedure. With the introduction of the ReceptivaDx assay, endometriosis can be identified quickly and cost effectively using an endometrial biopsy sample collected during a routine office visit. Early detection of endometriosis can help guide treatment for IVF centers, ensuring higher success rates and alleviating the financial and emotional burden of a family attempting to conceive.
"ReceptivaDx is a breakthrough test and provides a unique, enhanced screening opportunity in women with unexplained infertility and unidentified causes of implantation failure," says Endocrine Society member Bruce Lessey, MD, PhD, MS, a pioneer in reproductive medicine and related research, and a scientific advisor for CiceroDx.
Promising Results for Diabetic Macular Edema Patients
SciFluor Life Sciences, Inc., announced positive top-line data from its Phase 1/2 study of SF0166, a topical ophthalmic solution for diabetic macular edema (DME) patients and hopes to advance the product into a Phase 2 trial.
The Phase 1/2 study assessed the safety and preliminary efficacy of SF0166 in 40 patients with DME who were randomized to one of two dose strengths (2.5% and 5.0% solutions) self-administered by patients as an eye drop twice-a-day for 28 days, with a 28-day follow-up period. Results from a trial of SF0166 in patients with age-related macular degeneration (AMD) remain pending.
The primary outcome measure of safety was achieved with no drug-related serious adverse events observed in the study throughout the 28-day course of treatment as well as during the 28-day follow-up period. Ocular adverse events were recorded in the treated eyes of six patients. All events were mild in severity, with one considered possibly drug-related.
SF0166 demonstrated biological activity in both patient groups (2.5% and 5.0% solutions), with 53% of the evaluable patients demonstrating a reduction in retinal thickness (RT), and improvements in visual acuity were also recorded. Durability of RT response to the 28-day course of therapy was observed during the month after discontinuing treatment.
There were no significant decreases in visual acuity in study eyes during treatment or follow-up and no patient required rescue treatment with an anti-VEGF injection during the treatment phase. Regular anti-VEGF injections to the eye represent current standard of care for DME (and AMD). Based on these outcomes, SciFluor has decided to proceed to Phase 2 trials for SF0166.
_________________________________________________________________________________
And new advancements continue to be made, even as this article goes to press, meaning ever-improving therapies so patients can lead healthier lives. Wonder what's in store for 2018.