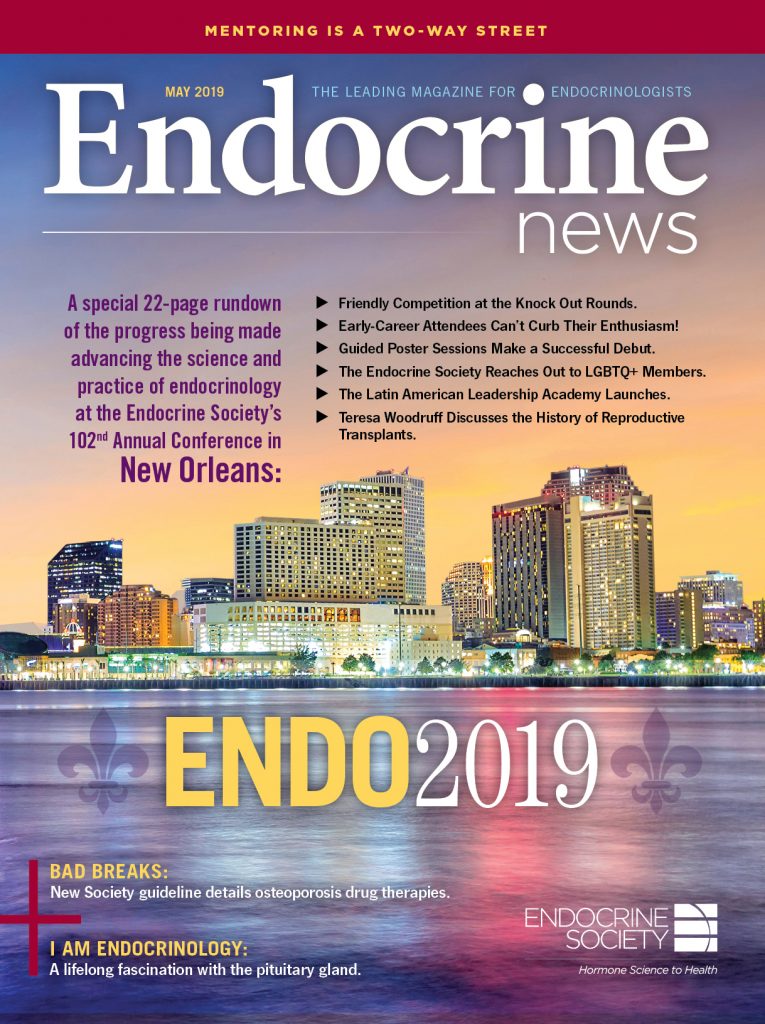 [Editor's note: This post has been updated to include the great work of Knock Out Rounds third place winner Loize Marechal, MSc, a PhD student at the University of Montreal, who presented her study on how a sub-optimal womb environment can affect metabolic health.]
Scientists and clinicians descended upon the Crescent City in anticipation of being a part of the biggest endocrinology meeting in the world. From the latest research to the newest patient therapies, ENDO 2019 had something for everyone, all set against the backdrop of one of the country's most culturally rich cities.  
Depending on whom you ask, New Orleans is the birthplace of modern music or the perfection of modern cuisine, a city defined by its diversity, an amalgam of styles equal to more than the sum of its parts, making it the perfect setting for a meeting like ENDO. The 101st annual meeting of the Endocrine Society once again displayed what makes this event unique – just as jazz combines the musical stylings and gumbo the culinary practices of several cultures, ENDO brings together the best from all corners of endocrinology, where physicians and researchers can share their work and connect with other endocrinologists who may not work in their subspecialties.
And collaboration seemed to be the theme this year. On Monday, March 25, the penultimate day of the meeting, Cori Bargmann, PhD, of The Rockefeller University in New York and the Chan Zuckerberg Science Initiative, gave a plenary talk titled, "Accelerating Science through Technology and Collaboration," which focused on the importance of supporting collaboration among scientists from disciplines with a goal of curing, preventing, or managing all diseases by the end of the century. That may seem like a tall order, but as Bargmann says, "Insulin didn't exist 100 years ago, so it's not an unrealistic goal when you consider how far medicine has come." (Read more about Bargmann and the work the Chan Zuckerberg Science Initiative is doing in a future issue.)
Knockout Rounds: Friendly Competition
Collaboration among peers, of course, is always welcome and encouraged. But there's also room at ENDO for a little friendly competition. Take the innovative and ever-popular Knockout Rounds – during which "contestant" endocrinologists have three minutes and one slide to present their work to a standing-room-only audience. And again, these rapid-fire presentations cover a variety of endocrine topics, from gestational diabetes to gene mutations to pituitary dysfunction.
"It was very challenging to summarize everything we have worked on and learned in the past two years into such a short presentation," says Juanita Hodax, MD, a pediatric endocrinologist at Seattle Children's Hospital, who won first place in the Knockout Rounds for her work on the role of aggrecan in cartilage development. "While working on this research day-to-day, I have focused so much on the details of each experiment, the results, and analyzing the data. It was a nice change to take a step back and think more about the clinical relevance of the project in the big picture."
Hodax and her team have found that aggrecan has additional functions within cartilage that had previously not been determined. Hodax says she was inspired too look at how aggrecan affects a child's growth and development after one of her mentors diagnosed a patient with an aggrecan mutation a few years ago. "At the time, this was only the fourth family found to have this mutation," she says. "Compared to other patients we evaluate for short stature, the most remarkable finding in patients with aggrecan mutations is that their bone age x-rays are often advanced compared to their chronological age. After taking care of this patient and learning more about the function of aggrecan, we wanted to look further into how aggrecan deficiency affects the growth plate in ways that could cause this advanced bone age."
And while these novel findings could provide some optimism for children and their families with aggrecan mutations, Hodax says there's still work to be done. "Aggrecan is an extracellular matrix molecule, and the extracellular matrix has some role in cell signaling but we still have to determine the exact mechanism of aggrecan's role in this," she says. "We still have a lot to learn before we have information that can affect the treatment and clinical outcomes of patients with aggrecan mutations."
Rachel Gonzalez, a graduate student in the Neuroscience Program at the University of Illinois at Urbana-Champaign won second place for presenting her team's work studying the influence of gestational diabetes on tancytes and how those cells affect metabolic health. She explains that prior data indicated that tancytes had the potential to alter the function of the arcuate nucleus in response to dietary changes, partially through their role as an adult neurogenic pool and partially through their physiological function. "We combined knowledge of this prior research with an interest in the poorly understood question of cause and effect between GDM growth environment and obesity outcomes and tried to push further into whether they were related," Gonzalez says.
Gonzalez and her team examined three potential mechanisms by which gestational diabetes could affect the hypothalamus – tancyte proliferation, insulin signaling, and microglial activation – and found that being born to a mother with gestational diabetes results in alterations to the cell population in the median eminence, which can lead to disordered feeding and obesity. "Given how broad and multi-factorial the question of maternal context is, we certainly still have room to dig further," she says. "At this point it is difficult to be prescriptive. However, our current findings, in particular regarding the altered physiological function of the tanycytes and the change in proliferation in the median eminence, would suggest that the issue is in how GDM sets up the organism's ability to accurately respond to and communicate information about the nutritional state to the brain. Without accurate signaling about the body's needs, the hypothalamus can't fully function as necessary and this could lead to the development of obesity."
Gonzalez credits her mentor, Lori Raetzman, PhD, with the success of her Knockout Rounds presentation, especially in the initial stages of clarifying the scope of the work and the resolution expected. "When communicating science for broader consumption, it's so important to highlight the salient points while not insinuating that the question isn't complicated," Gonzalez says. "The style was a fun challenge. I really like design and thinking about how design serves communication, but I haven't had many opportunities to test that skill. I've joked with friends that practicing the talk felt like watching videos of people attempting skateboarding tricks; with each attempt to get it right, there are small shifts in performance and you try so hard to remember the exact right moves to pull it off and when you make a mistake, you just start over again until it works. It can feel tedious, but sticking the landing is exciting."
Loize Marechal, MSc, a PhD student at the University of Montreal, took home third place for presenting her team's work on how a sub-optimal womb environment can affect the metabolic health of the child later in life. She and her team point out that in-utero growth restriction (IUGR) is an immediate outcome of a sub-optimal womb environment; the fetus cannot reach its full growth potential. "Even though in-utero growth restriction is a quite common condition, the molecular mechanisms underlying the metabolic consequences are poorly known," Marechal says.
Marechal and her team developed an animal model to study these consequences and showed that an isocaloric, low-sodium diet during gestation reduced maternal blood volume expansion, causing poor placental perfusion, low placental weight, and subsequent IUGR in offspring. Adult offspring exhibited an increase in blood pressure and adult females showed remodeling of cariomyocytes, suggesting metabolic changes in cardiac function. "In this study," the authors write, "we address whether the IUGR-induced stress leads to metabolic changes in fetal cardiomyocytes to adapt their energy-production process and lipid utilization."
The researchers' findings suggest the fetal IUGR cardiac cells may rely more on the use of lipids as an energy source, a shift that normally occurs in the neonatal life to adapt to the extra-uterine environment. "Therefore, our findings suggest that adaptation to an altered placental perfusion results in an early cardiac metabolic remodeling that might predispose individuals to metabolic disorders later in their life," the authors conclude.
"For as long as I can remember, I have been fascinated by the process behind the development of a new living being, and the associated complications," Marechal says. "After doing my master's degree about male infertility, pursuing my PhD on long-term consequences of feto-maternal interactions suited me perfectly."
One of the reasons the Knockout Rounds are such a hit, aside from the diversity of the research presented, is the fact that it's a wholly interactive session. And while Hodax won first place, Gonzalez second place, and Marechal third place based on the judges' votes, Carlos Perez-Kerkvliet an MD, PhD student at the University of Minnesota Medical School, won the "People's Choice award," based on the tallies from the audience members. He presented research on the role of glucocorticoid receptors in triple-negative breast cancer (TNBC).
Perez-Kerkvliet explains that while glucocorticoid receptor expression is indicative of good prognosis in luminal breast cancer, it means poor prognosis in TNBC, so he and his team wanted to elucidate the reason behind this dichotomy. "We hypothesize that post-translational modifications (i.e., changes to the receptor that change its structure and function) of the glucocorticoid receptor modify its behavior, thereby promoting advanced cancer phenotypes in TNBC," he says.
Perez-Kerkvliet and his team identified the glucocorticoid receptor pS134-GR and the scaffolding protein 14-3-3zeta as therapeutic targets in patients with TNBC, a promising finding for suffering from this cancer. "We have identified a gene-signature that could be paired with existing diagnostic tools to better predict prognosis in each patient," Perez-Kerkvliet says. "Using that information, clinicians will be able to tailor the treatment for TNBC patients. Additionally, we could also target the pS134-GR directly now that we know it mediates migration of cancer cells and consequently metastasis."
As for the Knockout Rounds themselves, Perez-Kerkvliet says he got a lot of support from his colleagues and principal investigator, who listened to his presentation and provided input. "I really liked the end-result of my presentation," he says. "However, what I enjoyed the most from the [Knockout Rounds] was listening to the amazing research that is being done by my endocrinology colleagues."
Guided Poster Sessions
New to ENDO this year were the Guided Poster Sessions, similar in design to the Knockout Rounds – three minutes and one slide to present research – but there was no competition among the presenters, and the different endocrine topics were spread out across the expo floor. Crowds gathered in front of digital posters on flat-screen monitors at different locations to listen to presentations on obesity, reproductive endocrinology, pediatric endocrinology, steroid hormones, and many more.
"My overall experience of guided poster sessions was excellent, from preparation to presentation," says Yuanjie Mao, MD, PhD, of the University of Arkansas for Medical Sciences in Little Rock, who presented his team's work examining the effects of continuous positive airway pressure (CPAP) treatment on weight loss on patients with obesity and obstructive sleep apnea (OSA). "It gave me the opportunities to highlight the key points of my study, to increase exposure to audiences, and to have interactions with experts and people all over the world who are very interested to this field."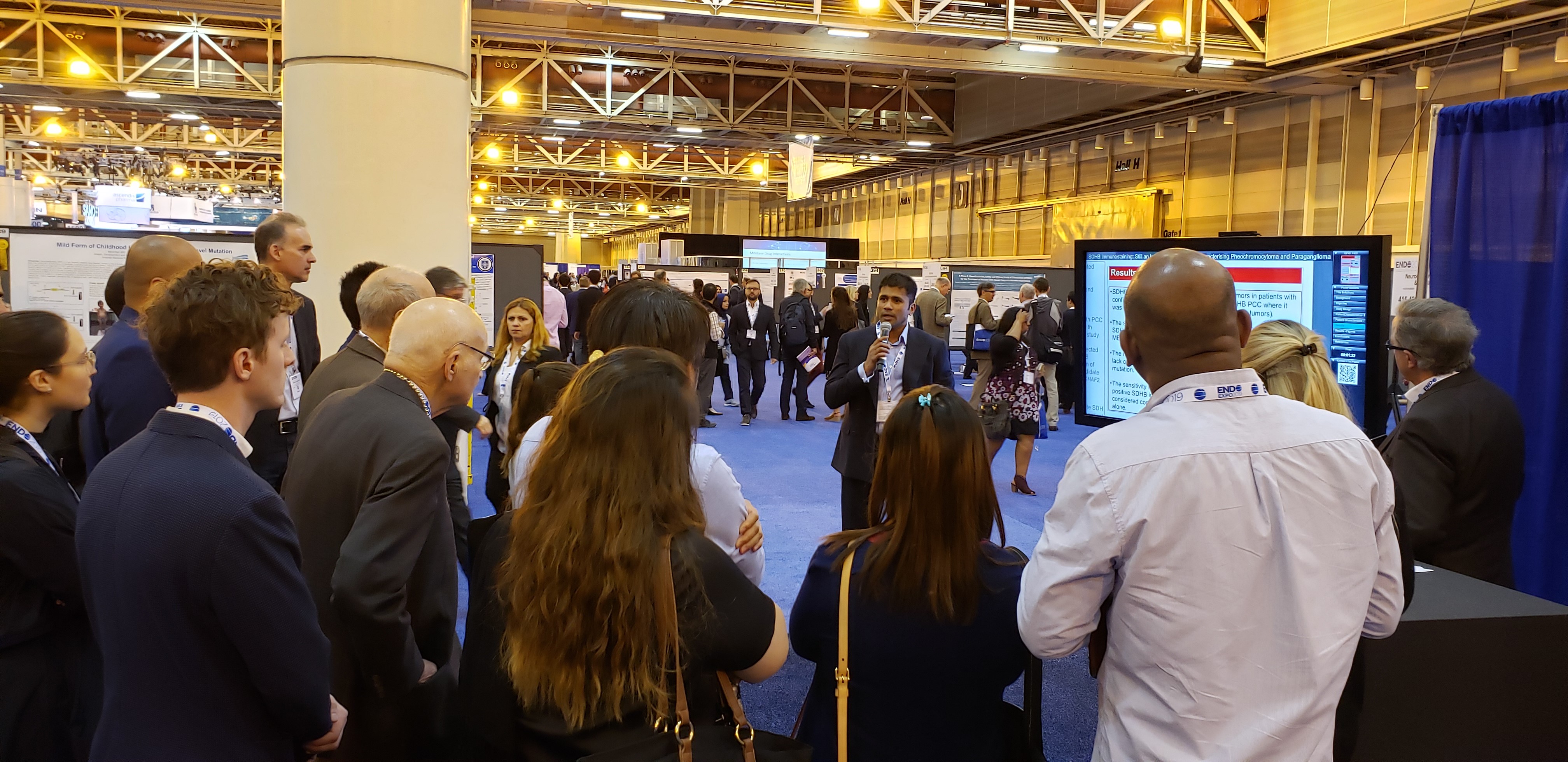 Mao says there very complex interactions among obesity, OSA, and their treatments, and at the weight loss clinic where he treats patients, many of them come in with the same question: Should I start CPAP treatment right away or should I wait to lose weight first?  "When I went back to search the answer in the literature, there were conflicting results regarding the impact of CPAP to weight loss," Mao says.
OSA causes weight gain due to decreased physical activity during the daytime and neuroendocrine hormonal changes like leptin resistance and the release of extra ghrelin. CPAP therapy has been shown to reverse these mechanisms. "However, without strict dietary management, a prior large-scale study showed that CPAP treatment for OSA patients can cause mild weight gain in the long term, such as one to two pounds in six months," Mao says. "There was no evidence of the impact of CPAP treatment on weight loss in patients with strict dietary management. I was then thinking to do a study to investigate the impact of CPAP treatment on weight loss in patients with strict dietary management."
Mao and his team found that for obese patients with OSA, CPAP treatment helps the weight loss in a 16-week weight-loss program mainly through a low-calorie restriction to 800 Kcal/day. The study suggests that a combination of CPAP and weight loss program should be considered for these patients to facilitate weight loss. "In terms of our study results, now we can discuss with them about starting CPAP treatment right away along with the weight loss program to facilitate weight loss," Mao says. "My approach will be starting CPAP treatment with weight loss at the same time, and if they successfully lost weight and improved OSA symptoms, then reassess them to see if we could discontinue the CPAP treatment at that time."
One of the great things about endocrinology is that even if the research falls under the umbrella of obesity, the approaches can be vastly different. For instance, in the same Guided Poster Session with Mao, Amanda Leiter, MD, of the Icahn School of Medicine at Mount Sinai in New York, presented her team's work looking at the role of obesity in immune-related adverse events (irAEs) in people on immune checkpoint inhibitor (ICI) therapies used for treating cancer. "As a medicine resident and endocrine fellow at Mount Sinai, I have increasingly seen patients with immune complications from immune checkpoint inhibitor therapy," Leiter says. "As obesity tends to increase inflammation, I thought it would be an interesting question to see if obese patients would be at increased risk of immune-related adverse events from ICI therapy."
Leiter and her team retrospectively collected clinical data from the Mount Sinai Data Warehouse for 398 cancer patients with baseline BMI data who received ICI therapies between January 2011 and April 2017. They found that patients with higher BMI were more likely to have a preexisting autoimmune diseases and higher BMI was significantly associated with irAEs. The researchers conclude that being overweight or obese was associated with irAEs in patients on ICI therapy.
"As immune-related adverse events are very common and lead to significant patient morbidity, identifying risk factors for developing these adverse events is crucial," Leiter says. "If we can identify a subset of patients that are more likely to develop side effects, this may inform how we monitor subsets of patients on ICI therapy. I am very interested in the mechanisms linking obesity and cancer, such as how obesity changes the tumor immune microenvironment and the inflammatory signaling pathways in other organs."
But again, these Guided Poster Sessions weren't just about presenting, but listening and digesting the work of peers in the field, and this new ENDO feature seems to have provided a way to do just that effectively and efficiently. "As an audience member, I enjoyed the presentation format of highlighting portions of the poster, rather than going through a slide deck," Leiter says. "The hardest part of preparing the presentation was keeping everything to three minutes. It was a good exercise in figuring out the highlights of the poster and how to present the key points as succinctly as possible."
All Work and No Play…
For these attendees delivering rapid-fire presentations to endocrine luminaries and early-career fellows alike, ENDO could prove to be a stressful time, but New Orleans always provides the perfect opportunities to step back and relax. ENDO is about the latest work in endocrinology, the most groundbreaking innovations and their possible implications, but there's a reason New Orleans's unofficial motto is Laissez les bon temps rouler.
"I was so excited to be a part of ENDO this year," Hodax says. "I went to many informative sessions and I had a great time exploring New Orleans afterwards. I love Southern food and all the seafood in New Orleans; my favorite restaurant this week was Herbsaint."
"My favorite session is the Laureate Award recipients' speeches. They were short biographies telling the frustration, hardworking, perseverance, inspiration, and eventual successes," Mao says. "My colleagues and I went to a very good sushi restaurant called Miyako Hibachi & Sushi Bar. The Hibachi chef is hilarious and quite entertaining. The miso soup and ginger salads are worthwhile and are included in the lunch combos. I would definitely recommend giving it a try."
"The ENDO meeting provided a great opportunity for the endocrinology fellows, internal medicine residents, and medical students from Mount Sinai to present our research, and discuss our work with national and international experts," Leiter says. "I really enjoyed the food in New Orleans. My co-fellows and I wandered close to the convention center to Cochon Butcher, where we had the most delicious late afternoon snack."
"I appreciated the quality of the plenary session talks, and of course, poster sessions are always a hit for me, to meet and share results with other attendees," Marechal says. "When it comes to restaurants, I enjoyed breakfasts in Two Chicks Café, two steps from the Convention Center!
"Part of why I really value ENDO is that I hope to continue to pursue health-based questions for the rest of my career and the Endocrine Society provides such an important venue for cross-communication between clinicians and basic scientists," Gonzalez says. "Clinicians need basic scientists to inform their practice and basic scientists can gain so much direction from looking to the issues clinicians encounter. Hearing talks from both groups drove home the potential for my work to make a real difference in the health of others.
"Another highlight was that each year at ENDO, my mentor's post-doctoral mentor organizes a dinner for those who came from her lab and those who came from their labs. It emphasizes how we all participate in a network of researchers who provide scientific and social support as we move through our careers."