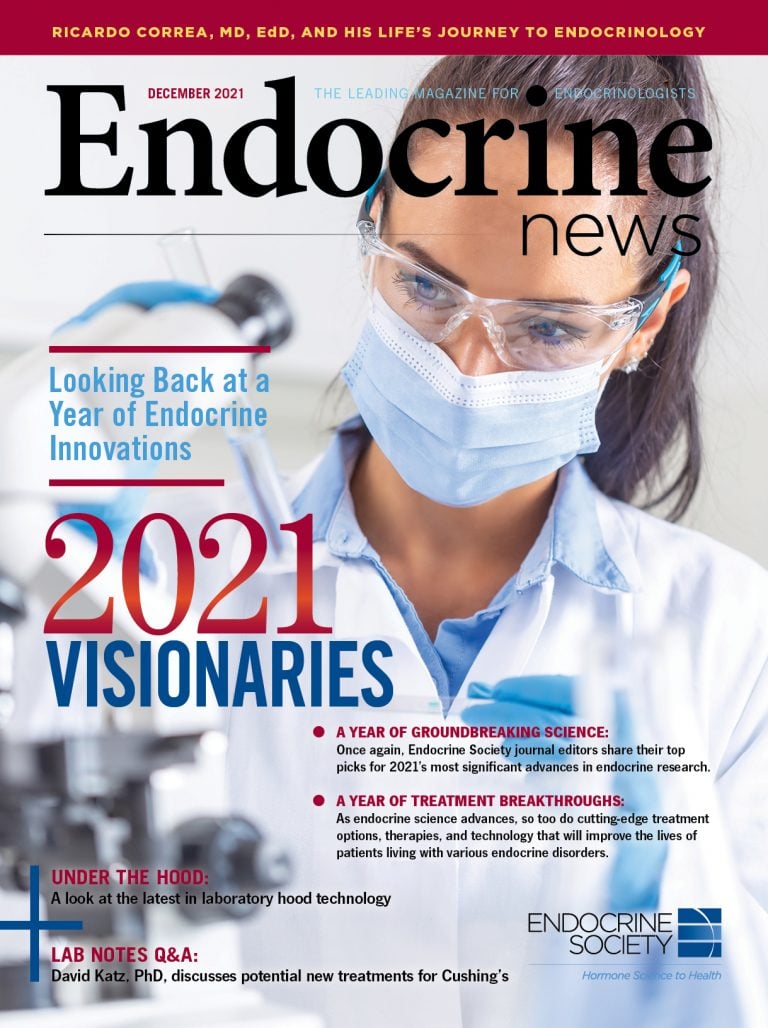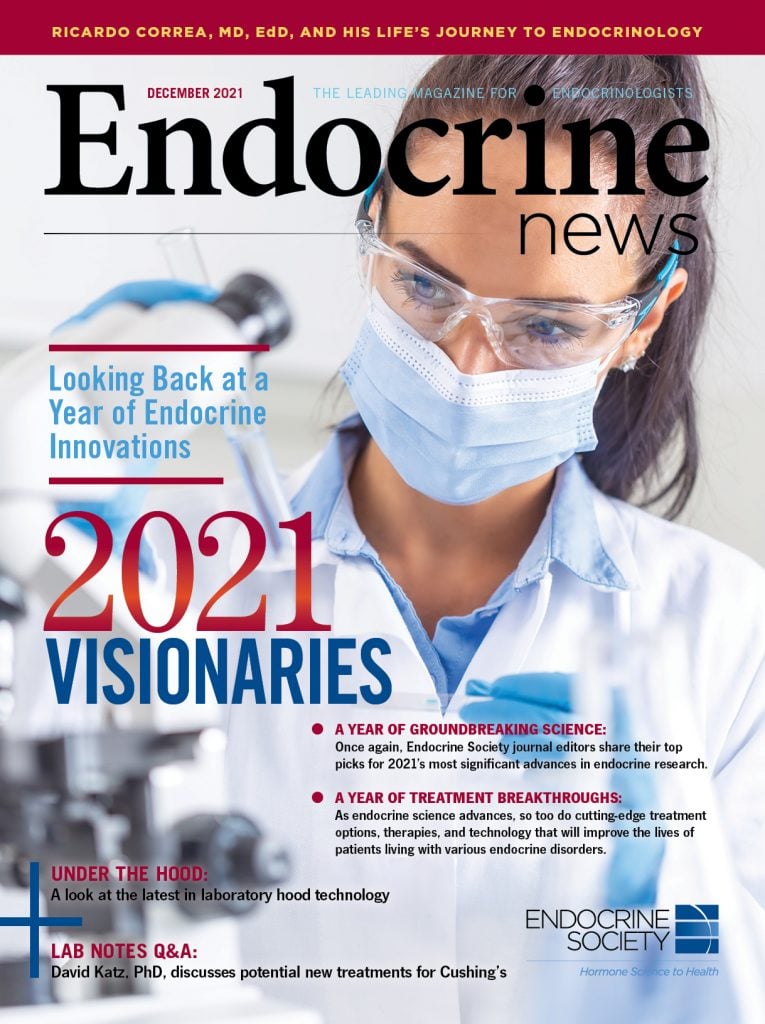 Endocrine research remains at the forefront of medical breakthroughs, which has led to cutting-edge treatment options, therapies, and products. Here is part 2 of Endocrine News's closer look at some of the endocrine science innovations announced throughout 2021.
Endocrine researchers and clinicians continued to remain at the forefront of medical research, the result of which been a variety of breakthroughs that not only address new treatment options, therapies, and products, but health disparities and equity as well.
New Report Explains Microbiome Impact on Glucose Control Highlights How Probiotic Interventions Can Improve Type 2 Diabetes Management
A new study by Pendulum Therapeutics was presented at the American Diabetes Association's (ADA) 81st (Virtual) Scientific Sessions. Its findings show Pendulum Glucose Control increases circulating butyrate and ursodeoxycholic acid (UDCA), a secondary bile acid in people with type 2 diabetes, and supports the mechanism for improvement in glucose control.
"This study, part of an ongoing series, is adding to the body of knowledge on the microbiome and its role in metabolic disease including type 2 diabetes," says Society member Orville Kolterman, MD, chief medical officer at Pendulum Therapeutics and principal investigator of the study. "This data builds upon the research Pendulum Therapeutics presented at ADA's 79th Scientific Sessions two years ago. Our initial presentation showcased the efficacy of Pendulum's proprietary microbiome symbiotic formulation (Pendulum Glucose Control) and its ability to improve glucose control in patients with Type 2 Diabetes. This newest data will further inform the development of a portfolio of products that target the microbiome as a pathway to augment the dietary management of impaired glucose metabolism and other metabolic diseases."
Spinal Cord Stimulation Therapy to Treat Chronic Pain Associated with PDN Approved
In July, Nevro, a spinal cord stimulation company announced receipt of FDA approval of its Senza® System for the treatment of chronic pain associated with Painful Diabetic Neuropathy (PDN). This approval is specific to Nevro's unique 10 kHz stimulation.
Study participants demonstrated significantly improved and sustained outcomes with 10 kHz Spinal Cord Stimulation (SCS), including substantial, sustained pain relief and improved health-related quality of life. The 6-month results for the SENZA-PDN randomized controlled trial (RCT) were published in JAMA Neurologyin April 2021, and the 12-month follow-up results and 6-month crossover patient data were recently presented at the American Diabetes Association 81st Scientific Sessions in June.
"The substantial pain relief and improved quality of life demonstrates that 10 kHz Therapy can safely and effectively treat this patient population," says Erika Petersen, MD, professor of Neurosurgery, director of Functional and Restorative Neurosurgery at the University of Arkansas for Medical Sciences, and lead investigator of the SENZA-PDN study. "I'm grateful to my co-investigators and the patients who participated in this study, as the results and this approval will have far-reaching impact on the lives of PDN patients."
"Diabetic neuropathy is one of the most prevalent and debilitating, chronic complication of diabetes, and for years, PDN patients have struggled with a lack of effective treatment options when conventional medications fail or are not tolerated," says Frances Broyles, MD, medical director of Diabetes/Endocrinology and Nutrition at Swedish Health Services in Seattle, Washington. "The ability to now offer Nevro's proven 10 kHz Therapy, which may enable discontinuation of long-term drug therapy and eliminate unwanted drug side effects, is a welcome addition as a treatment option for my PDN patients dealing with this challenging condition. My personal practice experience with the Nevro 10 kHz Therapy was nothing short of life changing for the patient."
Withings and One Drop Partner to Bring Medical Devices to Multi-Condition Employer Program
Later that month, Withings and One Drop teamed up connect One Drop's predictive health platform with Withings' smart medical devices for blood pressure and weight management. Together, the companies want to bring connected health solutions to employers, empowering workforces worldwide to make more informed decisions and live healthier lives.
Through this partnership, members enrolled in the One Drop employer program can qualify to receive a Withings Body smart scale or a Withings BPM Connect smart blood pressure monitor in addition to the One Drop glucose meter. Withings devices integrate directly with the award-winning One Drop app, allowing members to seamlessly measure and monitor weight and blood pressure alongside glucose, A1C, food, medications, and physical activity. Members also receive health forecasts powered by nearly 28 billion health data points, one-on-one coaching from certified health professionals, and evidence-based behavioral interventions for chronic disease prevention and management.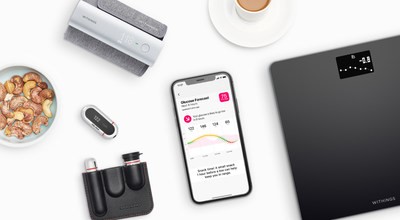 FDA Approves First Interchangeable Biosimilar Insulin
The FDA in July approved the first interchangeable biosimilar insulin product, indicated to improve glycemic control in adults and pediatric patients with type 1 diabetes and in adults with type 2 diabetes. The FDA granted approval for insulin glargine-yfgn to Mylan Pharmaceuticals Inc., who is marketing the product as Semglee.
Semglee (insulin glargine-yfgn) is both biosimilar to and interchangeable with its reference product Lantus (insulin glargine), a long-acting insulin analog. Semglee is the first biosimilar product to get the "interchangeable" designation in the U.S. for the treatment of diabetes. Approval of these insulin products can provide patients with additional safe, high-quality, and potentially cost-effective options for treating diabetes.
An interchangeable biosimilar product may be substituted for the reference product without the intervention of the prescriber. The substitution may occur at the pharmacy, a practice commonly called "pharmacy-level substitution" — much like how generic drugs are substituted for brand-name drugs, subject to state pharmacy laws, which vary by state.
"Biosimilar and interchangeable biosimiliar insulin products have the potential to lower costs for patients. Hopefully, this approval will help drive prices down for insulin in the long term. Access to affordable care, and particularly affordable insulin, is a priority in diabetes care," says Society member Rita Kalyani, MD, associate professor at Johns Hopkins School of Medicine in Baltimore. "From a patient perspective, this can help increase access to less expensive alternatives from the pharmacy. However, there will be some individuals that still prefer the brand insulin and there will need to be more education going forward that these two products are, in fact, interchangeable.
The approval of this new biosimilar is in line with the Endocrine Society's Position Statement from January, "Increasing Insulin Affordability." Before Semglee, there were only two biosimilars available, made by Eli Lilly (Basaglar) and Sanofi (Admelog), two of the three insulin manufacturers. "For biosimilars to have an impact on the price of insulin, availability must extend beyond current manufacturers and new companies must be willing to undertake a costly development and strict review process," the Position Statement authors write.
FDA Approves Abbott's Freestyle Libre 2 IOS App
Abbott announced in August that the FDA cleared the FreeStyle Libre 2 iOS application for use with compatible iPhone, providing a comprehensive digital offering for its FreeStyle Libre 2 integrated continuous glucose monitoring (iCGM) system. Providing breakthrough technology that is accessible and affordable, the FreeStyle Libre portfolio is the number one continuous glucose monitoring system worldwide and most prescribed in the U.S., changing the lives of nearly 3.5 million people across more than 50 countries including 1 million users in the U.S.
Approved for adults and children (4 and older) with diabetes, the new FreeStyle Libre 2 app creates a seamless experience for users and healthcare professionals. The app enables users to get glucose readings directly on their iPhones without the use of a reader. A key benefit of the app is the ability for caregivers to remotely monitor their loved one's glucose readings and get real-time alarms via the LibreLinkUp app.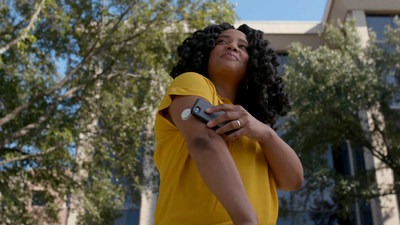 According to a Gallup poll, one in five Americans currently tracks health statistics using a mobile app. Free to download on the iOS App Store soon, the FreeStyle Libre 2 app will offer personalized, up-to-the-minute glucose data for people with diabetes who are using FreeStyle Libre 2 glucose sensors. By scanning the sensor with the FreeStyle Libre 2 app, users will get their current glucose reading and trend arrow which can help them determine how food, exercise and other lifestyle factors impact diabetes management.
Integrated features include:
Optional real-time glucose alarms that automatically alert users when glucose is high or low
Unsurpassed 14-day accuracy with readings every minute and an eight-hour glucose history, including comprehensive view of trends
Seamless integration with Abbott's connected digital health tools – the LibreLinkUp app and LibreView, a secure cloud-based data management platform – allowing users to easily share their glucose readings with healthcare professionals and caregivers. Accessible remotely, use of LibreView increased about 70% over the past year.
"The pandemic taught us the importance of connected devices in managing chronic conditions remotely, and we continue to see the benefit from the latest advances in digital health," says Society member Kurt Midyett, MD, pediatric endocrinologist and medical director at Midwest Pediatric Specialists. "Continuous glucose monitoring is one of the most significant health tech innovations in the last decade, and I see the life-changing benefits first-hand from my patients every day. As a doctor, it's invaluable to receive my patients' glucose data remotely via systems like LibreView – enabling more meaningful conversations with my patients, and ultimately, improving treatment decisions and their long-term health."
Abbott has secured partial or full reimbursement for the FreeStyle Libre system in 38 countries, including Canada, France, Germany, Japan, the United Kingdom, and the U.S.
Tildacerfont Evaluated in Two Phase 2 Open-Label Studies in Adults with Classic Congenital Adrenal Hyperplasia
Investigators found that patients with classic congenital adrenal hyperplasia (CAH) due to 21-hydroxylase deficiency (21OHD) may benefit from the drug tildacerfont, according to the results from two Phase 2 clinical studies published in The Journal of Clinical Endocrinology & Metabolism.
Researchers led by Chris N. Barnes, PhD, of Spruce Biosciences (who funded the trial), point out that the current approach to treating CAH is to downregulate the production of excess androgens by administering supraphysiologic levels of glucocorticoids (GC). However, this approach may lead to significant side effects such as stunted growth, obesity, and increased risk of developing type 2 diabetes, cardiovascular disease, osteoporosis, skin toxicities, gastrointestinal disorders, and reduced lifespan, the authors write.
"Tildacerfont (SPR001; LY2371712) is a potent, selective, nonsteroidal, oral, second generation CRF type-1 (CRF1) receptor antagonist that binds to CRF1 receptors in the pituitary gland with high affinity and reduces ACTH secretion," the authors continue. "When administered to patients with CAH, the reduction in ACTH secretion is expected to reduce overproduction of adrenal cortisol precursors and androgens. By controlling excess adrenal androgens through an independent mechanism, tildacerfont may decrease the clinical symptoms associated with high androgen exposure and allow GC reduction to a dosing regimen nearing physiological levels, thereby reducing the adverse effects of supraphysiologic GCs."
The researchers conducted two Phase 2 studies to assess the safety and efficacy of tildacerfront in adults with 21OHD. SPR001-201 was an open-label, multi-dose, Phase 2a dose-escalation study which evaluated the ability of tildacerfont to lower adrenocorticotropic hormone (ACTH), 17-hydroxyprogesterone (17-OHP), and androstenedione (A4) at doses ranging from 200mg daily to 1,000mg daily in patients with congenital adrenal hyperplasia due to 21-hydroxylase deficiency.
SPR001-202 was an open-label, 12-week Phase 2a clinical trial, which assessed the ability of a daily dose of 400mg of tildacerfont to lower ACTH, 17-OHP, and A4 over a 12-week dosing period. SPR001-201 and SPR001-202 comprised the entire Phase 2a clinical development program for tildacerfont in adult classic CAH. In the studies, efficacy was evaluated by changes from baseline in ACTH, 17-OHP, and A4 according to baseline A4 ≤2x upper limit of normal (ULN), denoted as baseline good disease control, or A4 >2x ULN, denoted as baseline poor disease control. Safety was evaluated using adverse events and laboratory assessments.
The results of the studies showed that tildacerfont reduced key hormone biomarkers towards normal levels in the baseline poor disease control group, including normalization of ACTH and A4 in 60% and 40% of patients, respectively. In patients with baseline good disease control, these hormones were maintained near or below normal levels. Tildacerfont was generally safe and well-tolerated. The findings from these studies support the ongoing global late-stage studies of tildacerfont in adults with classic CAH – CAHmelia-203 (assessing the ability of tildacerfont to reduce excessive adrenal androgens in patients with poor disease control) and CAHmelia-204 (assessing the ability of tildacerfont to reduce glucocorticoid usage in patients with good disease control while maintaining control of androgens).
"The data published in the Journal of Clinical Endocrinology and Metabolism demonstrate the potential of tildacerfont to reduce androgen excess without increasing the total daily glucocorticoid dose in patients with classic CAH," says Kyriakie Sarafoglou, MD, associate professor in the Department of Pediatrics – Divisions of Endocrinology and Genetics & Metabolism at the University of Minnesota Medical School and first author of the JCEM paper.
Potential DTC Therapy Under Review by the FDA
Also in August, Exelixis, Inc. announced that the FDA accepted the company's supplemental New Drug Application (sNDA) for CABOMETYX® (cabozantinib) as a treatment for patients 12 years and older with differentiated thyroid cancer (DTC) who have progressed following prior therapy and are radioactive iodine-refractory (if radioactive iodine is appropriate). The FDA granted Priority Review designation and assigned a Prescription Drug User Fee Act (PDUFA) target action date of December 4, 2021.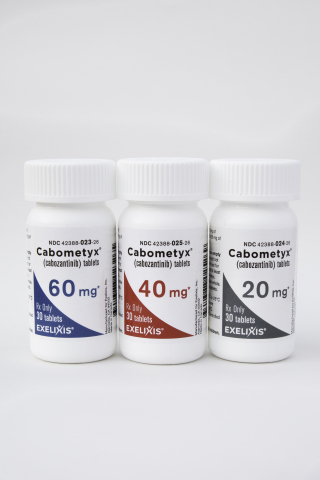 The sNDA is based on the results of COSMIC-311, a phase 3 pivotal trial evaluating CABOMETYX versus placebo in patients with radioactive iodine-refractory DTC who progressed after up to two prior vascular endothelial growth factor receptor (VEGFR)-targeted therapies. At a planned interim analysis, CABOMETYX met one of the trial's primary endpoints, demonstrating a significant improvement in progression-free survival versus placebo. In February 2021, the FDA granted Breakthrough Therapy Designation to CABOMETYX as a potential treatment for patients with DTC that has progressed following prior therapy and who are radioactive iodine-refractory (if radioactive iodine is appropriate) based on these results. Detailed study findings were presented at the 2021 American Society of Clinical Oncology Annual Meeting and were published by The Lancet Oncology in July.
Dosage Flexibility of Liquid Hypothyroidism Treatment Introduced for Patients and Clinicians
Americans diagnosed with hypothyroidism and their clinical providers now have access to greater dosage flexibility within levothyroxine therapy, with three new dosage strengths of levothyroxine sodium oral solution now available to treat hypothyroidism. IBSA Pharma markets the drug as Tirosint®-SOL.
The unique new dosing options – 37.5, 44 and 62.5 micrograms – are a first in the U.S. market and offer clinicians precision and flexibility when treating patients. The three new doses add to Tirosint-SOL's existing 12 options and create a new industry standard of 15 strengths of levothyroxine therapy, the widest range of any therapy for hypothyroidism that is approved by the U.S. Food and Drug Administration (FDA).
Recently published research has demonstrated that dissatisfaction is common among adults treated for hypothyroidism. While the causes of patient dissatisfaction are complex, the common practice of frequent dose titration of thyroid hormone treatment (more than two dose changes per year) has been associated with significantly lower levels of patient satisfaction with hypothyroidism therapy.
Tirosint-SOL's extensive dosing options provide clinicians with more choices, enabling them to adapt levothyroxine therapy to individual needs and better treat the full spectrum of hypothyroid patients. Increased dosage flexibility may also eliminate or reduce the need to change patients' doses.
"The addition of 37.5, 44 and 62.5 microgram dosages represents a much-needed advance in levothyroxine therapy, which is the standard of care for treating hypothyroidism," says Charles Carter, PharmD, interim chair and associate professor of clinical research, Campbell University College of Pharmacy and Health Sciences. "Up to this time, clinicians have often instructed parents, caregivers and patients to split levothyroxine tablets to create these doses, which can result in significant dosing errors and inconvenience. Levothyroxine is a narrow therapeutic index drug with potentially deleterious clinical outcomes if administered in sub- or supratherapeutic doses. The splitting of tablets by patients can result in inconsistent levels of levothyroxine therapy, which should be a concern to clinicians and the patients they care for."
Tirosint-SOL is indicated to treat hypothyroid patients regardless of age. Patients can administer it by pouring the contents of the monodose ampule directly into the mouth, using a spoon or mixing it in water. A data matrix was recently added to the monodose ampule to facilitate its use in hospitals, where more complex cases of hypothyroidism are often initially treated.
Omitting Race from Kidney Function Equations Leads to More Accurate Results
At the end of September, a paper appeared in the New England Journal of Medicine that showed omitting race from equations for estimated glomerular filtration rate (eGFR) leads to more accurate results when determining kidney function.
The researchers, led by Lesley Inker, MD, MS, director of the Kidney Function and Evaluation Center at Tufts Medical Center in Boston, Massachusetts, point out that the current equations that use creatinine or cystatin C incorporate age, sex, and race to estimate kidney function, but the authors write that race in these equations is a social construct and not a biological one. "Inclusion of race in GFR estimating equations, along with other algorithms in medicine, is facing increasing scrutiny because race is a social and not a biologic construct; its inclusion ignores diversity within and among racial groups and may contribute to systemic racism in medicine," the authors write.
For this study, the researchers developed three new eGFR equations without using race from two development data sets – 10 studies for serum creatinine and 13 studies for both serum creatinine and cystatin C – as well as a validation set of 12 studies. About 14% of participants in the validation set were Black, and the researchers found that the current creatinine equation that incorporates race overestimated GFR in Black patients. "When the adjustment for Black race was omitted from the current eGFR equation, measured GFR in Blacks was underestimated," the authors write.
The researchers' new equation using age and sex but not race underestimated GFR in Black participants and overestimated GFR in non-black participants. New creatinine–cystatin C equations without race were more accurate than new creatinine equations, with smaller differences between race groups, the authors write. "New eGFR equations that incorporate creatinine and cystatin C but omit race are more accurate and led to smaller differences between Black participants and non-Black participants than new equations without race with either creatinine or cystatin C alone," they conclude.
The same day the NEJM paper was published, the National Kidney Foundation (NKF) and the American Society of Nephrology (ASN) Task Force on Reassessing the Inclusion of Race in Diagnosing Kidney Diseases released its final report, which outlines a new race-free approach to diagnose kidney disease. In the report, the NKF-ASN Task Force recommends the adoption of the neweGFR 2021 CKD EPI creatinine equation that estimates kidney function without a race variable. The task force also recommended increased use of cystatin C combined with serum (blood) creatinine, as a confirmatory assessment of GFR or kidney function.
"I am honored to have been a part of the NKF-ASN Task Force. By careful review of the evidence and perspectives shared with us, and listening and learning from each other, we were able to arrive at a recommendation for estimating GFR that does not include race that is based on rigorous science, patient centered, and can be immediately implemented across all clinical laboratories," Inker says. "We hope that our emphasis on an overall approach to assess kidney function using initial tests followed by more accurate tests as the clinical situation requires, will increase awareness of the importance of careful consideration of GFR in all patients."
"We appreciate the patience of the community as the Task Force developed a sound strategy to not disproportionately disadvantage patients from any particular racial or ethnic group. Our approach was guided by health equity, patient centeredness and patient safety, and was informed by evidence," adds Neil Powe, MD, MPH, MBA, FASN chief of Medicine at the Priscilla Chan and Mark Zuckerberg San Francisco General Hospital and the Constance B. Wofsy Distinguished Professor, Vice-Chair of Medicine at the University of California San Francisco and co-chair of the joint NKF-ASN task force. "We hope strong efforts will develop new, more informative, GFR markers and unite all of us in a focus on interventions to eliminate health disparities, thereby improving the quality of care for everyone in the United States."
Medtronic Finds Children on Its MiniMed 780G System Achieve Time in Range
Medtronic continues to investigate its MiniMed 780G system, which is available in 38 countries in Europe, the Middle East, and Africa and is currently being reviewed by the FDA. In October, the company announced one-year, real-world clinical data on 3,211 pediatric and adolescent patients with type 1 diabetes 15 years old and below using the MiniMed™ 780G system with the Guardian™ Sensor 3. Data on this subset of patients on the system in Europe showed an average Time in Range of 74% — surpassing Clinical Consensus Guidelines and closely mirroring Time in Range for adults at 77%. Overnight Time in Range of 82% also mirrored that of adults (82%).
From an experience perspective, younger users remained in Advanced Hybrid Closed Loop (AHCL) mode, also referred to as the SmartGuard™ algorithm, for an average of 93% of the time, similar to the 92% observed in users over 15 years old. When the pediatric group set a blood glucose target of 110mg/dL (6.1 mmol/L) and an Active Insulin Time (AIT) of two hours, they achieved an average Time in Range of 77% and a Glucose Management Indicator (GMI) of 6.7%. With these settings, they only spent 2.7% of their time <70 mg/dL (5.9 mmol/L).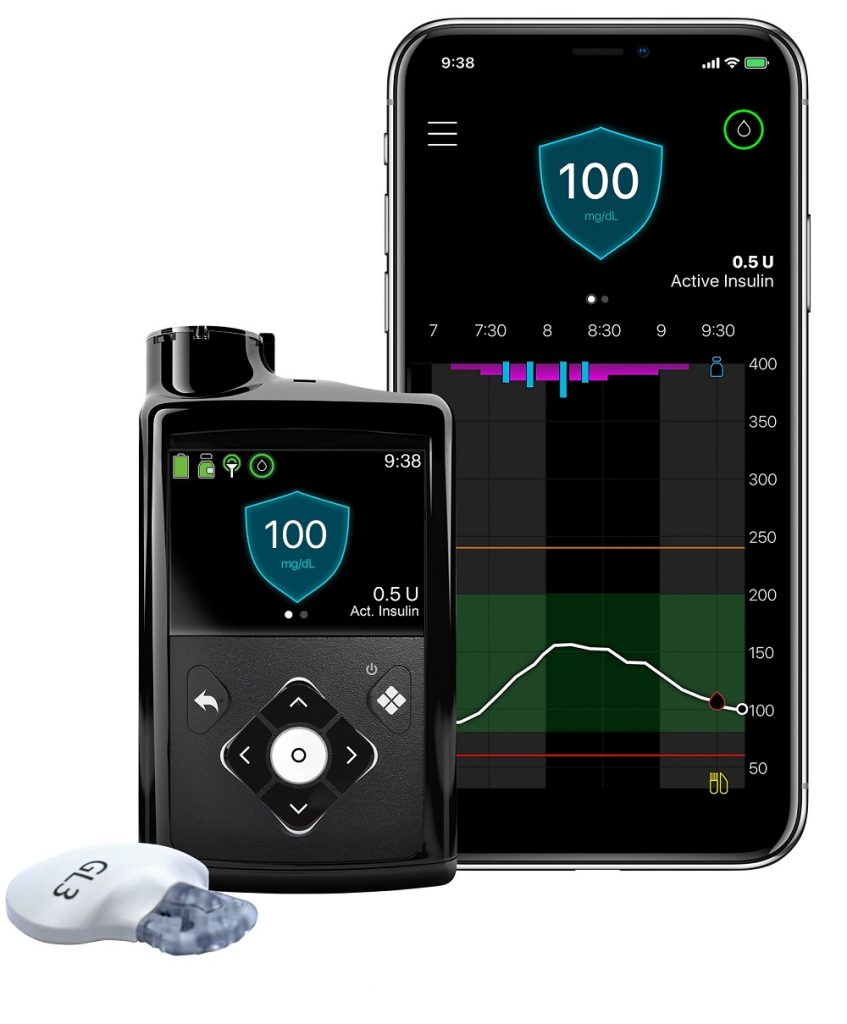 The real-world performance analysis aggregates information from children 15 years old and below whose caregivers agreed to allow Medtronic to use anonymized data that was automatically uploaded their data to CareLink™ Personal from August 27, 2020 to July 22, 2021. A large majority of pediatric users included in the analysis are achieving glycemic goals recommended by major diabetes professional organizations, including:
75.3% of pediatric users had a Glucose Management Indicator (GMI) less than 7%, which mirrors the average A1C level that would be expected based on mean glucose.
69.6% of pediatric users had a Time in Range above 70%.
67.5% of pediatric users achieved both, a GMI less than 7% and a Time in Range above 70%.
A sub-analysis of patients 15 years old and younger with at least 10 days of CGM data both pre- and post-AHCL initiation (n=661) showed substantial improvements across both Time in Range and GMI – even among those who were relatively well controlled at baseline. This group saw a 12% increase in Time in Range, to 74% on average — equivalent to an additional 2.8 hours/day in the target range. From a user experience perspective, results also showed patients were able to stay in AHCL mode 93% of the time once it was initiated.
"These results are extremely encouraging. Glycemic control has been much harder to achieve in children due to unpredictable factors common in this age group, including physical growth and development, hormonal changes and active lifestyles. In fact, young adults around the age of 15 have the highest reported A1C in the T1D Exchange Registry, which includes data on over 31,000 individuals with type 1 diabetes and demonstrates the unique challenges in younger populations. Because the algorithm in the MiniMed 780G system adjusts basal and correction insulin doses in near real-time every 5 minutes thereby providing near real-time course correction, it helps make up for underestimated carbohydrate counting and occasional late or missed meal doses," says Robert Vigersky, M.D., chief medical officer of the Diabetes business at Medtronic and past president of the Endocrine Society. "The Medtronic AHCL algorithm offers advanced protection and permits unprecedented personalization in insulin delivery by offering a wide range of Active Insulin Time settings and three different glucose targets. These improvements reinforce that the MiniMed 780G system is a better alternative than previous therapy these patients were on, even for those who were relatively well-controlled."