Discover the latest advances in hormone research and clinical endocrinology at ENDO 2023. This year's conference, taking place in Chicago, Ill., June 15-18, 2023, is designed to enhance your knowledge and skills in endocrinology with a mix of programs for both the clinician and researcher.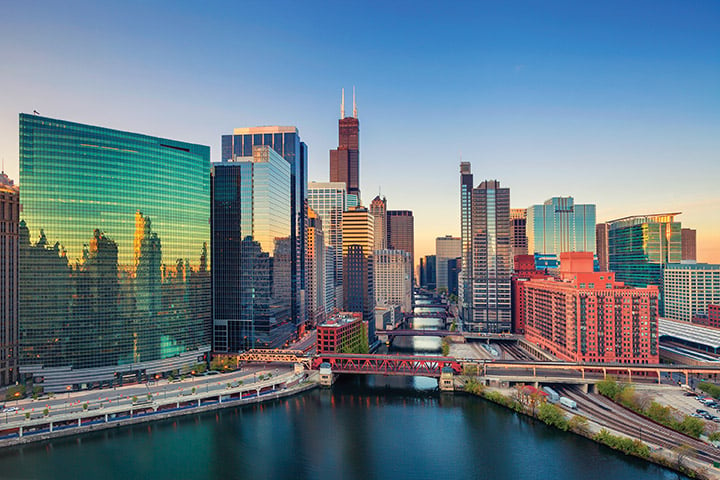 With an extensive program covering a broad array of topics, various networking opportunities, poster sessions, updates on new products and technologies at the ENDOExpo, and more, attendance at ENDO is essential for enhancing your professional development and building your reputation. Register now to attend ENDO 2023 in Chicago and come early or stay late (or both!) to explore all The Windy City has to offer.
Heart and Soul
Chicago is bursting with world-class, big city culture. But at its heart, it's a Midwestern city — which means a warm welcome and genuine hospitality. No matter who you are or what you love, you'll fit right in exploring famed restaurants, world-renowned museums, a jaw-dropping waterfront, Tony Award-winning theatres, iconic architecture designed by legendary architects, and 77 vibrant, ethnically diverse neighborhoods that are the heart and soul of Chicago. Whatever your travel style, Chicago has something just for you.
New Kid on The Block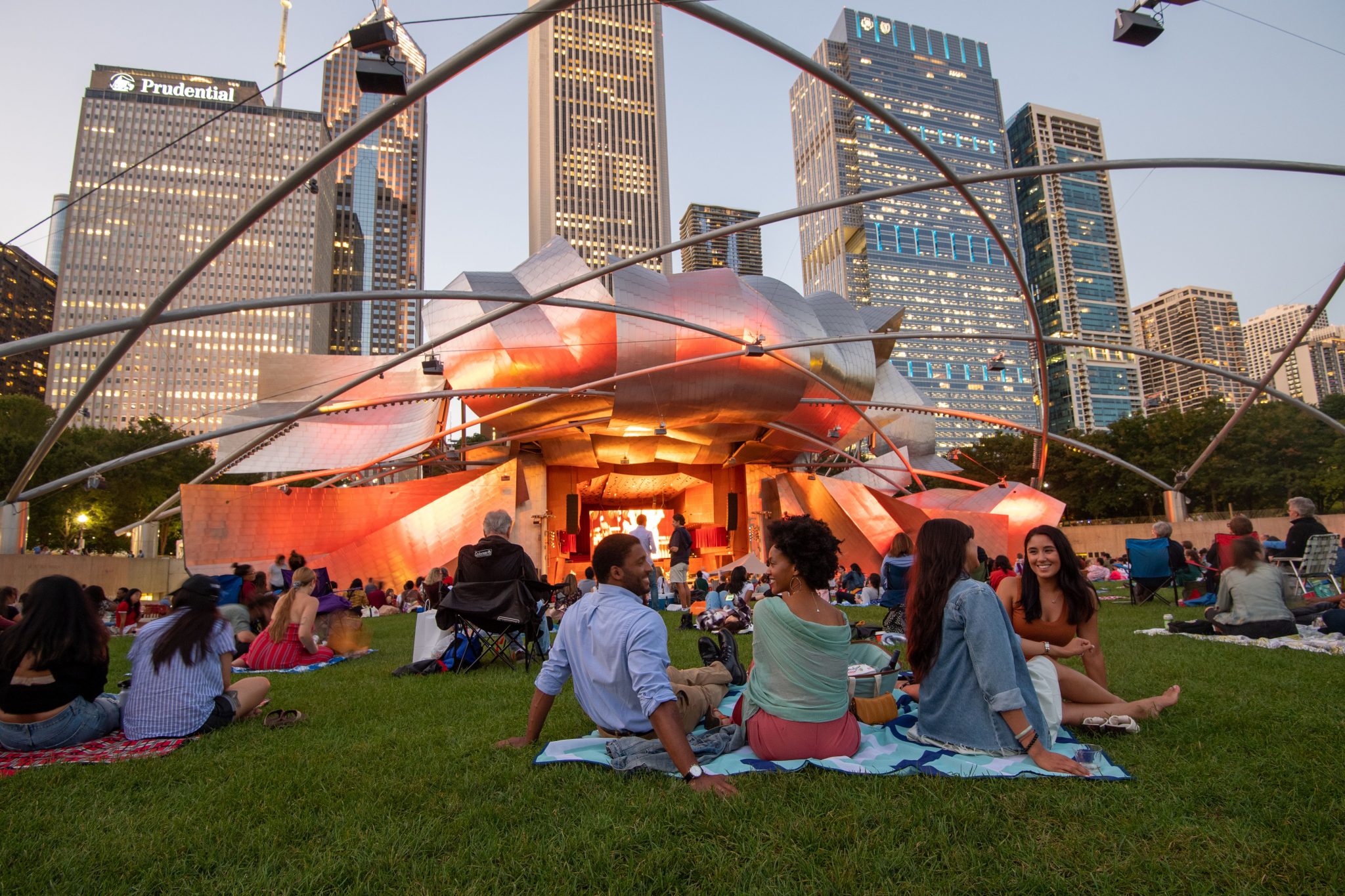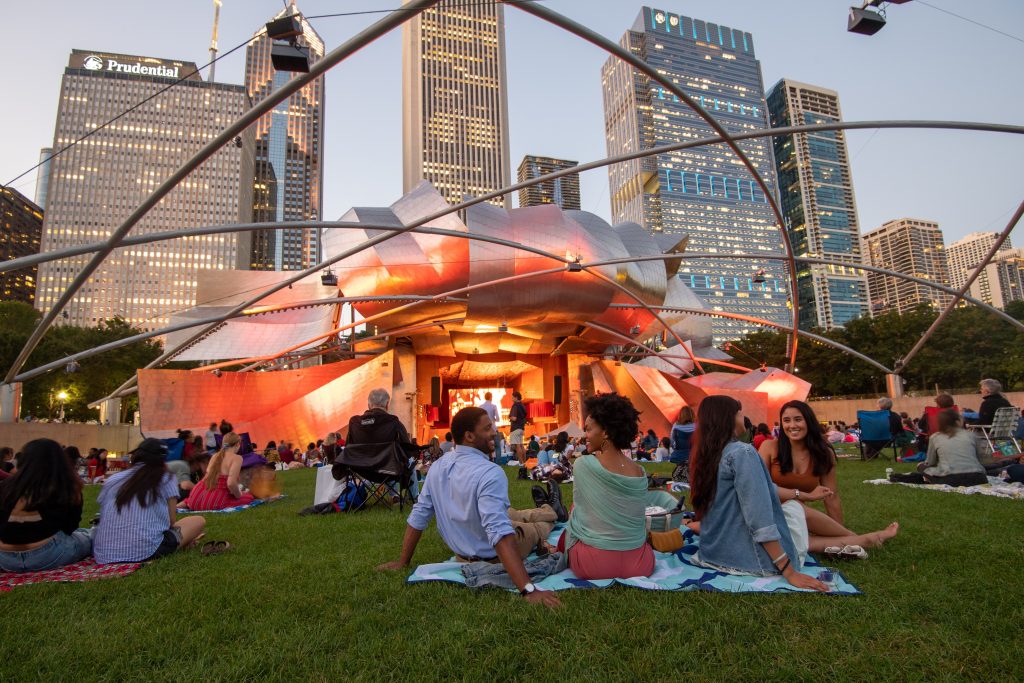 If you've never been to Chicago, there are a few rites of passage every first timer absolutely must experience. You've undoubtedly seen pictures of Cloud Gate but may not know this monumental work of art by its official name. Better known as "The Bean," Cloud Gate is one of the world's largest outdoor public art installations. This sculpture, located in Millennium Park, reflects the Chicago skyline and the surrounding greenspace. While you're in Millennium Park (above), make sure to visit Chicago's "secret garden."  Lurie Garden blends Chicago's past, present, and future with bold design, dramatic form, and intimate spaces. Even amid a bustling city, birds, bees, and butterflies abound here during the summer months. Millennium Park is also home to Jay Pritzker Pavilion and The Great Lawn, Frank Gehry's one-of-a-kind bandshell. During June, you can catch the Summer Music and Summer Film Series here.
Whether you're a sports fan or not, seeing the Cubs play at Wrigley Field is a Chicago experience everyone will enjoy. Known for its unique traditions and charm, Wrigley Field, which was built in 1914, has been the beloved home of the Chicago Cubs for more than a century. The area around the stadium is known as Wrigleyville, and it offers an atmosphere that won't be found anywhere else. No matter the time of year, this area is always bustling. Locals flock to the area's many bars and restaurants, even when it's not baseball season.
And you can't mention Chicago without acknowledging its iconic food. The origin of the deep dish, Chicago is home to the best pizza joints serving up layer upon layer of gooey cheese, tangy tomato sauce, and sausage, pepperoni (or both) baked atop a thick, salty crust in a cast iron skillet. Lou Malnati's is considered the original when it comes to pizza in Chicago, while other staples like Giordano's and Pequod's serve up their own versions of the city's famous deep dish. And Chicago even has its own hot dog. The Chicago dog, served throughout the city, features yellow mustard, dark green relish, chopped raw onion, pickle spear, sport peppers, tomato slices, and topped with a dash of celery salt and served in a poppy seed bun. The Vienna Beef Factory was started by two Austrian-Hungarian immigrants, Emil Reichel and Samuel Ladany, who began selling their franks at the World's Fair in Chicago in 1893. Today, Vienna manufactures most of the franks sold across the city. You can still get the original by visiting their own stand located right across the street from the Vienna Beef Factory on North Damen Avenue.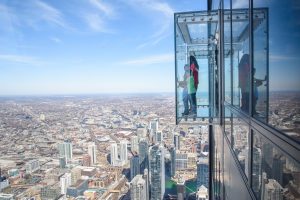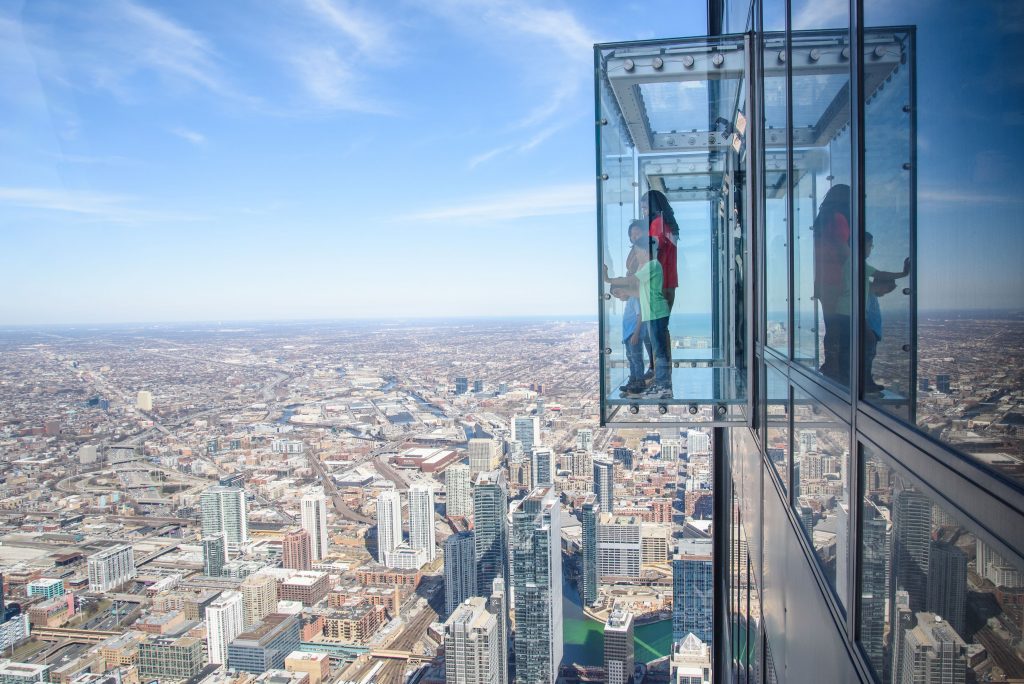 Last but not least, take in the most iconic views of Chicago from more than 100 stories above the city. Willis Tower, formerly known as the Sears Tower, held the title for the world's tallest building for 25 years, and remains the highest spot in Chicago and the third tallest building in the Western Hemisphere. Visit the Skydeck (right), located on the 103rd floor of the 110-floor building. Take in spectacular views spanning up to four states from the Viewing Tower; or if you're a thrill seeker, check out The Ledge, a glass balcony extending four feet outside Willis Tower's 103rd floor. At 1,353 feet in the air, its glass boxes extend out 4.3 feet from the Skydeck, offering unmatched views of the bustling city underneath. No matter how you look at it, the Chicago skyline is breathtaking.
Like a Local
Maybe you've already seen all the attractions the Windy City is known for, or you just prefer to see the city from a different point of view. Instead of spending time taking in Chicago as a tourist, enjoy the city like those who call it home. In a city known for its major museums, the locals suggest a trip outside of downtown to discover the offbeat spots and quirky collections unique to Chicago.
Take a step off the beaten path and head to the Pilsen neighborhood. A hub of Mexican culture and home to one of the city's best collections of street art and murals, Pilsen is home to the National Museum of Mexican Art. Immerse yourself in the richness of Mexican art and culture as you explore one of the largest Mexican art collections in the country. In a vibrant corner of funky West Town, you'll discover Intuit: The Center for Intuitive and Outsider Art. This museum displays the work of artists who steer away from mainstream art influences while focusing on their personal, unique visions. The biggest draw here is the Henry Darger Room, an exact replica of the Chicago native artist's Lincoln Park home filled with his personal documents, fixtures, furnishings, and of course, his art. The International Museum of Surgical Science, McCormick Bridgehouse & Chicago River Museum, and the American Writers Museum are just a few of the other unique museums located across Chicago that are favorites among the locals.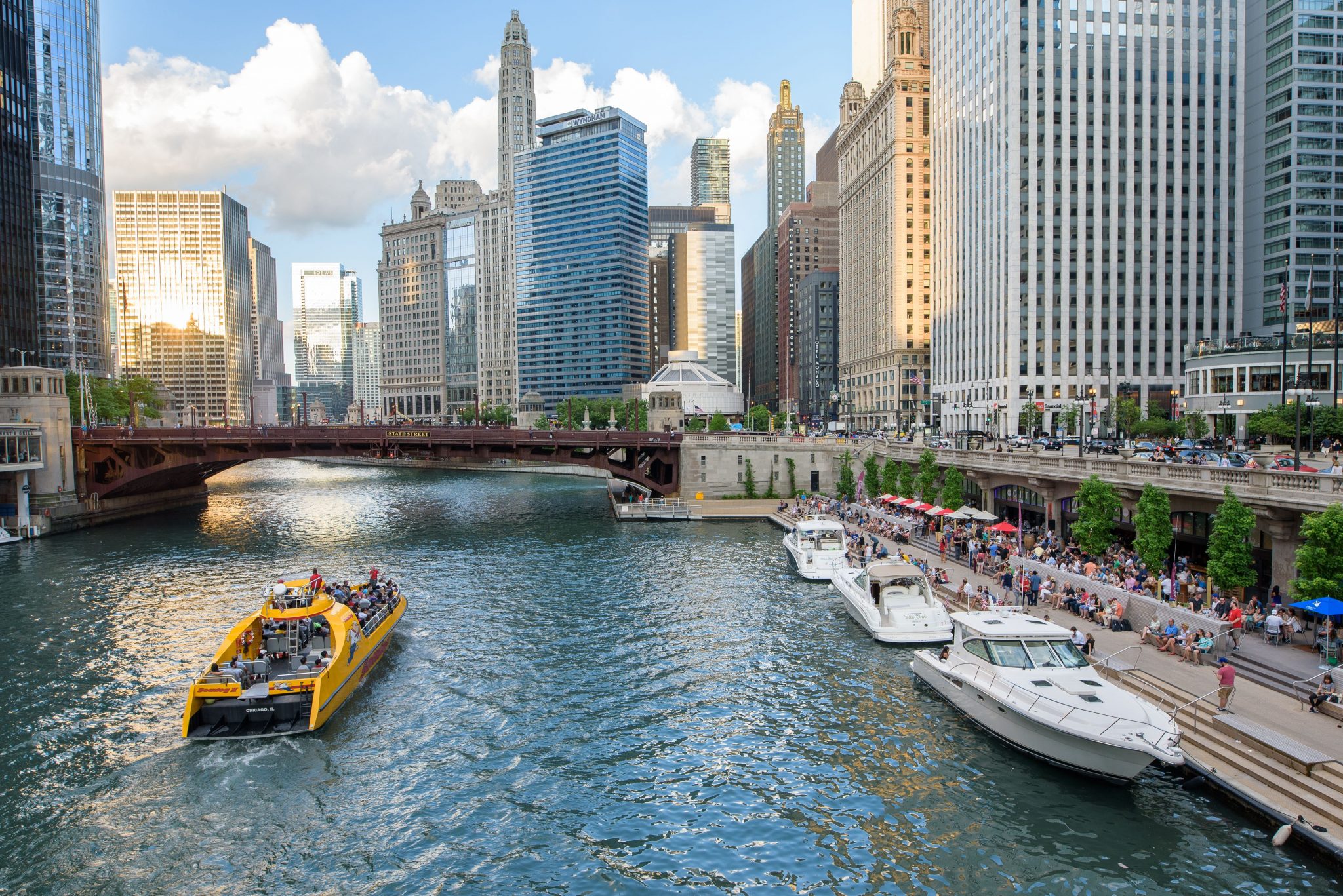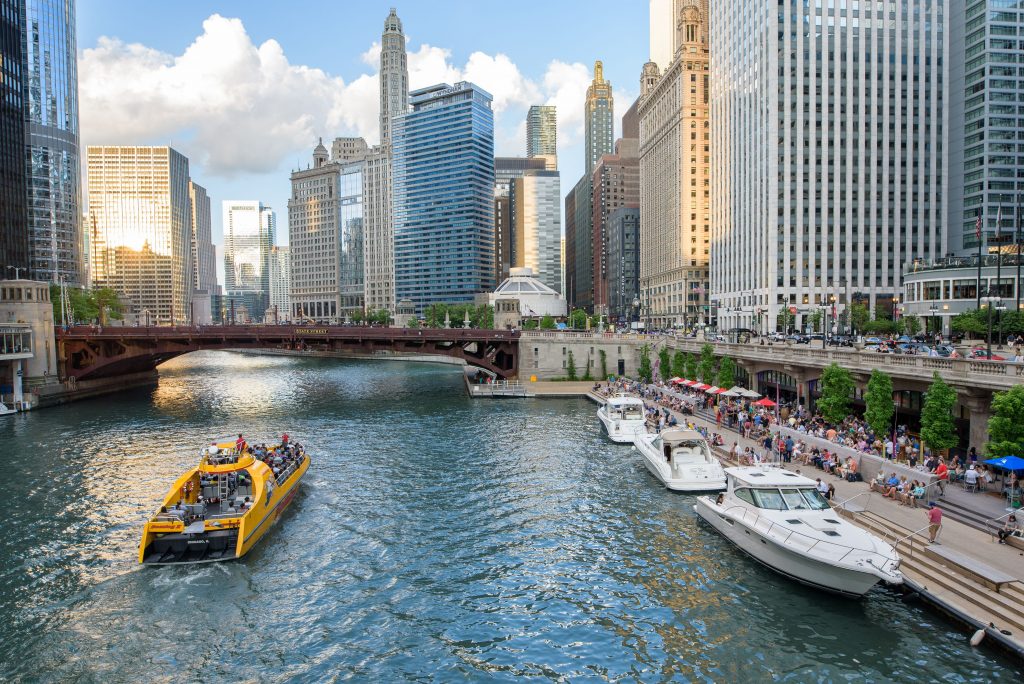 While Chicago is home to well-known cocktail hotspots and swanky rooftop bars, the city also has its fair share of hidden gems – literally. A green painted door marked the entrance to an undercover speakeasy during prohibition. Today, the Green Door Tavern continues the tradition. Find the nondescript door in the basement which leads to The Drifter, an authentic speakeasy that takes you back to the authentic speakeasy known as The Drifter. The Coco Club is another spot that takes some searching to find. Uniquely positioned above LaCoco's Pizza and Sports Club, is where you'll find this late-night speakeasy. Just tell the doorman "I'm with the club," and you'll be whisked into a sophisticated and inviting space that draws inspiration from the 1920s and 1930s. Head to Uptown Chicago, home to Green Mill Cocktail Lounge, which is considered one of Chicago's best bar experiences, and is known for three things – it was Al Capone's hangout, it's said to be haunted, and its unspoken rule – don't talk when performers are on stage at this Chicago jazz club. It's the kind of dark, smokey place with music and cocktails that will transport you back in time.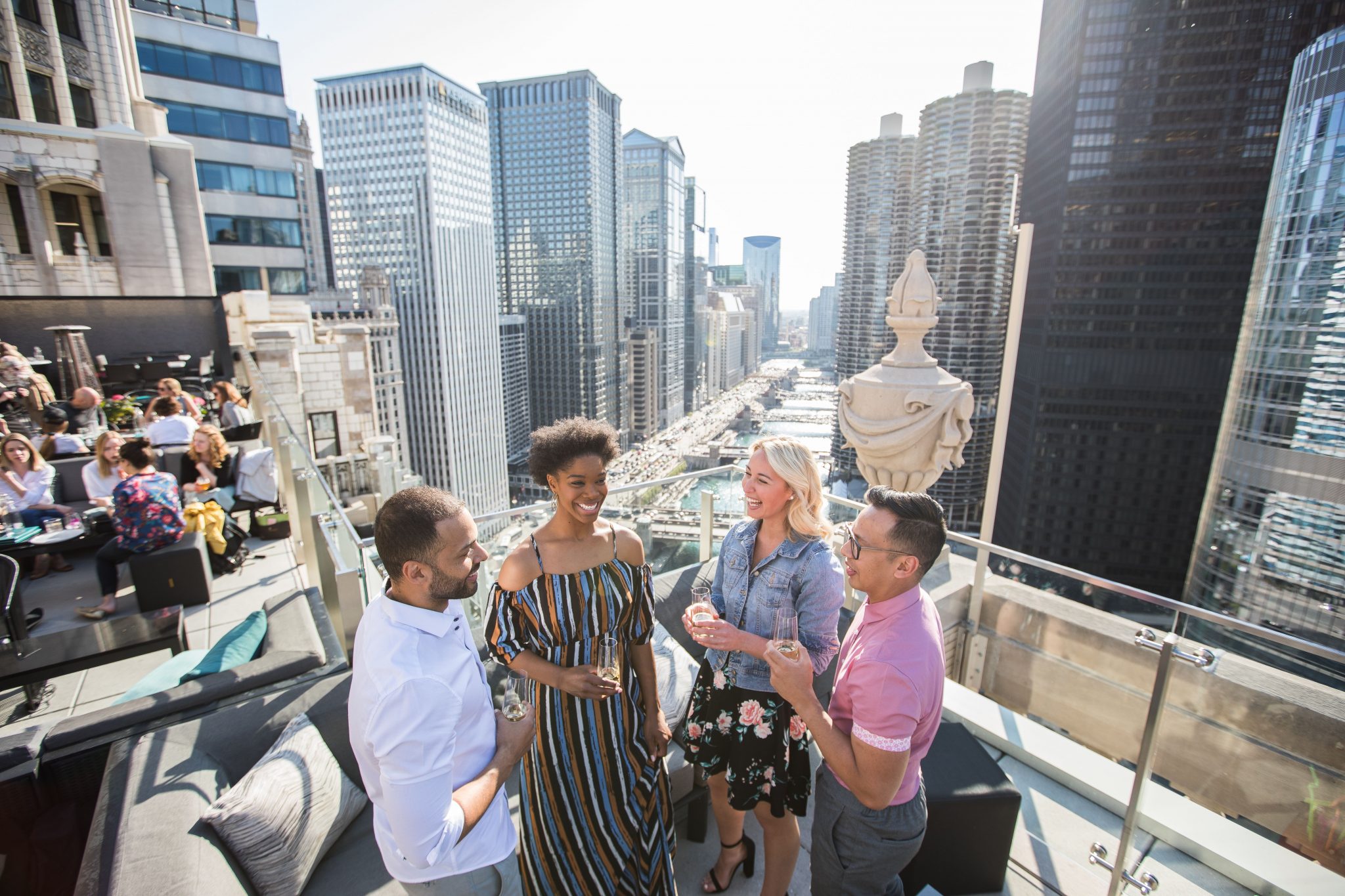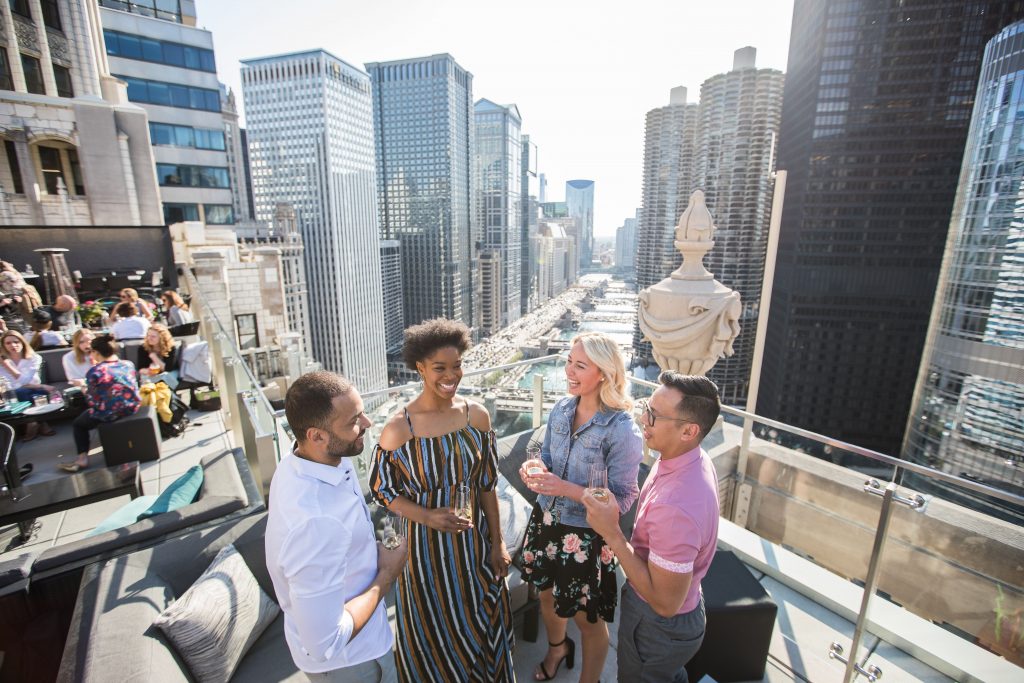 After a night out on the town, you're going to need a strong cup of coffee. Locals suggest heading to Café Jumping Bean in Chicago's Lower West Side for reliable coffee, fresh bakery items, and specialty sandwiches like molletes, traditional Mexican open sandwiches topped with refried beans and melted cheese served with salsa (perfect for breakfast or lunch for those who felt the need to sleep in). This quaint spot invites customers in with its brightly colored décor and friendly staff – both guaranteed to brighten your mood at the start of a new day. While you can have an incredible trip to Chicago without leaving downtown, venturing off the beaten path has unmatched perks of its own!
Kids of All Ages
Bring the family along – there's something for everyone in Chicago. Kids (and kids at heart) will love Maggie Daley Park, one of Chicago's newer green spaces which is connected to Millennium Park in the heart of downtown. While one of the park's most beloved features, the Skating Ribbon, is closed in the summer months, there's even more to enjoy when it's warm out. Take it to the next level on the rock climbing and bouldering walls before playing a round of miniature golf. Picnic groves offer the perfect spot to rest and fill hungry tummies before continuing to explore the park. No visit to Maggie Daley Park is complete with a trip to its three-acre Play Garden, the first of its kind in Chicago. Built in the spirit of Alice in Wonderland and Charlie and the Chocolate Factory, the Play Garden integrates landscapes with custom-designed play structures and sculptures. Play and plantings are intentionally different from usual garden and park settings, capturing the imagination, engaging different senses in all seasons of the year.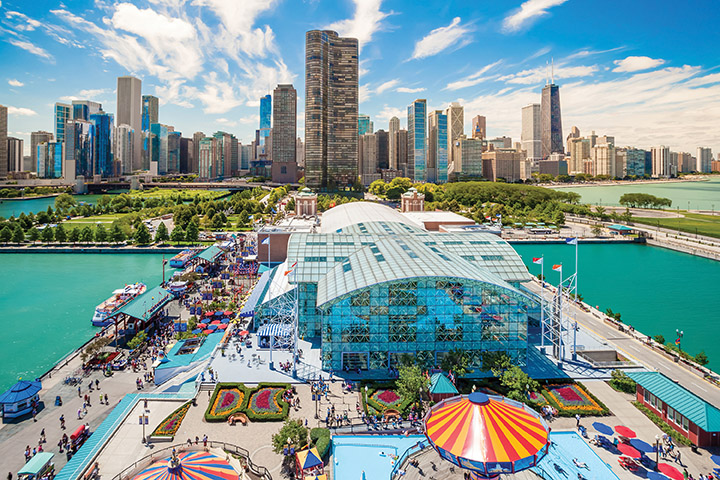 Undeniably one of Chicago's most popular attractions, Navy Pier (above) is a year-round destination that truly comes to life during the summer. This time of year brings boat cruises, bike tours, fireworks shows that light up the night, and live entertainment throughout the day and night. Here, you will find Centennial Wheel which takes riders nearly 200 feet in the air, offering unmatched views of Chicago. You can even book a VIP Centennial Wheel experience in a glass-bottomed, plush-seated gondola. But that's only the beginning. Thrill seekers of all ages will enjoy Pier Park, home to the Pepsi Wave Swinger, a 1920s-inspired musical carousel, and other nostalgic fairground rides — all with breathtaking skyline and waterfront views. But that's not all – the beloved Chicago Children's Museum and Tony Award-winning Chicago Shakespeare Theater are also located at Navy Pier.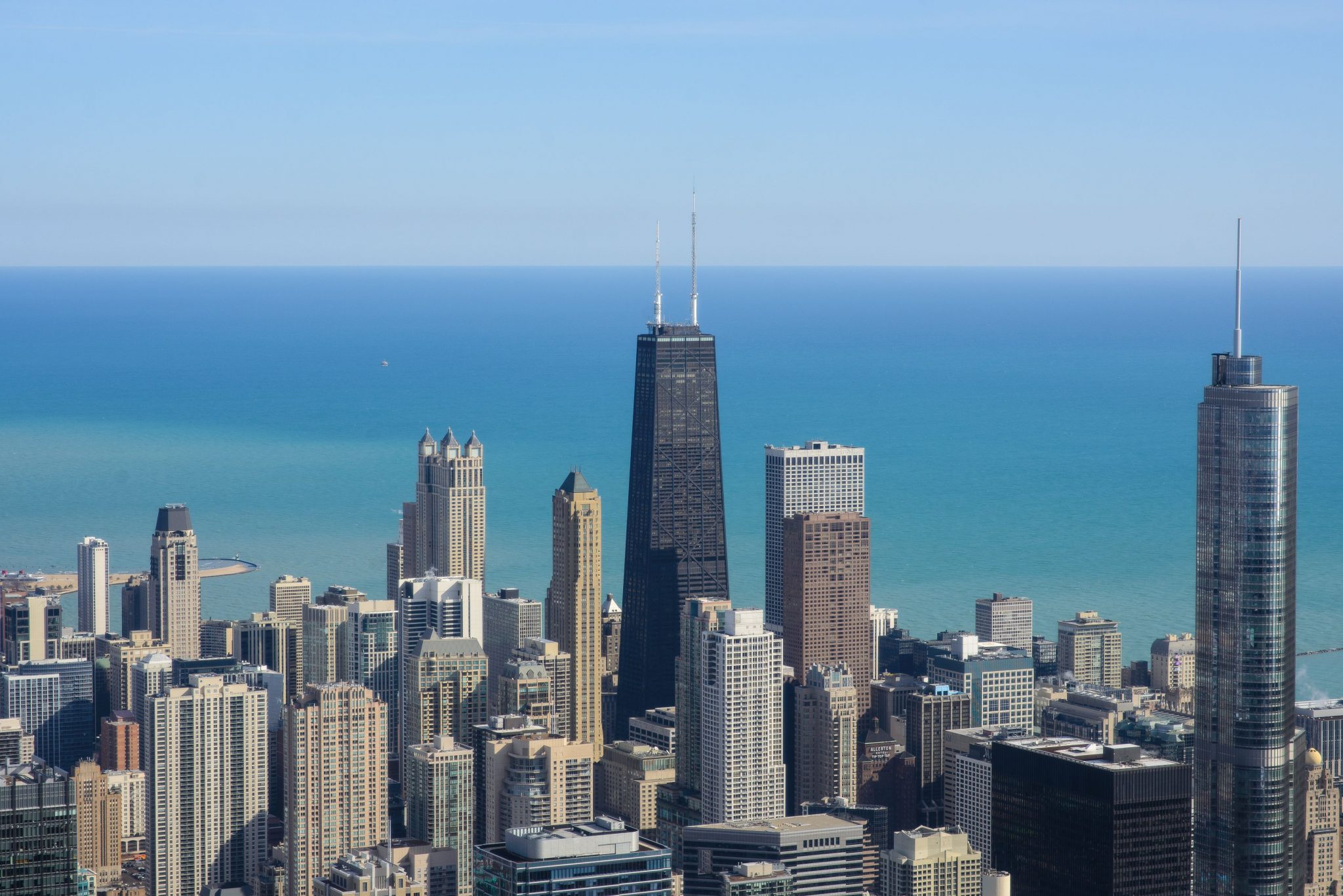 And don't worry about your little ones going hungry. You're in the city known for pizza and hot dogs! Plus, Chicago has an unusual number of themed restaurants that aren't just fun – they're tasty too. At the spy-themed restaurant, SafeHouse Chicago, you'll need a password to enter or else undergo a series of "tests" to prove you're not a spy. There's more than just dessert at Sugar Factory (including an elaborate drink menu for the adults). Created by a team of world-class chefs, the menu selections include everything from pancakes and sweet and savory crepes to salads, burgers, steaks, and shakes, all available throughout the day. Chicago really does have something for everyone!
Plus One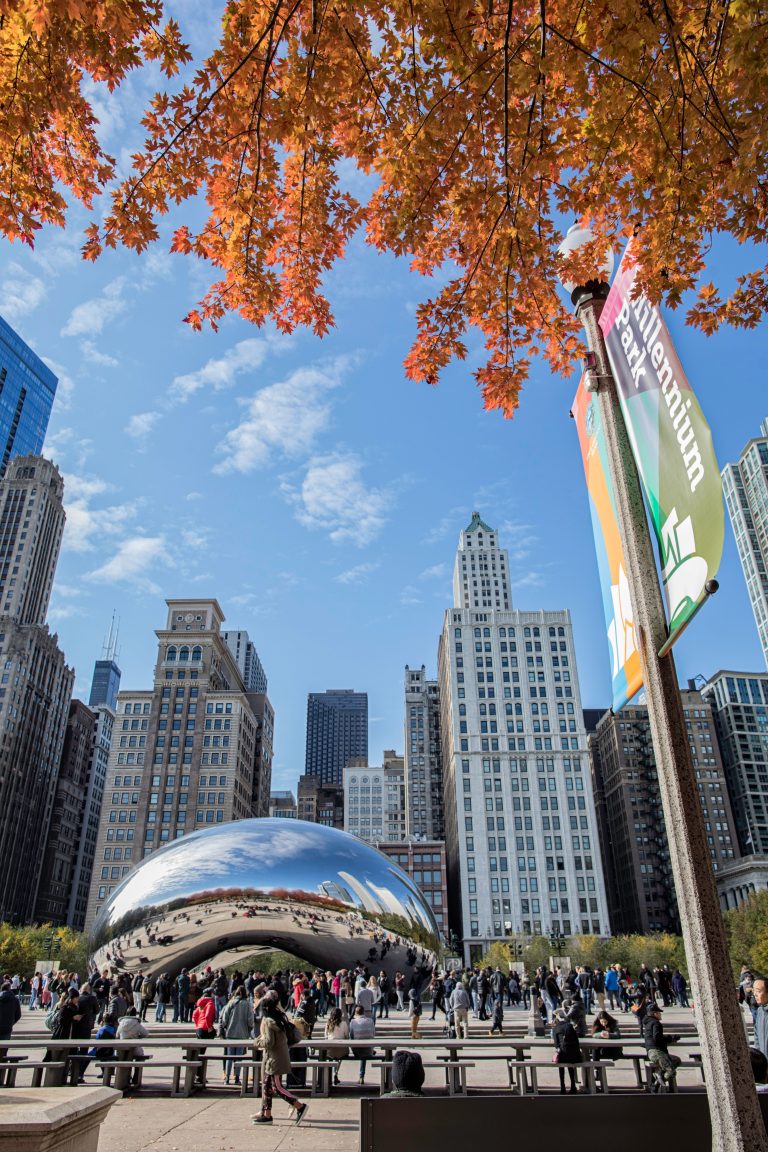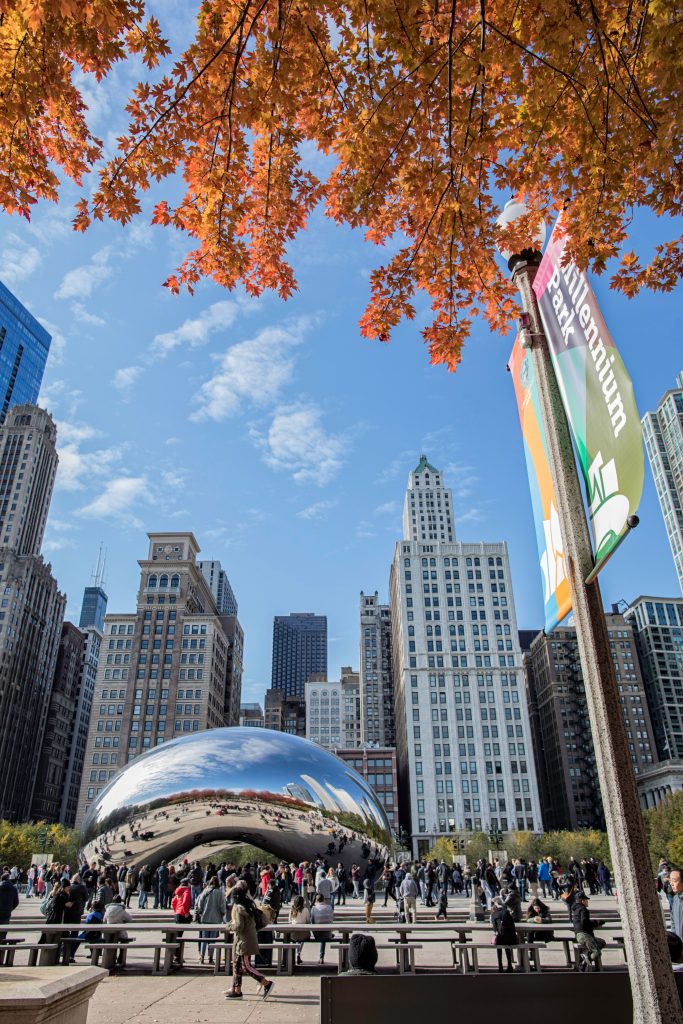 Your significant other won't mind that you're traveling for work when you bring them along. Chicago is an ideal romantic getaway with one-of-a-kind date night experiences, exceptional entertainment, and world-class dining. Snuggle up as you take in the views during a sunset cruise – an ideal way to see Chicago's famed architecture. Hop aboard your open-top vessel in the heart of the Magnificent Mile, then cruise along the Chicago River, where your guide will point out architectural highlights. As you head further down the river to Lake Michigan where you'll catch the sunset, watch the skyscrapers light up and the skyline awaken. Another great destination for a date is Chicago Botanic Garden, but not just for walking around taking in the beautiful greenery–though that's not a bad idea.
Spend a carefree night laughing at Second City, the world's premiere comedy theatre offering the best in Chicago-style sketch and improv comedy every night of the week. Since its premiere in 1959, Second City has consistently been a starting point for many comedians, award-winning actors, directors, and other big names in show business. For music connoisseurs, you can't miss Chicago-style blues. The amplified urban blues sound was born in Chicago and there are plenty of spots here to hear it live. Buddy Guy's Legends is a bucket list stop for blues fans from across the globe. The legendary Buddy Guy, a Rock and Roll Hall of Fame inductee and a multi-GRAMMY Award winner, is known to take the stage on occasion, but no matter who plays, you're in for a treat. Stop by during lunch and dinner hours for a free acoustic show.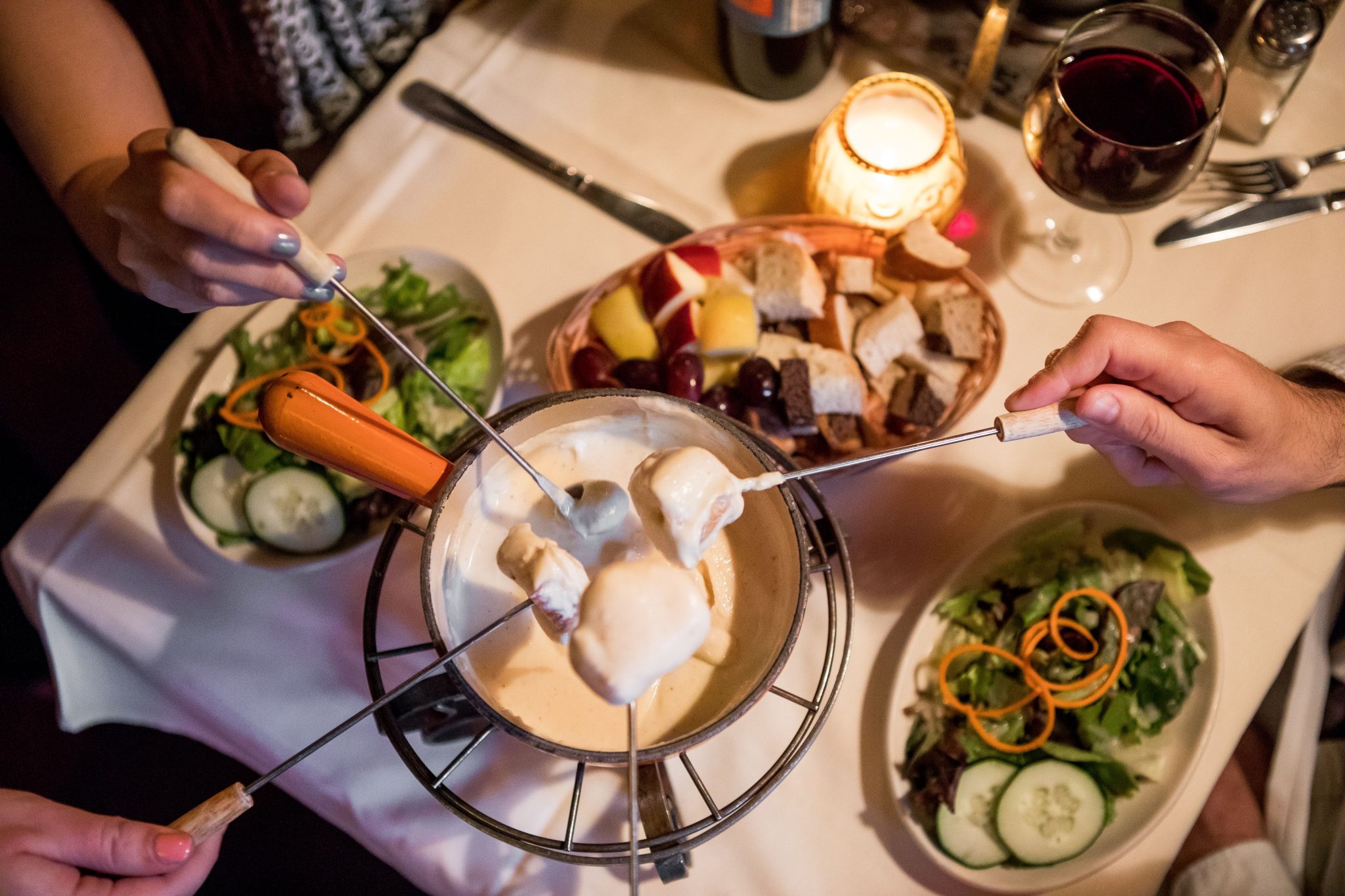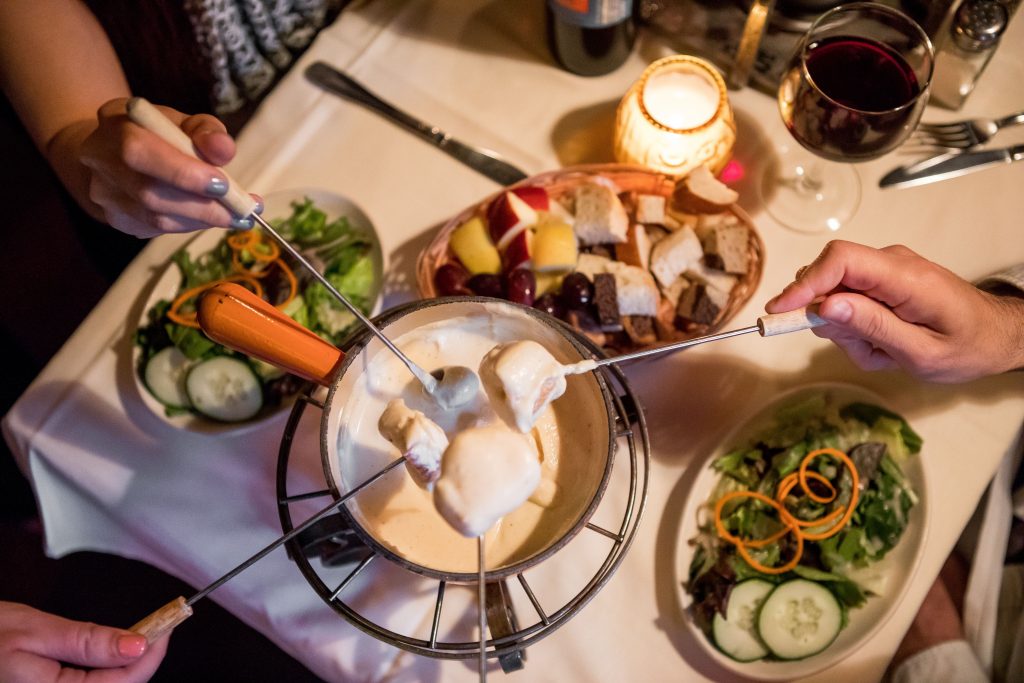 And for the most iconic date night in Chicago, options are endless for a dinner date. Geja's Café (right) is a Chicago spot known for romance. Since 1965, this cafe offers fondue paired with flowing wine in an intimate space. Enjoy Swiss gruyere fondue and sizzling meats for dinner, following by chocolate for dessert. For a classic Chicago date night, head to Gibson's, an icon that has been satisfying diners – from locals to celebrities – since the 1980s. The classic American steakhouse is the first in the country to be awarded its own USDA certification program, but it also serves up fresh seafood, porkchops, and more. If you're looking for something a little less filling, head to City Winery (below) for wine flights paired with a cheese and charcuterie board or shared plates like parmesan truffle fries and Asian wine glazed wings. Snag a seat on the patio where you'll enjoy scenic views of the Chicago River, the city skyline, and Midwest sunsets. You're sure to earn brownie points by extending your trip to ENDO while enjoying all Chicago has to offer alongside that special someone.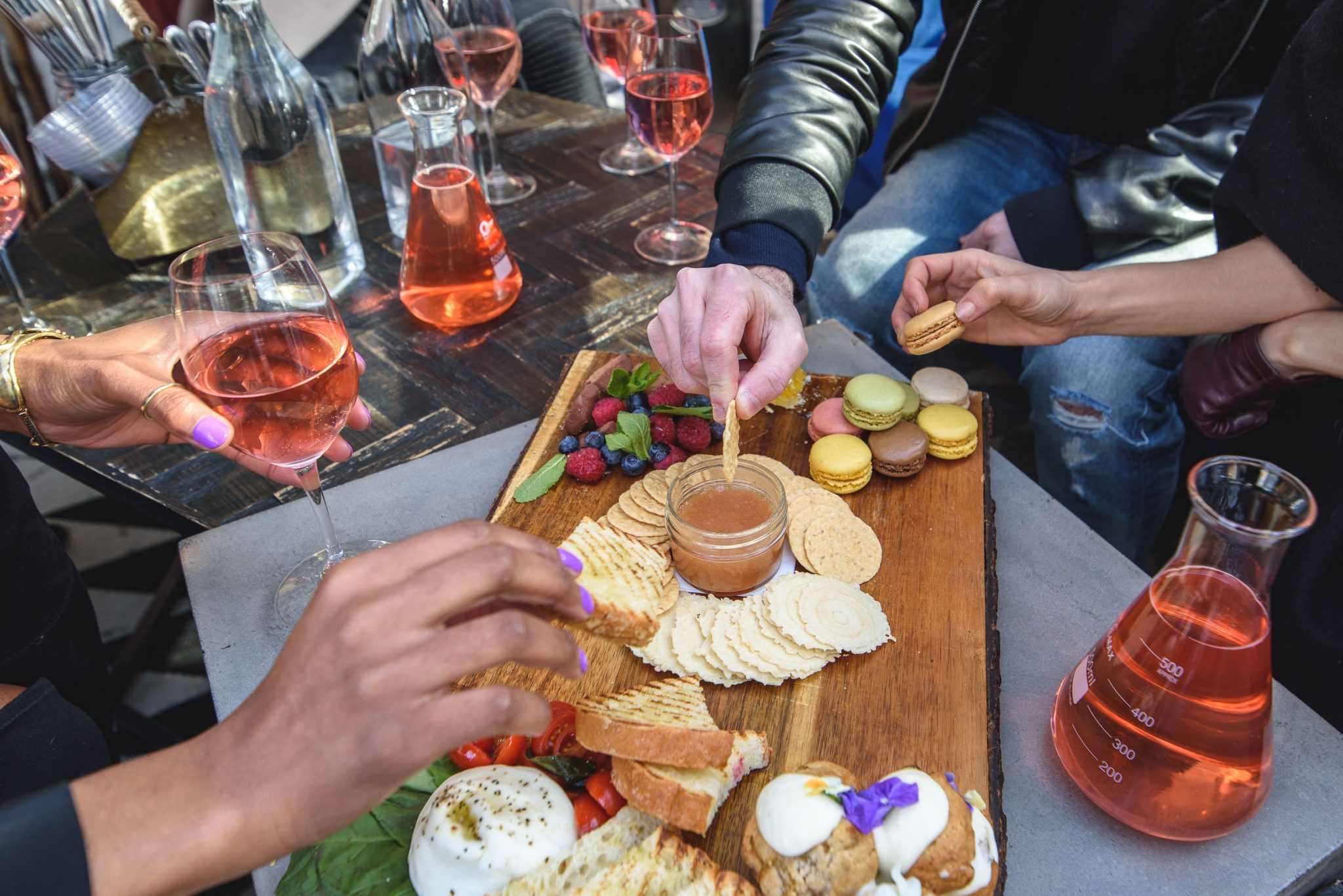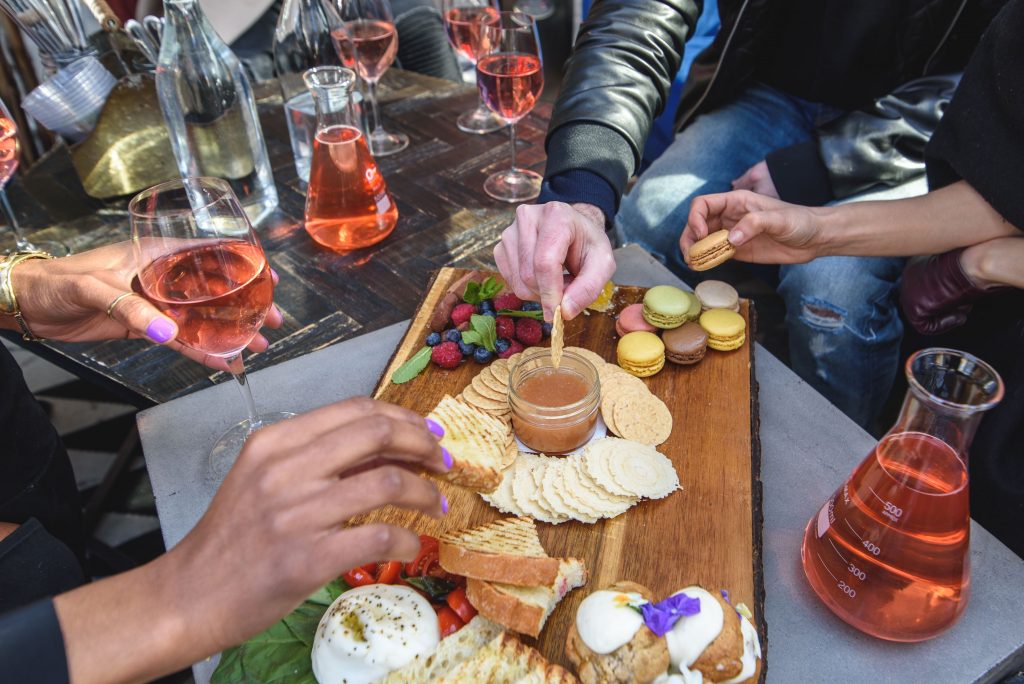 See You in Chicago!
In the words of Frank Sinatra, Chicago is "one town that won't let you down. It's my kind of town, Chicago is." And apparently a lot of people agree with him, as Chicago was voted the best big city in the U.S. for the sixth year in a row according to Condé Nast Traveler. But don't take our word for it. Come see for yourself! Make your reservations now as ENDO 2023 returns to Chicago for the first time since 2018. We can't wait to see you there!
Carson is a Birmingham, Ala.-based freelance writer, who wrote about Atlanta's varied points of interest last year. She writes a variety of articles and features for Endocrine News including EndoGear and Dashboard.