Every lab needs its cell samples to be as accurate as possible, and automated pipetting processes can help ensure maximum accuracy and repeatability when transferring fluids.
Pipettes are a vital part of the endocrine lab – just like fume hoods and microscopes – but one pipette does not fit all. French chemist and microbiologist Louis Pasteur is widely credited with inventing the first pipettes in the 1940s to prevent contamination and simplify the liquid transfer process. The first micropipette was patented in 1957 by Dr. Heinrich Schnitger before Dr. Heinrich Netheler, founder of Eppendorf, inherited the rights and started the commercial production of micropipettes in 1961. Fast-forward to present day pipetting and labs are relying on robotic devices and automated processes to monitor experiments and integrate the data.
While pipettes can be one of the lab's biggest costs, the investment is worth making to ensure the proper tools are in place. Without the correct pipettes, labs are more likely to make mistakes which can lead to costly errors — errors that can reach in the hundreds of thousands of dollars. If your budget allows, considering an automated liquid pipette handling system may be worth the investment.
Here we look at some of the tools created to improve the consistency of cell-based applications.
Eppendorf epMotion 5070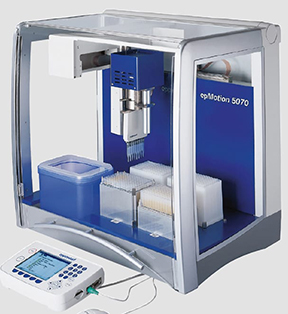 The epMotion 5070's pipetting technology is based on the classic Eppendorf piston-stroke pipettes; thus, protocols previously carried out manually are easily transferred to the liquid handling robot. Its compatibility to a wide range of predefined consumables also allows established procedures to be maintained. Before every run, the optical sensor checks that the required labware is correctly positioned on the deck and it also checks tip type and quantity available. This sensor even checks liquid volumes in vessels for safe operation. Eight different dispensing tools based on Eppendorf's classic air cushion pipetting technology are available, and the epMotion workstation can automatically change the tools connected to its robotic arm.
Thermo Scientific™ E1-ClipTip™ Electronic Multichannel Pipette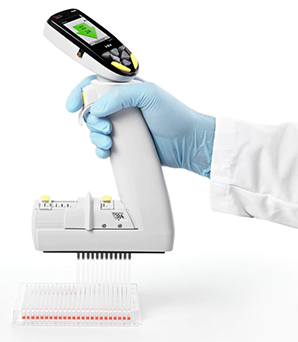 With enhanced versatility and customization, the Thermo Scientific™ E1-ClipTip™ Electronic Multichannel Pipette automates daily 96- and 384-well microplate pipetting tasks with the updated security of ClipTip™ interlocking tip interface technology to ensure the tip is locked and sealed in place until ejected. The new My Pipette™ Creator is a web-based pipetting app powered by Thermo Fisher Cloud that enables programming of E1-ClipTip via a PC. The E1-ClipTip pipette connects to the app via Bluetooth or USB connection and offers pre-programmed protocols, to download and share, for many of reagent kits and pipetting protocols.
Andrew Alliance Pipette+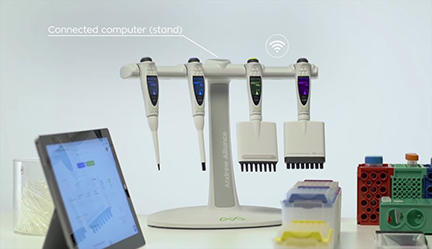 The Andrew Alliance Bluetooth pipettes are manufactured by Sartorius, the inventor of electronic pipettes. Pipette+ comprises smart electronic pipettes connected via bluetooth to a charging stand, and a full computer inside the charging stand connected with OneLab, a software solution that allows scientists to design and execute laboratory protocols. At each protocol step during experiment execution, Pipette+ processes the OneLab instructions, setting the required parameters on the pipettes to be used and removing the need of manipulating the pipettes settings. Single and multichannel pipettes are automatically identified by the stand when the user deposits the pipettes on its slots, and they are charged, monitored, paired, and registered transparently without the user even being aware of it. Andrew Alliance won the New Product Award for Pipette+ at the Society for Laboratory Automation and Screening Trade Show.
INTEGRA ASSIST PLUS & YOYAGER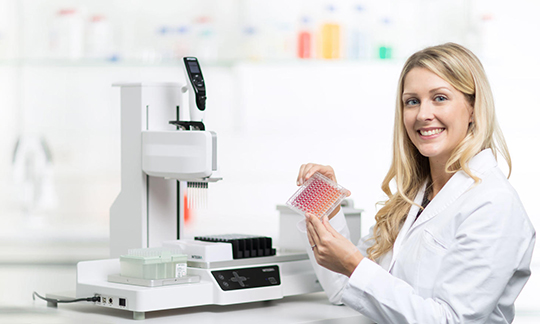 INTEGRA Biosciences offers a range of liquid handling solutions designed to improve the reproducibility and throughput of human leukocyte antigen (HLA) typing workflows. The ASSIST PLUS pipetting robot, combined with the VOYAGER adjustable tip spacing pipette, provides flexibility to labs carrying out HLA typing, whether using serological or sequence-based methods. The ASSIST PLUS pipetting robot means that low volumes are pipetted with higher accuracy and precision compared to a manual workflow, which is particularly important in situations where samples can be small and precious. By combining the ASSIST PLUS with the VOYAGER adjustable tip spacing pipette, users are not restricted by labware type, providing the option to switch between different processes and applications as the lab's workflow demands. Users can even work across a wide volume range, simply by switching between VOYAGER pipettes. This makes the ASSIST PLUS a versatile tool for diagnostics labs and transfusion and transplant centers wishing to enhance their HLA typing capabilities.