Outstanding Educator Award
David Stephen Cooper, MD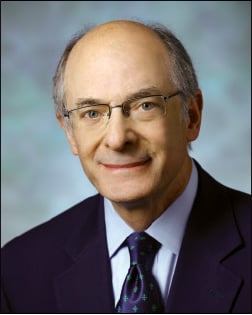 Cooper is a professor of medicine and radiology at the Johns Hopkins University School of Medicine in Bethesda, Md. He has been a faculty member at Johns Hopkins for more than 30 years and is an international leader in the thyroid and endocrine community for his work treating Graves' disease and subclinical thyroid disease, and various aspects of the diagnosis and management of thyroid cancer.
He is most passionate about teaching the next generation of endocrinologists and leads by example, showing tremendous compassion and care for his patients. He has high expectations for his trainees and is a strong advocate for their education. He was recognized with the Endocrine Society's 2016 Outstanding Scholarly Physician Award and has served as the chair of the Society's Endocrine Board Review and as a member of its In-Training Exam Steering Group.
How has the Endocrine Society supported your professional development/career journey?
The first professional meeting I ever attended was ENDO 1977, and the Society has been one of my main intellectual homes for over 45 years. Through its meetings, journals, and committees, I have learned what it means to be an educator. Opportunities to educate others arose through my service as deputy editor of The Journal of Clinical Endocrinology & Metabolism (2004-2008) and in my role as chair of the Endocrine Society's Board Review Course (2014-2017) and its Fellowship In-Training Examination Committee (2014-2019)
As a Laureate Award recipient, do you have any advice for those just beginning their careers?
Follow your heart when it comes to choosing a career path and find a mentor that believes in you.
About the Award
The Outstanding Educator Award is presented in recognition of exceptional achievement as an educator in the discipline of endocrinology and metabolism.