Cover Story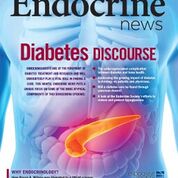 Diabetes can be weakening the skeleton despite apparently good bone mineral density scores. Fortunately, standard osteoporosis treatments appear to be just as successful in patients with d...
Features
If you haven't heard of the JDRF Network for the Pancreatic Organ Donors with Diabetes aka nPOD, you will. nPOD is not just a research lab or a clearing house for pancreas tissue from do...

Insulin pumps and continuous glucose monitors are changing quickly — and their impact is only expected to grow. Details on how these devices should be used with patients are outlined in ...

Introducing a Comprehensive Blueprint to Address the Diabetes Complication of Hypoglycemia. The Endocrine Society leads effort to reduce the incidence of hypoglycemia by developi...
Departments