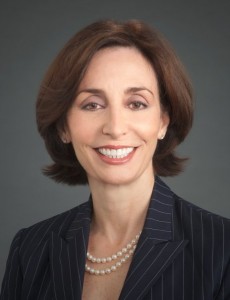 Lisa M. Wyatt, MS, APR, has joined the Endocrine Society as Chief Communications and Marketing Officer. She is responsible for developing and implementing a forward-looking, comprehensive communications and marketing strategy that will result in a cohesive and coherent communications platform across all media, connecting all content and products and engaging members and friends.
"Lisa's deep experience in communication and marketing in healthcare will prove invaluable as she develops the Endocrine Society's overall communications and marketing strategies to execute coherent and integrated initiatives that serve internal clients and promote the key products of the Society — Publications, Meetings, and Continuing Education and Certification," says Society CEO Barbara Byrd Keenan. "We are fortunate to have Lisa be the Society's chief digital strategist, storyteller, the proprietor of the voice of the Society and its members, and the language of the Endocrine Society's external-facing persona. We are confident she will ensure that all Society initiatives serve to efficiently and measurably enhance and grow the Society's membership, value proposition, and brand reputation."
Most recently Wyatt served as vice president and chief communications and marketing officer at Wake Forest Baptist Medical Center, one of the country's premier academic medical centers. Prior to that role she served as senior vice president of public affairs and marketing, overseeing the function in MedStar Health's Washington, DC metro region. At the American Nurses Association (ANA) she served as its deputy executive director. She also served as director of public affairs at the American Psychological Association (APA) and director of corporate communications at the American Institutes for Research (AIR).
"Joining the Endocrine Society represents a great opportunity to be at the heart of some of the biggest public health challenges such as obesity, diabetes, infertility, and endocrine-disrupting chemicals that could be impacting our environment," Wyatt says. "The world's clinical endocrinologists, scientists, and researchers are at the front lines of some of the most significant national and global health challenges, so I am thrilled to join a great team and the Society's members in tackling this important work both at home and abroad."

With the addition of Wyatt as Chief Communications Officer and Meeghan De Cagna as Chief Strategic Partnerships Officer, the Society has modified the titles of its existing senior leadership team for parallel alignment.
The new naming convention is contemporary and has been instrumental in attracting top talent. Members are familiar with the senior team; only their titles have changed:
Robert Bartel, Chief Innovation Officer
Mila Becker, Esq., Chief Policy Officer
Paul Hedrick, CPA, Chief Financial Officer
Wanda Johnson, CMP, CAE, Chief Programs Officer
Richard O'Grady, PhD, CAE, Chief Publications Officer
Amanda Perl, Chief Strategy Officer