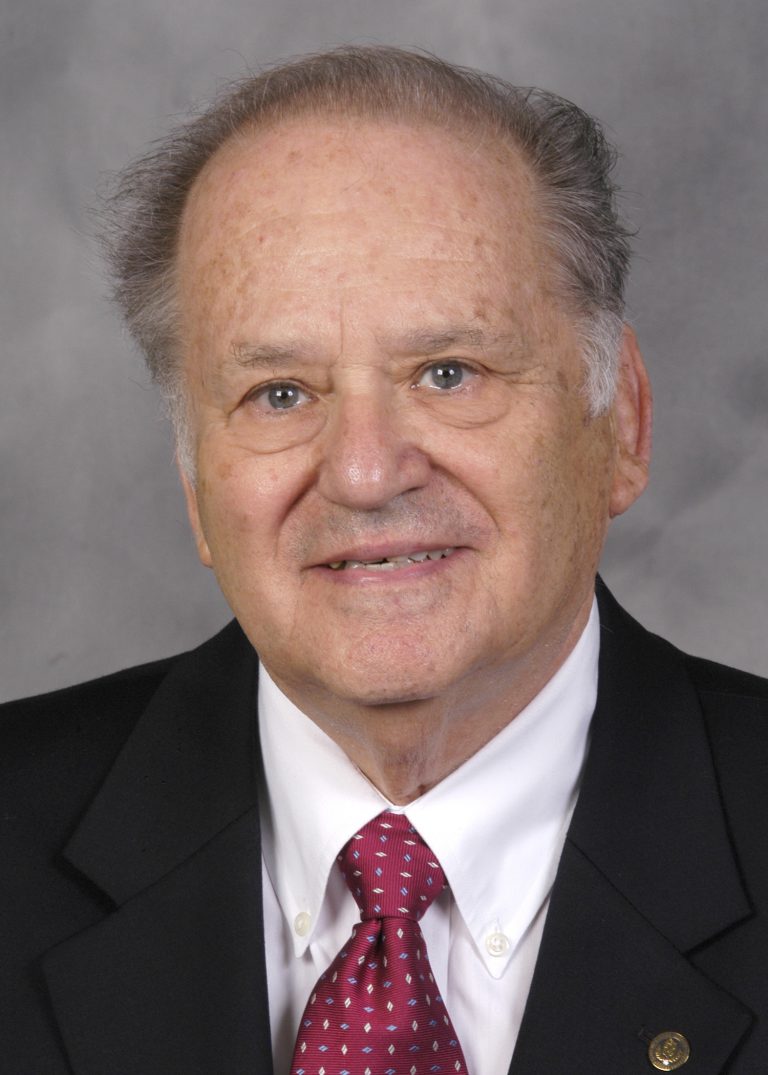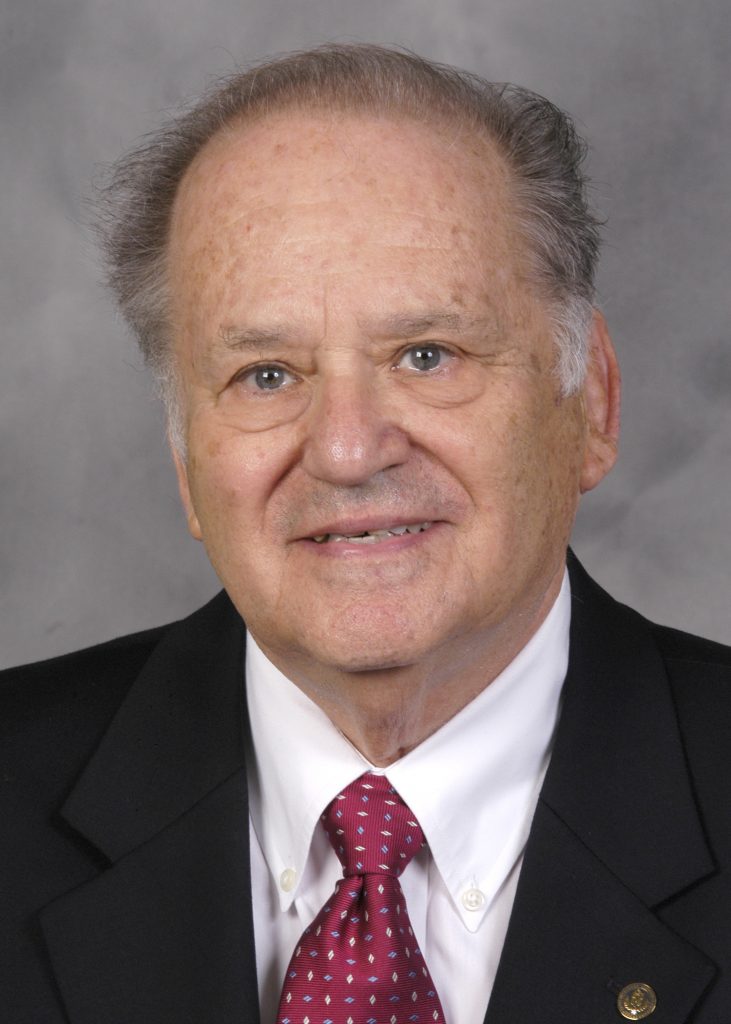 Arnold M. Moses, MD, Emeritus Professor of Medicine at the State University of New York (SUNY) Upstate Medical University in Syracuse, NY, passed away on August 4, 2021. He grew up in Newburgh, New York and after high school, at the age of 17 he enlisted in the US Army. Following World War II, he earned a BS in Chemistry, magna cum laude from Syracuse University and attended medical school at SUNY Upstate where he graduated with honors in 1954. After training at Montefiore Medical Center and Mount Sinai Hospital, he returned to Upstate Medical University in Syracuse. His career spanned 55 years of extraordinary dedication, service, and accomplishments.
Arnold Moses was the quintessential "triple threat": a renowned scientist, clinical researcher, teacher, mentor, as well as an outstanding clinician. His legacy includes extraordinary leadership and service to the endocrinology community. Widely recognized for his pioneering research on the physiology and pathophysiology of the neurohypophysis including describing the osmotic threshold for the release of arginine vasopressin (AVP) and the water deprivation test (the "Miller-Moses" test), he also contributed to ground-breaking studies on calcium metabolism and pseudohypoparathyroidism. His neurohypophysis and calcium metabolism research overlapped in his studies on end organ resistance to AVP and parathyroid hormone (PTH).
Early in his career, his laboratory utilized various animal models including the Brattleboro rat to define many aspects of neurohypophyseal function involving AVP release and action, and he translated his findings in clinical research studies in individuals with normal and abnormal water metabolism. Water and electrolyte studies beginning in the 1950's demonstrated the utility of differentiating Addison's disease from hypopituitarism using the water load test pre- and post- cortisol administration. He accurately described the osmotic threshold for AVP release long before the development of the AVP radioimmunoassay (RIA), based on carefully conducted studies on relative changes in free water clearance with plasma osmolality during infusion of hypertonic saline. After defining the normal osmotic threshold, he described the factors influencing this threshold – cortisol and plasma volume expansion increased the threshold and volume contraction lowered the threshold in patients with primary polydipsia, thus demonstrating up and down regulation of AVP release. Later, he developed an AVP-RIA. He went on to use plasma AVP measurements in Brattleboro rats and in people with diabetes insipidus and other abnormalities of water metabolism, confirming the concepts he previously described using bioassays. Methods used in his classic paper from over 50 years ago describing partial neurohypophyseal defects are still used today.
Arnold Moses also described the mechanism for the antidiuretic action of chlorpropamide and clofibrate. His numerous papers on human nephrogenic diabetes insipidus predicted defects other than of the V2 receptor. He later described in detail the genetic and physiological basis of a person with nephrogenic diabetes insipidus due to an aquaporin water channel mutation.
He co-organized the Second (1976) and Fifth (1992) International Conferences on the Neurohypophysis, served on the editorial board of Endocrinology, the Scientific Advisory Committee of the Diabetes Insipidus Foundation, was editor-in-chief of EndoTrends (Endocrine Fellows Foundation) and co-authored the chapter on Disorders of the Neurohypophysis in Harrison's Principles of Internal Medicine beginning with the 8th edition (1977) through to the 14th edition (1998) as well as numerous other publications.
Working with Gerald Auerbach, Allen Spiegel, Michael Levine and others, he demonstrated that Gs-deficient pseudohypoparathyroidism was associated with resistance to many peptide hormones as well as olfactory dysfunction. He also demonstrated impaired renal calcium reabsorption to PTH, but normal renal calcium absorption to bicarbonate and thiazides.
In recognition of his many accomplishments, he was elected to the American Society for Clinical Investigation in 1971. The American College of Endocrinology presented him the award for Distinction in Clinical Endocrinology in 2004. He also received, the SUNY Chancellor's Award in Recognition of Exemplary Contributions to Research and Scholarship (2003), SUNY Distinguished Service Professor (2007) and SUNY Upstate Distinguished Alumnus award (2009).
Arnold Moses was truly exceptional. He undertook his job with passion, dedication, humility and the highest level of integrity. What stood out to all his colleagues was his unbound fairness, kindness, intelligence, love of endocrinology, and the special care and attention he provided for his patients. At Upstate, he was the Director of the General Clinical Research Center which later became the Clinical Research Unit for 34 years, working tirelessly to promote and contribute to patient-oriented research. He also established the Metabolic Bone Disease Center in Syracuse, served as a member of the New York State Osteoporosis Advisory Council and as an advisor to then Governor Pataki and the New York State Department of Health on the prevention of fractures and treatment of osteoporosis. Through the New York State Osteoporosis Prevention and Education Program, he provided professional and community education programs to the entire Central and Western New York regions, encouraging healthy lifestyle changes to improve overall wellness, prevent fractures and better prevent and treat osteoporosis.
Those who knew Arnold Moses well recognized his zest for life, enthusiasm for his work, sense of humor, modesty, and love of history and continuous life-long learning. His brilliance, creativity, steadfastness and dedication were truly inspiring. Many lives and careers were touched by his generosity, knowledge, and influence. He was an ardent proponent of women in medicine and science, and especially took great pride in his three daughters and 5 grandchildren.
Arnold Moses generously and enthusiastically gave his time and resources and was a role model and support for hundreds of students, fellows, nurses, faculty, researchers, trainees and other health care professionals in whom he instilled a love of endocrinology and helped develop their clinical and research expertise. He was a brilliant physician-scientist, gifted teacher, a giant in endocrinology, and an inspiration to those who follow in his footsteps.