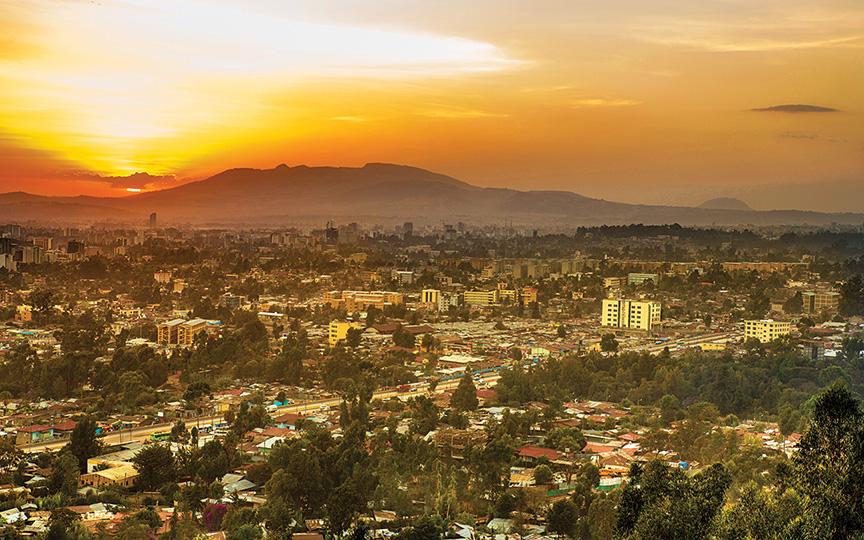 Although it is ending this year, the Endocrine Society's Ambassador Exchange Program launched in 2013 as part of a three-year strategic planning initiative to establish "collaborative relationships between leading medical centers in the United States and international medical centers serving indigent populations." Katy J. Brown, DO, an endocrinologist in Missoula, Mont., writes about her experiences in 2014 when she traveled to Addis Ababa, Ethiopia, to not only share what she has learned with her African counterparts, but to learn from them as well. Tikur Anbessa (TK) or the Black Lion Hospital (BLH) in Addis Ababa, Ethiopia and University of Colorado Hospital in Aurora Colorado were chosen as exchange sites in 2014.
My first inclination to be a part of the Endocrine Society's Ambassador Exchange Program stemmed from reading an article about it in the August 2013 issue of Endocrine News. After I put down the magazine, I immediately began drafting my application. Seven months later, Professor Michael McDermott and I were boarding our plane to Addis Ababa, Ethiopia.
The world's most pressing health afflictions not only create mayhem in those countries most severely stricken, they permeate globally, indefinitely becoming either a direct or lateral affliction of the U.S. by way of immigration or international aid. Chronic diseases such as those driven by obesity are now superseding communicable and parasitic diseases in terms of morbidity and mortality in some developing countries. The World Health Organization (WHO) estimates that worldwide at least 2.8 million people die each year as a result of being overweight or obese. Specialty trained endocrinologists are needed worldwide to contest these emerging pandemics.
Ethiopia Bound
Over the past 20 years Ethiopia's economic growth has led to urbanization and increasing need for subspecialty trained physicians. Such growth generally leads to greater urbanization allowing for major shifts in subsistence; for those who benefit fiscally, it can become a catalyst promoting sedentary behavior and changes in dietary patterns. Increasing body mass index (BMI) and waist circumference (WC) combined with an ethnic predisposition of developing greater insulin resistance independent of adiposity has contributed to increasing rates of diabetes in Ethiopia. The International Diabetes Federation estimated in 2013 that the prevalence of pre-diabetes and diabetes in Ethiopia was 6.9% and 4.4% among those aged 20-79 years old. The overwhelming majority are unaware that they have the disease.
In the last 20 years Ethiopian leadership has prioritized training future doctors to improve access to healthcare. The number of medical schools has increased from three to 20 in the last decade. In 2014, 1,000 medical students graduated with a medical doctorate degree and this year the number of graduates is expected to more than double. Despite this progress, there remains a critical shortage of subspecialty trained physicians in all medical fields. Medical school and training in Ethiopia is free with mandatory reciprocation of time and service. After training, if they remain in academic medicine their responsibilities are multi-faceted. As endocrine specialists, they run endocrine clinics and see inpatient endocrine consults, but also serve as general practitioners, making rounds on adult and pediatric hospital patients, teaching house staff, writing exam questions, serving on administrative committees, and participating in research protocols and grant writing. Academic employment alone is not enough compensation to support themselves or their families and this discrepancy has lead most to open evening and weekend private practice clinics in which they see patients that can afford to pay out of pocket. No surprise then that the end result for many can be burnout. Herein lies the problem: recruiting, training, and retaining physicians within Ethiopia's borders.
Welcome to the Black Lion Hospital
Tikur Anbessa or The Black Lion Hospital (TA/BLH) is the largest public University Hospital built more than 50 years ago in Addis Ababa. Until March 2012 there were only three endocrinologists serving 90 million people. An official endocrinology fellowship training program launched in 2012 and the first two fellows graduated in May 2014, Dr. Helen Yifter Betew and Dr. Abdurazak Ahmed Abdela. They trained under Dr. Ahmed Reja and Dr. Tedla Kebede.
 Outpatients at TA/BLH have either a 'morning' or 'afternoon' appointment. Prior to the appointment, the patient checks in well ahead of time, their chart is pulled from a separate building, and carried back to clinic. Patient exam rooms are shared by three to four physicians seated at desks. Each patient is then called one-by-one — the order is determined by how the charts were stacked by the nurses. There is no such governing entity such as The Health Insurance Portability and Accountability Act (HIPPA) in Ethiopia as this would require single patient rooms, locked and secured charts, numbering systems for identification, etc. If a resident had a question about management of a patient, they would openly discuss the circumstances of the case in front of all present in the room. No one seemed uncomfortable by this arrangement and throughout our stay there was a reemerging theme of community, openness, and disclosure. Time spent on medical documentation in the U.S. has increasingly become a source of contention with practitioners. Such a frustration is not known in Ethiopia – each physician documents as much or as little as they deem appropriate.
Medical advances in the developed world have, in many ways, negated the need for rigorous and meticulous physical examination skills. What was once a vital skillset for physicians has now been replaced by sophisticated and expensive medical diagnostic tests. Ethiopia is in the midst of this transition – at times still relying entirely on the history of present illness and physical examination; this approach is especially difficult in the management of diabetes. Most patients at TA/BLH cannot afford the tools needed to self monitor their blood glucose (SMBG). Additionally, there is not a reliable assay to measure Hemoglobin A1c. By default, medical decisions are made based off of a single fasting blood sugar on the morning of the patient's clinic appointment and signs/symptoms suggestive of hyperglycemia or hypoglycemia are then addressed. The diabetes medications available are metformin, glibenclamide, NPH insulin, Regular insulin, and 70/30 NPH/Regular Mix.
Thyroid pathology is the second most common endocrine disorder in Ethiopia. The medications available include Thyroxine, Propylthiouracil (PTU), and Propranolol. For hyperthyroidism, an uptake and scan is not readily available making many cases difficult to diagnose as either high or low uptake. Radioactive iodine for the treatment of Grave's and differentiated thyroid cancer is also generally not available due to isotope availability. In 2013, Ethiopia was rated as having moderate iodine deficiency classified by median urinary iodine concentration (UIC) of 20-40 mcg/L. Only 19.9% of Ethiopian's consume iodized salt, a drastic decrease as a result of the previous war conflict with Eritrea, where iodized salt was once imported. The proportion of the population with mild to severe iodine deficiency is 83% and the estimated incidence of goiter associated with iodine deficiency is 40%. The problems associated with goiter, maternal hypothyroidism, and infant morbidity related to iodine deficiency and hypothyroidism remain a great concern and the government has taken steps to sanction the production of iodized salt within Ethiopia, although the timeline of clinically relevant implications is uncertain.
Regarding other topics within the umbrella of endocrinology: hormonal assays for vitamin D, PTH, testosterone, and pituitary hormones are either not available or inconsistently available. Cosyntropin is not available for the diagnosis of adrenal insufficiency and biochemical tests for the diagnosis of pheochromocytoma are lacking entirely. Magnetic resonance imaging (MRI) is available for pituitary imaging and ultrasound is available for thyroid imaging although this is done in the radiology department and thyroid cancer cases are sent to Oncology.
My Cultural Immersion
Our first morning at TA/BLH we ascended eight flights of stairs to the house staff quarters for morning report. The seating arrangements clearly demonstrated the hierarchy: Attendings in the front rows, followed by the senior residents, interns, then medical students. The chief resident was seated at the front, a single empty chair placed intimidatingly next to him. He called out various house staff to come to the front and present their patients cases. Not one presentation was spoken at a decibel louder than what just enough to be mostly heard, this was a recurring theme throughout our two-week visit. After presentations Professor McDermott and I were warmly introduced then we were off to diabetes clinic.
 We saw several women with diabetes presenting for regular checkups and questions about fecundity. I sat with Helen as she gathered the history of present illness, interacting with the patients in Amharic, then translating the conversation to me in English. One young woman with uncontrolled type 1 diabetes and nephropathy had seen Helen a number of times. The young woman was newly married and anxious to bear children despite repeated counseling regarding the risks to mother and fetus with uncontrolled diabetes. The young women shared her news, she was 12 weeks pregnant. Helen nodded; her repeated counsel had not altered the inevitable. Later she told me, "The husband decides how many children he wants. It is changing in some circles, but there are still many that believe that the greater number of children reared, the greater their wealth. It's a status symbol. If there is difficulty with pregnancy, for any reason, the women fear their husbands will divorce them."
Shortly thereafter we saw an obese woman with uncontrolled type 2 diabetes and advanced maternal age status post recent delivery of a fetus with anencephaly. She inquired about her fertility as her husband wanted more children. I watched as Helen patiently and empathetically counseled her about the risks of pregnancy with her comorbid conditions. Helen suggested her husband attend her next appointment so he could hear the message firsthand. The patient shyly smiled and informed Helen that her husband would not be interested in hearing this unfortunate news from anyone.
I noted earlier the statistics for undiagnosed Type 2 Diabetes and Pre-Diabetes. We know that lifestyle modification with weight loss through diet and exercise is superior to pharmacotherapy for the prevention and the reversal of pre-diabetes and type 2 diabetes. We have found that successful and sustained weight loss and weight loss maintenance is inherently difficult to achieve, even with an abundance of resources available to us in the U.S. I asked Helen if she had any success in counseling her diabetic patients about lifestyle change with diet and exercise. She had not a single patient return to her with clinically significant intentional weight loss. Not only is the plight difficult enough with meager resources available to her patients, there is fear regarding the social stigmatization of weight loss and its association with HIV/AIDS infection.
My experience with the Ambassador Exchange Program was fruitful and enlightening. There remains much to be done to support this new endocrine fellowship program and to improve the resources available to endocrinologists and indigent patients in Ethiopia. It is only through ongoing support and repeated interactions with the same institutions that we intimately learn the landscape and can then thereby develop innovative solutions to difficult problems. It is my hope that we can procure continued support from the Endocrine Society, University of Colorado, and my new employer, Providence Saint Patrick's Hospital in Missoula, Mont., in order to continue collaborations for the betterment of endocrine care world-wide one program at a time.
About Katy J. Brown
Katy Brown, DO, is currently a practicing endocrinologist in Missoula, Mont. She completed her fellowship in Endocrinology, Diabetes and Metabolism at the University of Colorado in Aurora, Colo. She is a dedicated athlete and outdoor enthusiast with a background in nutrition/dietetics rendering her especially passionate about educating patients regarding lifestyle changes in the prevention and treatment of chronic metabolic diseases. She is committed to cultivating global collaboration so that, together, endocrinologists can combat increasingly problematic diseases often driven by obesity.