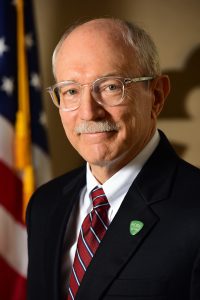 On June 11, the National Institutes of Health (NIH) announced the appointment of Rick Woychik, PhD, as director of the National Institute of Environmental Health Sciences (NIEHS) and National Toxicology Program (NTP).
Woychik has been serving as the Acting Director of NIEHS since October 2019 following the retirement of the previous Director, Linda Birnbaum, PhD. As director, Woychik oversees NIEHS' portfolio of research and implements funding strategies to explore the links between environmental exposures and health.
Woychik is an established scientist at NIEHS, having served as Deputy Director since 2011 while also leading a research lab focused on understanding the role of epigenomic transcriptional regulation in response to environmental exposures. He brings a wealth of expertise and knowledge to the position of director; his previous experience includes roles as CEO of The Jackson Laboratory, chief scientific officer at Lynx Therapeutics, and vice chair for research and professor in the Department of Pediatrics at Case Western Reserve University.
The Endocrine Society has a longstanding relationship with NIEHS, given our members' research expertise and clinical interest in how endocrine-disrupting chemicals (EDCs) impact human and ecological health. As co-chair of the Friends of NIEHS, a coalition that works to increase Congressional support for NIEHS, we previously worked with Woychik on a Congressional briefing on environmental exposures and autoimmune disease.
The Endocrine Society congratulates Woychik on his appointment and we look forward to working with him in his new role.