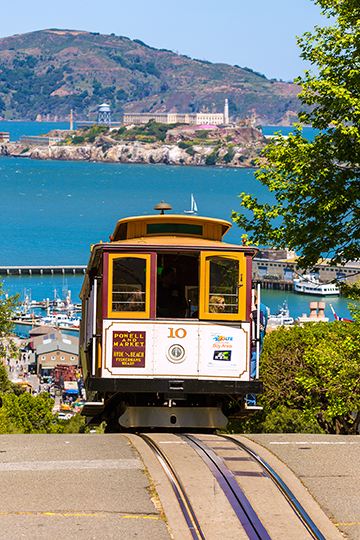 ENDO 2020 is heading west so Endocrine News is hoping to encourage you to attend the most important meeting of endocrinology scientists and clinicians from around the world by tempting you with a few highlights of this year's host city: San Francisco.
San Francisco is known for its cable cars, iconic bridge, and for being the home of hippies, tech start-ups, and…endocrinology? March 28-31, 2020, San Francisco will be a home away from home for endocrinologists from across the globe as ENDO 2020 heads to California.
The Endocrine Society's annual meeting and the world's largest event for presenting and obtaining the latest in endocrine science and medicine, ENDO will be a can't-miss event in 2020. New for 2020, ENDO will feature educational design enhancements in addition to its four Basic Science Pathways: Diabetes and Metabolism, Neuroendocrinology, Nuclear Receptors and Gene Regulation, and Reproductive Endocrinology.
If you haven't already reserved your space, hurry up and do so. ENDO 2020 will take place in one of the world's top tourist destinations that is guaranteed to provide a memorable getaway.
Whether you're traveling solo, meeting friends at the conference, or want to bring the whole family along, San Francisco has endless options for all and will certainly be a favorite destination for everyone who travels there. Visit https://www.endocrine.org/endo2020 and begin planning your stay today!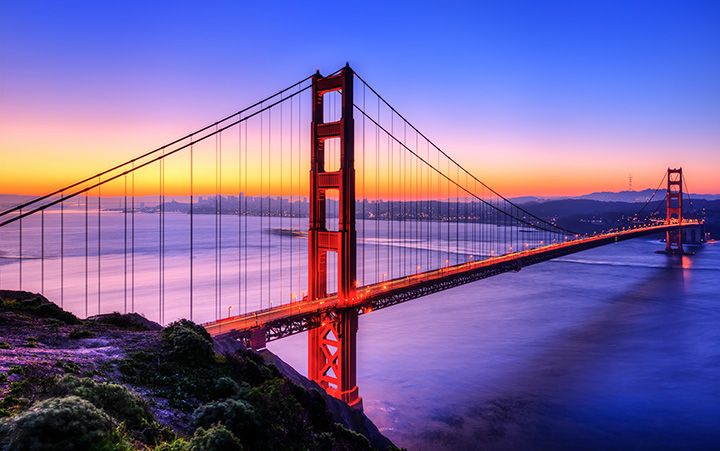 Staying Golden Through the Years
Located along the natural bay known as the Golden Gate to the Pacific Ocean, San Francisco (named after Saint Francis of Assisi) was originally a Spanish territory, before becoming the property of Mexico. In 1846, the city officially became the property of the U.S. – a prize in the Mexican-American War. At the time, the population was only 1,000, but that quickly changed with the discovery of gold, and the beginning of the Gold Rush, in 1848. 1849 brought treasure-seekers from across the globe, increasing the population to 25,000 in just one year. Arguably the most significant period in the city's history, the Gold Rush brought the negatives along with the positives – the city was lawless and wild, with six major fires breaking out in less than two years.
The silver boom of Nevada's Comstock Lode again filled the city's docks and lined its pockets in 1859; and the construction of the Central Pacific Railroad drew thousands of laborers from China. The city expanded as cable cars enabled the city's grid to spread over its steepest hills.
On April 18, 1906, the San Andreas Fault slipped more than 10 feet, unleashing a massive earthquake. The tremors broke water mains and triggered fires that raged for four days, killing 3,000 people, destroying 25,000 buildings, and leaving 250,000 homeless. But the city rebuilt quickly and continued to grow.
Over the next century, San Francisco was home to the hippie movement which peaked with the "Summer of Love" in 1967. The 1980s brought the gay rights movement which was centered in San Francisco's Castro District. During the dot-com boom of the late 1990s, large numbers of entrepreneurs and computer software professionals moved into the city.
While it has had its share of negatives over time, most of San Francisco's history has kept the city in a positive light, one of the reasons it is one of the top tourist destinations in the world.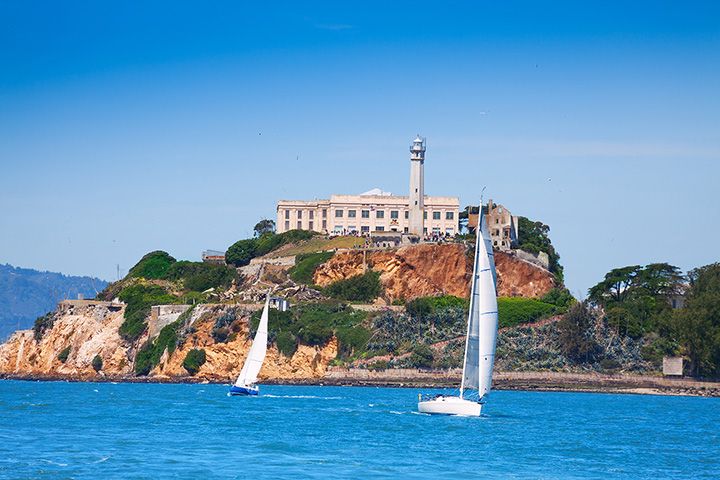 Out and About
With all this city has to offer, it's hard to imagine that it's only seven miles by seven miles. But regardless of the amount of space the city takes up, there's more to do here than in many destinations across the U.S. The most iconic site in San Francisco, the Golden Gate Bridge has been described as "possibly the most beautiful, certainly the most photographed, bridge in the world." While the bridge can be seen by helicopter, boat, and even bike tours, the most popular way to see this can't miss destination is by foot. Bear in mind the walk is three miles roundtrip, but the views offered from the bridge make it worth the hike.
Another one of San Francisco's most iconic destinations is Alcatraz. Alcatraz was the site of the first lighthouse in the Western U.S., but became a federal penitentiary from 1934 to 1963, housing famous convicts such as Al Capone and George "Machine Gun" Kelly. Now, this once infamous prison island is part of the Bay Area's 80,000-acre Golden Gate National Recreation Area. Bay cruises are offered to the island, and guests can even get an inside look of one of the most famous prisons in history with the award winning audio presentation "Doing Time: The Alcatraz Cellhouse" tour, which features the stories of life inside from real prisoners and a real-life look into a prison breakout as told by correctional officers who lived and worked on the Island.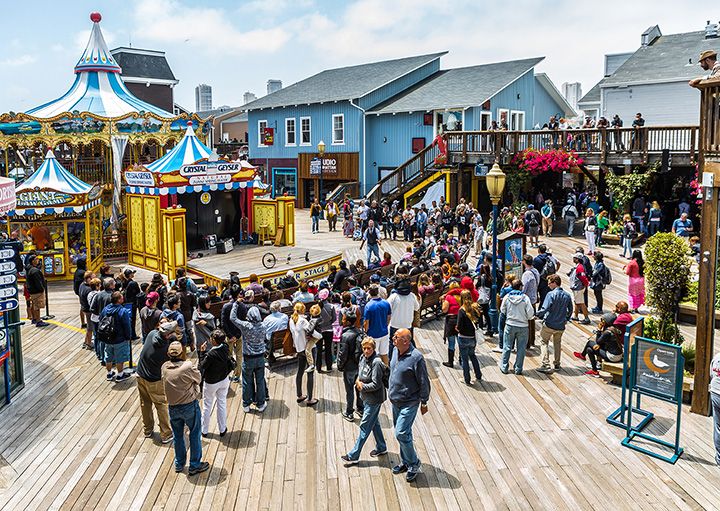 San Francisco's most visited tourist destination is PIER 39 in Fisherman's Wharf. Here, guests young and old will love catching a glimpse of the PIER's "Sea Lebrities," sea lions who bask in the sun at PIER 39's West Marina. The PIER will continue to please crowds of all ages with the Aquarium of The Bay, the San Francisco Carousel, the Flyer, a simulated flight throughout the city, and more.
There is no shortage of museums from the San Francisco Museum of Modern Art to the Cable Car Museum to the Exploratorium featuring more than 600 hands-on exhibits and breathtaking views of the city and bay in the spectacular glass-and-steel Bay Observatory.
Other can't miss attractions include the Presidio and Yerba Buena Gardens. A former military post, the Presidio is now a national park site and recreational paradise featuring spectacular vistas, beautiful trails, and historic and architectural treasures. Yerba Buena Gardens is an award-winning public facility at the heart of San Francisco's downtown cultural district that features a children's garden, public art, and more.
With all there is to see and do, travelers are sure to work up an appetite. San Francisco is a great place to be hungry because the options for dining are endless here.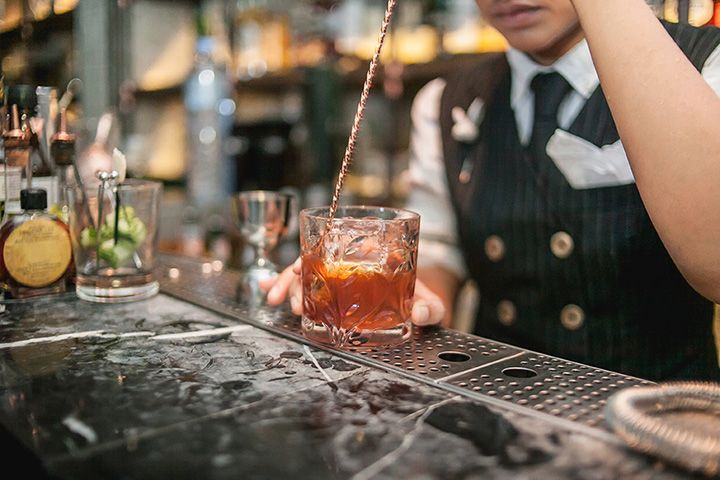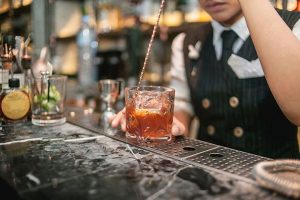 Just four blocks away from the Moscone Center, in the basement of the Hearst Building is the aptly named Local Edition. This chic underground lounge has a vintage newspaper theme, but it's bound to appeal to those who don't have newsprint running through their veins. Don't be surprised if once you descend the stairs you hear the horns and keyboards from a cool swing, dance, rhumba, or jazz band that calls this joint home. www.localeditionsf.com
If you're looking for a swanky happy hour, then look no further than Hawthorn, a multi-room lounge that serves both the afterwork crowd and the weekend clubbers. Housed below ground in an area just a few blocks from Union Square that was once home to brothels, Hawthorn has a full menu of craft cocktails to help you unwind from a long day of sessions. Be warned, when the lights go down, the music goes up and the party is just getting started! www.hawthornsf.com
Sometimes all you need to relax is an American classic and that's exactly what the Keystone Social House is. Billing its drinks as "unique, yet approachable" Keystone is the ideal spot for an escape from the bustling streets of San Francisco outside. With a menu full of contemporary Bay Area fare, you find that Keystone will quickly become your go-to gathering place with your cohorts once the sessions have ended for the day. www.thekeystonesf.com
Billed as a Tenderloin "beer mecca," Mikkeller Bar is known for its selection of local brews and … sausage? Popular for its gregarious staff and dozens of beers on tap, Mikkeller also boasts The Tivoli sour room, home of the best Lambic and sour beers from around the world. Located in a Victorian building at 34 Mason Street and packed with rows of communal tables, it won't be long before "everybody knows your name!" www.mikkellerbar.com 
Always In "Sea"-son
Fresh seafood is always on the menu in San Francisco. One of the city's favorite spots is Ayala, the cutting-edge, seafood-forward restaurant of Melissa Perfit who made a name for herself on Bravo's Top Chef. The Louie Salad is one of the standouts on the creative menu – a savory combination of Dungeness crab, prawns, soft egg, and avocado that is filling without being too heavy. For a delicious meal with a side of beautiful views, Angler serves up an ever-changing menu of prime seafood and meat dishes like the giant octopus, hot grilled rabbit, and California king crab. But its most famous for its raw oysters and clams which can be the starting point of dinner with appetizer portions or come as a full meal.
A multi-level culinary destination, ONE65 is comprised of six floors. The first floor is a patisserie with macarons and baked goods. The Bistro & Grill is on the second and third floors, where light lunch and dinner comfort foods are on the menu. Experimental cocktails can be found on the fourth floor at Elements Bar, while the top two floors offer a unique, 10-course prix fix experience. While ONE65 is known for their wide variety of culinary options, the consistent crowd pleaser is the charcoal oven-cooked beef cheek.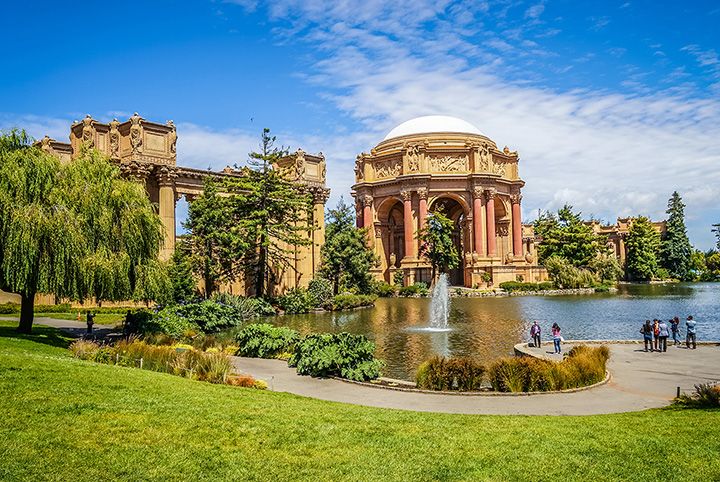 If a burger and beer sound more appealing, The Golden Gate Taproom is sure to hit the spot. This lively sports bar offers pub food favorites and countless beers on tap.
It's no surprise that San Francisco is known for its exceptional Chinese food, and M.Y. China is one of the shining stars of the city's dining scene. Celebrity chef Martin Yan offers a delightful experience for all the senses including a full menu of seafood, wok dishes, dumplings, and roasted meats.
Going back to the city's roots, Cochinita Pibil at Mezcalito is the place to get an authentic Mexican meal with some true classics, like Cochinita Pibil, a dish featuring slow-baked pork cooked in banana leaves, seasoned with spices and citrus, served with pickled red onion, frijoles, and queso fresco. Original cocktails and mescal and tequila flights round out this spirited dining experience.
While chains can be found around San Francisco, this is a city where eating like a local is a requirement for all travelers.
Home Away from Home
After a day of traveling up and down the hilly streets, followed by meals that will fill even the hungriest diner, travelers can rest assured they'll get a good night's sleep at their home away from home. ENDO 2020's list of official host hotels offers options for every type of traveler. The Moscone Convention Center which will house ENDO 2020 is located conveniently near all of the suggested options.
The Marriott Marquis, located only .3 miles from the convention center, is ideal for business travelers. Contemporary rooms and suites offering impressive views of the city allow travelers to relax and recharge right in the center of the action. Set in a striking high-rise building, this polished downtown hotel also houses The View, a 39th-floor lounge offering panoramic views, small plates, and cocktails, plus a casual gastropub and a café. Travelers looking to stay on top of their workout routines will find a fitness center and guests can unwind in the hotel's luxurious spa to feel refreshed after a long day of meetings.
A uniquely stylish hotel inspired by the area's bold and progressive history, Hotel Zeppelin rebelliously celebrates the collision of San Francisco's countercultural tradition with a mischievous approach to contemporary hospitality. Considered an "urban, avant-garde nirvana," this hotel features guest rooms honoring San Francisco's bold, bohemian past with custom-designed furniture, vintage turntables, vinyl records, and funky artwork. The hotel is also home to a high-concept game room, a fitness center with city views, and The Rambler, a cool cafe and bar with a fireplace.
Sir Francis Drake has been called the Grand Dame of boutique hotels in San Francisco. Housed in a building from the 1920s, the hotel evokes an old-world feel with its grand staircases, gilded ceilings, sleek marble walls, and crystal chandeliers, while thoughtfully updated furnishings in the lobby as well as guest rooms and suites showcase modern comforts in a classical setting. The hotel hosts a free afternoon wine hour and has a glamorous top-floor lounge called Lizzie's Starlight, Scala's Italian Bistro, and a retro lobby bar.
Additional options are available and can be found https://www.endocrine.org/endo2020.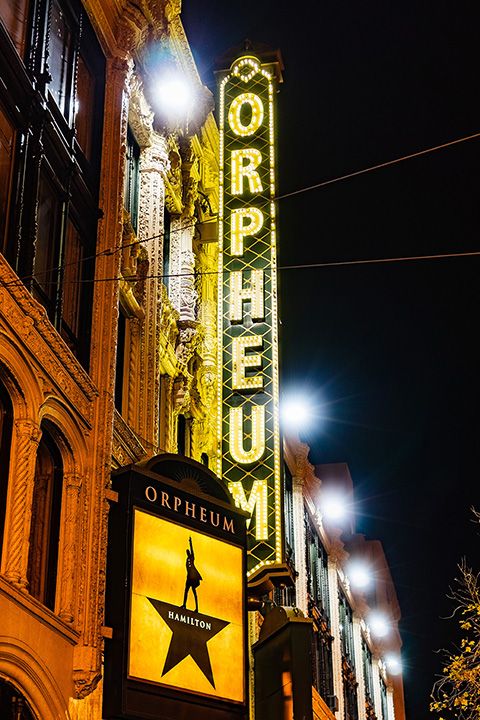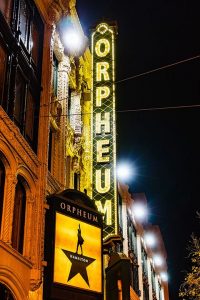 San Francisco's thriving arts scene lets you get in on the acts all across the Bay Area every night of the week. Here are just a few theatrical highlights playing near ENDO 2020.
Hamilton: An American Musical
If you missed it in 2019 in New Orleans and in 2018 in Chicago, this may be your last chance to hit your mark and witness this historical musical. Showing at the opulent Orpheum Theater, this world-wide phenomenon received armloads of Tonys, a Grammy, and a Pulitzer Prize, and it definitely lives up to the hype. https://hamiltonmusical.com/san-francisco/
Gloria
This satirical play by Brendan Jacobs-Jenkins takes place in the cutthroat world of magazine publishing in Manhattan and offers a unique look at workplace dynamics and how technology impacts careers, lives…and deaths. A finalist for the 2016 Pulitzer Prize for Drama (thanks, Hamilton!), Gloria leaves nobody unscathed. https://www.act-sf.org/
Harry Potter & The Cursed Child
This two-part play tells the story of the adult wizard Harry Potter, his friends, his enemies, and the next generation of Hogwarts students. You'll love seeing your favorites all grown up, not to mention the new adventures they encounter along the way. The stagecraft in this production is so phenomenal that you will be in wonder at the magic that takes place live right in front of you! https://www.harrypottertheplay.com/san-francisco/  
If you haven't made your reservations for ENDO 2020 yet, what are you waiting for?  ENDO 2020 is an excellent opportunity to connect with thousands of colleagues from around the world to discover the most innovative scientific and clinical breakthroughs in the field. Add in an unforgettable trip exploring one of the world's top travel destinations and you cannot go wrong. Register today to take part in the most valued endocrinology meeting in the world.
Carson is a Birmingham, Ala.-based freelancer writer who regularly contributes the EndoGear column to Endocrine News.