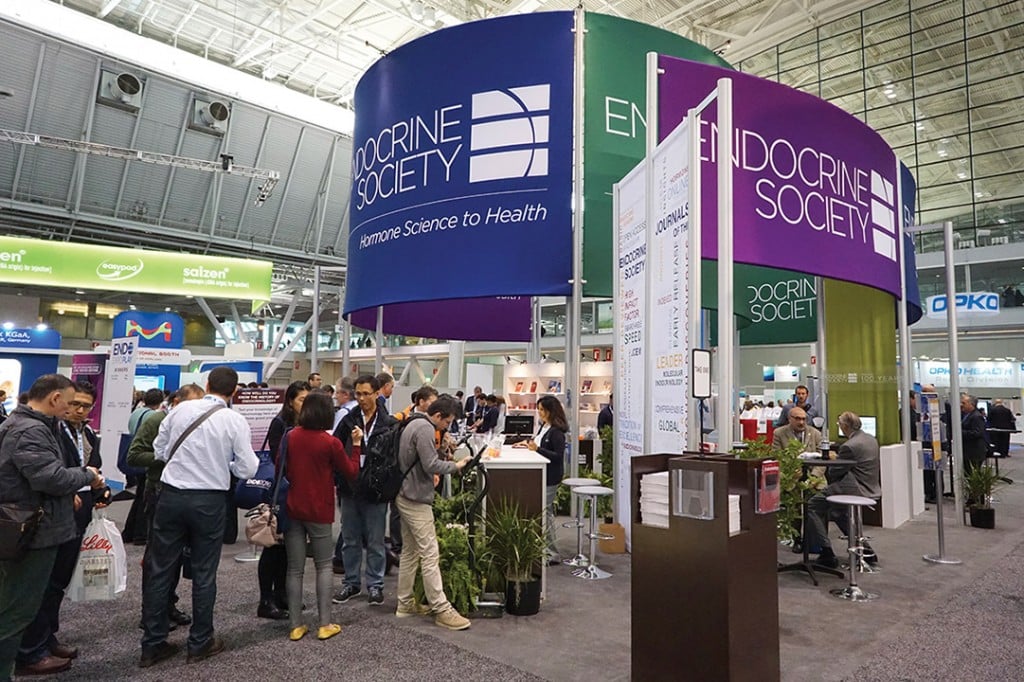 As the Endocrine Society celebrated 100 years at ENDO 2016, attendees were treated to a cascade of new research. From the ongoing controversy of what constitutes gestational diabetes to the ongoing research of endocrine-disrupting chemicals, endocrine science was the real star in Boston.
On the afternoon of Sunday, April 3, the day before ENDO 2016 ended, as the snow fell on the Boston Seaport, endocrinologists from around the world filled the seats in Room 160 of the Boston Convention and Exhibition Center to listen to the controversial views on treating hypothyroidism in the elderly.
Anne R. Cappola, MD, ScM, a professor of medicine and director of the Clinical and Translational Research Center at the Perelman School of Medicine at the University of Pennsylvania, stood up before the crowded room of researchers and physicians in this meet-the-professor session on different clinical manifestations of hypothyroidism in elderly patients, to present her case studies and poll these doctors on the correct course of treatment. But before Cappola got started, she said with a smile, "I know you had great other choices, so thank you for coming here" and many in the audience nodded and smiled along and took out their notepads and tablets for another 45 minutes of education and discourse.
And Cappola's welcoming remark really could be the tag line for any ENDO meeting, always too much to see and do over four days, always a very deep well from which to keep pulling, to help shape ever more groundbreaking ideas on treating endocrine disorders. The Endocrine Society is 100 years old this year, and in that time, there have been some truly revolutionary findings and methods put to use. So it makes sense that ENDO 2016 was held in Boston, a city itself steeped in history, where people come from all over to follow the red brick road of the Freedom Trail and tour old battleships and dine in restaurants where Ben Franklin once dined, a city that's no stranger to revolutionary ideas itself.
EDCs in the Pediatric ICU
ENDO 2016 was impressive in its reach: This year's annual meeting boasted more than 9,000 attendees, while millions on social media got to be privy to the science being presented. And, perhaps now more than ever, it was clear how much of a reach endocrinologists have in various healthcare outcomes, the epidemics and predicted epidemics.
Take for instance the research presented by Sören Verstraete, MD, a PhD student at KU (Katholieke Universiteit) Leuven in Leuven, Belgium, which found that the plastic softeners found in the medical tubes and catheters attached to children in intensive care units were linked to those children developing attention deficit disorders later in life. Verstraete and his team analyzed circulating plasma concentrations of di(2-ethylhexyl)phthalate (DEHP) – the plastic softener – metabolites in 100 healthy children and 449 children who had been treated in a pediatric intensive care unit (PICU). The levels of DEHP in healthy children were virtually non-existent, while the DEHP found in the PICU-treated children were "sky high."
"Levels of chemicals from plastic tubes are 'sky-high' at first," Verstrate says, "which makes sense, because the kids are 'fully lined up.'"
The investigators then statistically analyzed these results, adjusting for initial risk factors for neurocognitive performance, length of stay in the PICU, and complications during treatment. They found that high exposure to DEHP was strongly associated with attention deficit at neurocognitive testing four years after discharge, a result that was validated by another cohort of 221 children treated in PICU.
Verstraete and his team wrote in their conclusion: "Development of alternative plasticizers for this application may be indicated." However, he goes on to point out that with current technology, it's difficult to avoid these outcomes. "Alternatives are expensive and leach less," he says, "but they have not been fully investigated."
"The number one rule in medicine is do not harm," Verstraete says, "so we need to ask the question about whether we need to continue using these plastic tubes."
ADHD Meds & Bone Loss
So there appears to be a link between DEHP — an endocrine disrupting chemical — and the development of attention deficit disorder, for which children and teenagers often take stimulants to manage. As it turns out, these stimulants may be linked to lower bone density in children and teenagers who take them to control their attention deficit hyperactivity disorder, according to research presented at ENDO 2016.
The team, led by Alexis Jamie Feuer, MD, of Weill Cornell Medicine New York Presbyterian in New York, hypothesized that stimulant medications, which release and block re-uptake of dopamine and norepinephrine, may affect bone mass, based on previous animal studies that showed sympathetic nervous system activation led to bone loss. And since ADHD affects more than six million children in the U.S., as Feuer and team point out, "it is important to assess the effects of stimulants on bone mass in this population."
The researchers looked at 6,489 participants of the 2005–2010 National Health and Nutrition Examination Study (NHANES) and had had a dual-energy X-ray absorptiometry (DXA), aged eight to 20, 159 of whom had used stimulants. They found that among stimulant users, the average bone mineral content at the lumbar spine was 5.1% lower than in nonusers and 5.3% lower at the hip. Bone density was 3.9% lower in stimulant users at the spine and 3.7% lower at the hip compared with nonusers.
However, Feuer is careful to say that correlation does not equal causation, that their study does not prove stimulant use causes loss of bone density, and that further research is needed, especially since stimulants are the first-line therapy for ADHD.
Opioids & the Endocrine System
Or take the growing and deepening epidemic of opioid abuse in the US. The Centers for Disease Control and Prevention (CDC) estimated that 78 Americans die every day from an opioid overdose, and that the amount of prescription opioids have quadrupled since 1999, while deaths from opioid abuse have also quadrupled. This doesn't particularly seem like something endocrinologists should have an interest in, since endocrinologists don't usually prescribe opioids.
But more and more research is highlighting the dangers of opioid abuse beyond addiction and overdose, and the endocrine system isn't spared. "Endocrine consequences of opiate therapy is a hugely neglected area of study," says Ken Ho, MD, of the University of Queensland in Brisbane, Australia. He led a Meet the Professor interactive session at ENDO 2016, polling the endocrinologists in attendance on which of them prescribe opioids (about half raised their hands), and why. Only one doctor stood up and answered – she has a patient who had thyroid cancer and several surgeries on her neck which left the patient in chronic pain. Ho nodded and said: "A compassionate reason."
One impact of opiate therapy is that it can lead to hypogonadism in men, which can lead to lower bone density and even osteoporosis, and that can then lead to challenges for the endocrinologist who wants to correct that and get the testosterone levels back to normal. If the patient is put on testosterone therapy, it's hard to get them off the therapy.
In fact, according to a study published in Endocrine Reviews by Cassidy Vuong, et al., (which Ho noted in his presentation), the primary disorder caused by opioid abuse is hypogonadism in men, and they conclude that "[u]sers and abusers must be aware of not only the prevalence of this disorder on their sexual functioning, but also the effects of the opioids on the other hormones in their system, which may lead to harmful long-term effects."
Ho says "there is limited clinical awareness of the impact [of opiate therapy on the endocrine system]," so this is also something more endocrinologists should be paying attention to, especially as the use and abuse of opioids continues to increase in the US.
Diabetes: The Prototypical Endocrine Disease
And then, of course, there are the twin epidemics of diabetes and obesity, which continue to escalate, although the fight against both diseases continues to progress. Margaret Eckert-Norton, PhD, FNP, a diabetes educator and associate professor of Nursing at St. Joseph's College in Brooklyn, N.Y., says that diabetes is the "prototypical endocrine disease," and the progress made in treating it represents the progress made in endocrinology as a whole.
For example, researchers led by Olivia Farr, PhD, of Beth Israel Deaconess Medical Center and Harvard Medical School in Boston, for the first time ever, studied how the glucagon-like peptide (GLP) analog liraglutide works in the human brain, in order to help patients lose weight.
Farr says that GLP-1 receptors had previously only been found in rodent and primate brains, and had never been seen in human brains, so she and her team analyzed 22 human brain tissue samples to find GLP-1 receptors, which they did. "This study is novel because it's the first to look in the human brain," she says. "GLP-1 receptors exist in the brain cortex."
With that evidence, the researchers moved on to studying 18 adults with type 2 diabetes, who randomly received either up to 1.8 milligrams of liraglutide or a placebo for 17 days. The participants then had a "wash-out" period for three weeks before receiving the opposite treatment for another 17 days. At the end of each treatment period, the participants were shown images of things like cake and pie (rated as highly desirable by a panel), salads and fruit (rated as less desirable), and things like plants and office supplies (rated as not desirable), all while undergoing brain scanning with functional magnetic resonance imaging. "The most they talked about were the onion rings," Farr says.
"Liraglutide decreased activation of the parietal cortex in response to highly desirable as compared to less desirable food images," the authors write. "In a secondary analysis, we also observe decreased activation in the insula and putamen, areas involved in the reward system. Furthermore, we show that increased ratings of hunger and appetite correlate with increased brain activations in parietal and visual cortices to highly desirable food cues while on liraglutide."
Farr and her team write that further studies are needed to "extend these findings to larger samples of higher doses of liraglutide (3 mg) recently approved for obesity." Still, these findings are promising, and it's another step toward treating diabetes and obesity even more efficiently.
The Gestational Diabetes & Baby BMI Controversies
And yet, there is still some confusion and controversy relating to diabetes, especially as it applies to maternal-fetal medicine. According to Linda Barbour, MD, of the University of Colorado School of Medicine, in the realm of maternal-fetal medicine, diagnosing gestational diabetes (GDM) is an "incredibly controversial subject" and "has the least consensus of anything else."
As Barbour explained in her Meet-the-Professor session, the medical community is now realizing that intrauterine health can determine long-term health, so it's important to optimize intrauterine health. However, the optimal diagnosis and treatment plans for GDM are "up for grabs right now, depending on which society you have allegiance to," she says.
But Barbour says that now, with the obesity epidemic, women who are thought to have GDM, more often than not have prediabetes, on their way to developing type 2 diabetes. What's more, obese mothers are at a higher risk of having babies with excess fat, which could then lead to that child becoming obese and developing type 2 diabetes later in life. "I think we really need to target all women," Barbour says. "I think we need to be doing this diet — we need to be doing what we do for all obese women, all women with risk, rather than with just GDM."
And what of the babies born with excess adiposity? Researchers led by Allison Smego, MD, a pediatric endocrinology fellow at the Cincinnati Children's Hospital Medical Center — with a study that's sure to raise a few eyebrows — say that since body mass index (BMI) "trajectories in children who become severely obese by age [six] differ from children who remain normal weight as early as [four to six] months of age," it would be prudent to measure a child's BMI at as early as six months old.
Smego and her team, analyzing growth data of two groups of patients (one group of 480 severely obese children and one group of 783 lean children) up to six years of age, found that measuring BMI in children between six and 18 months of age accurately predicts early-childhood obesity.
Of course, Smego says, that doesn't mean the physician or the parents should immediately put an at-risk child on some sort of special diet and that they should "make sure kids at six months are on an age-appropriate diet, but continue to follow [the child's progress] closely."
"We want this to be used in the primary care setting," Smego says. "We don't really want [children] to get to an endocrinologist."
Preserving Fertility Via Ovarian Bioprosthesis
One of the most exciting scientific discoveries revealed at ENDO 2016 could give new hope to women who might have lost their fertility due to cancer treatment. In her session, "Oncofertility: Fertility Preservation and Restoration Toward an Ovarian Bioprosthesis," Society Past-President Teresa K. Woodruff, PhD, director of the Women's Health Research Institute, chief of Obstetrics and Gynecology-Fertility Preservation and Thomas J. Watkins Memorial Professor of Obstetrics and Gynecology at Northwestern University, spoke about a successful ovarian bioprosthesis in a mouse model and translating that research into humans. This would allow women to have their ovarian tissue harvested and stored before cancer treatment so that fertility and normal hormonal activity could be restored post-treatment.
"We can, in fact, provide fertility for these women using existing techniques," Woodruff says. "There have been more than 60 live births to cancer patients who have used fertility restoration techniques. But there is always a concern that implantation of preserved ovarian tissue will also reintroduce cancer. The need to restore fertility far exceeds our current abilities."
Woodruff detailed the successful restoration of fertility in mice through the use of both in vitro oocyte preservation, maturation, and fertilization techniques as well as the creation of a biologic prosthetic ovary. While traditional methods —  egg harvesting and banking; in vitro fertilization and embryo banking before treatment — are recognized treatment options, this new research could point to fertility restoration in the event these other options are not successful.
This research is also a valuable option for patients who underwent cancer therapy as children, which resulted in infertility or difficulty in becoming pregnant. "Resurgence of cancer is a real risk for some patients," Woodruff says. "We want to find ways to restore the normal hormonal cycles without that risk." It is possible to isolate individual follicles and mature them in vitro, a process known as encapsulated in vitro follicle growth (eIVFG), which can support in vitro ovulation and luteinization, at least in mice, leading to live birth of fertile offspring.
Research is ongoing into a similar eIVFG system using human tissue. It may be possible to produce an ovary in a dish, but a prosthetic ovary could meet ongoing hormonal needs as well as fertility preservation. According to Woodruff, an engineered ovary would require three types of specialized cells: oocytes, granulosa cells, and theca cells, which can be isolated or cultured from patient tissue or derived from human stem cells.
"We are on the way to developing a prosthesis that may maintain fertility in humans as well," Woodruff says. "Combined with better cancer control and treatment in the future and neo-adjuvant fertoprotective agents, we may be able to eliminate the field of oncofertility altogether and get back to simple reproductive biology."
That ENDO Thing
And again, there were too many great choices to attend it all, and this is all a very small taste of the variety of the scientific research that was presented at ENDO 2016. The scientific program aside, there were myriad announcements and events that took place that made the Endocrine Society's Centennial Celebration even more remarkable.
On the first day of ENDO 2016, it was announced to a standing room only crowd at the Presidential Plenary that the Society is launching its very first Open Access journal in the fall. The Journal of the Endocrine Society (JES) will be led by inaugural editor-in-chief and past-president, Larry Jameson, MD, PhD, executive vice president of the University of Pennsylvania for the Health System and dean of the Perelman School of Medicine at the University of Pennsylvania.
Also at the Presidential Plenary was the announcement of the John D. Baxter Prize for Entrepreneurship from a $1.2 million gift to the Endocrine Society from the family of the late John D. Baxter, MD. This new prize will reward scientists and clinicians alike who have shown an affinity for entrepreneurship and innovation while furthering endocrine research into patient care.
Making its heralded debut in Boston was the first ever "Knock Out (K/O) Rounds – Why Endocrine Science Matters in 3 Minutes," an event that pitted over a dozen early career basic scientists against each other to prove why their research was key to their results, rather than simply emphasizing their findings. A packed room that barely contained an enthusiastic crowd has ensured that this was not the last time K/O Rounds will be presented at ENDO!
Aside from educating members of the scientific community from around the world, the advances in endocrine science were also presented to 50 journalists who attended sessions and press conferences that have resulted in over 1,800 news articles so far, with stories on CNN, The Washington Post, The New York Times, CBS, TIME magazine, and more. Furthermore, the event lit up social media resulting in over 8 million Twitter impressions! Locally, ENDO 2016 made quite the impression as well, so much so that it seems like everywhere you went in Boston, the locals were asking, "Are you with that ENDO thing?"
[Editor's Note: Portions of the "Preserving Fertility Via Ovarian Bioprosthesis" section originally appeared in the ENDO Daily newspaper written by Fred Gebhart.]