The Society launched its new Dimensions in Diabetes program in Chennai, India on Saturday November 20 and Sunday November 21 as part of Diabetes Awareness month activities.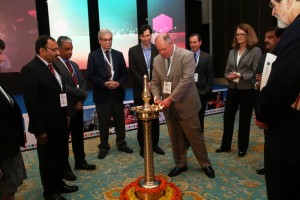 Eight Society members contributed to this curriculum that covered the basics of diabetes management like diet, nutrition, and motivational interviewing, managing special patient populations, including pregnant patients and those with hypoglycemia, and emerging areas such as use of new classes of drugs, and leading-edge diabetes technology. The annual program has educational support from Sun Pharmaceuticals.
Serving as the inaugural program faculty were Vice President Clinical Science, Anthony McCall, MD, PhD, Council-elect member, Carol Wysham, MD, Andrew Ahmann, MD, Ian Blumer, MD, Jack Leahy, MD, Janet McGill, MD, MA, Jane Reusch, MD, PhD, and Steven Russell, MD, PhD. Luckily, the terrible monsoon rains paused long enough for our faculty and 370 attendees to travel in and out of Chennai safely.