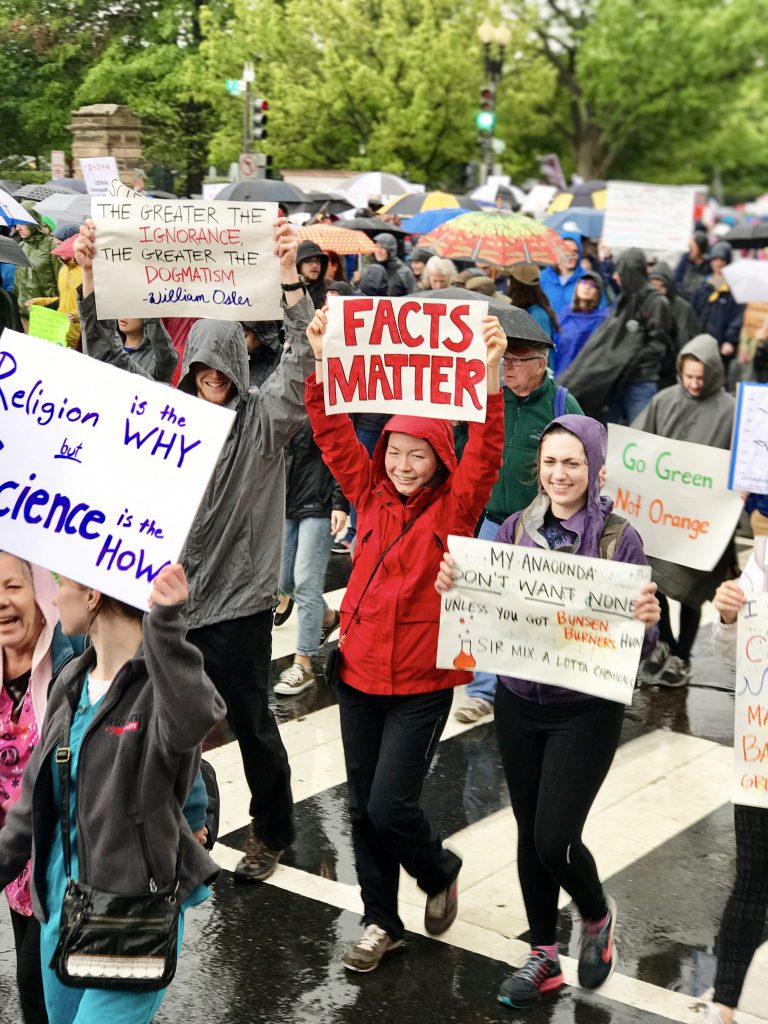 On Saturday April 22, hundreds of thousands of people around the world took to the streets to show their support for scientific research in the March for Science. The Endocrine Society was not only a sponsor but an avid participant as members and staffers alike raised their voices – and often humorous signs – to show their support for science. 
It was a soggy, chilly April afternoon, but the nasty weather didn't stop 15,000 people from rallying around the National Mall in downtown Washington D.C. and then marching to the Capitol building, all in the name of celebrating science.
The March for Science, the first event of its kind, coincided with Earth Day and took place not only in Washington, but in more than 600 cities around the world. It was a day when scientists left their labs, created imaginative and hilarious signs, and took to the streets to reaffirm the very real impact that science has in every person's life, whether they realize it or not. It was a day when more than 100 different organizations representing every field of science – from physics to paleontology to medicine – stood up to let the world know that science is crucial and non-partisan, no matter how many people would like to see science politicized.
No Science Dollar is Wasted
The Endocrine Society was a proud sponsor of the March for Science, since endocrine scientists continue to make remarkable contributions in areas of critical national interest, including diabetes, obesity, the microbiome, cancer, bone health, fertility, and so much more. But continuing to make advancements such as these depends on funding, which could be in jeopardy as the Trump administration has proposed very deep cuts to the National Institutes of Health (NIH) funding in 2018. Trump, for his part, released a statement the day of the March, saying "rigorous science is critical to [his] administration," but he's still proposing slashing the NIH budget by 20%, which could have drastic effects on health outcomes in the future, especially as diabetes and obesity numbers continue to rise.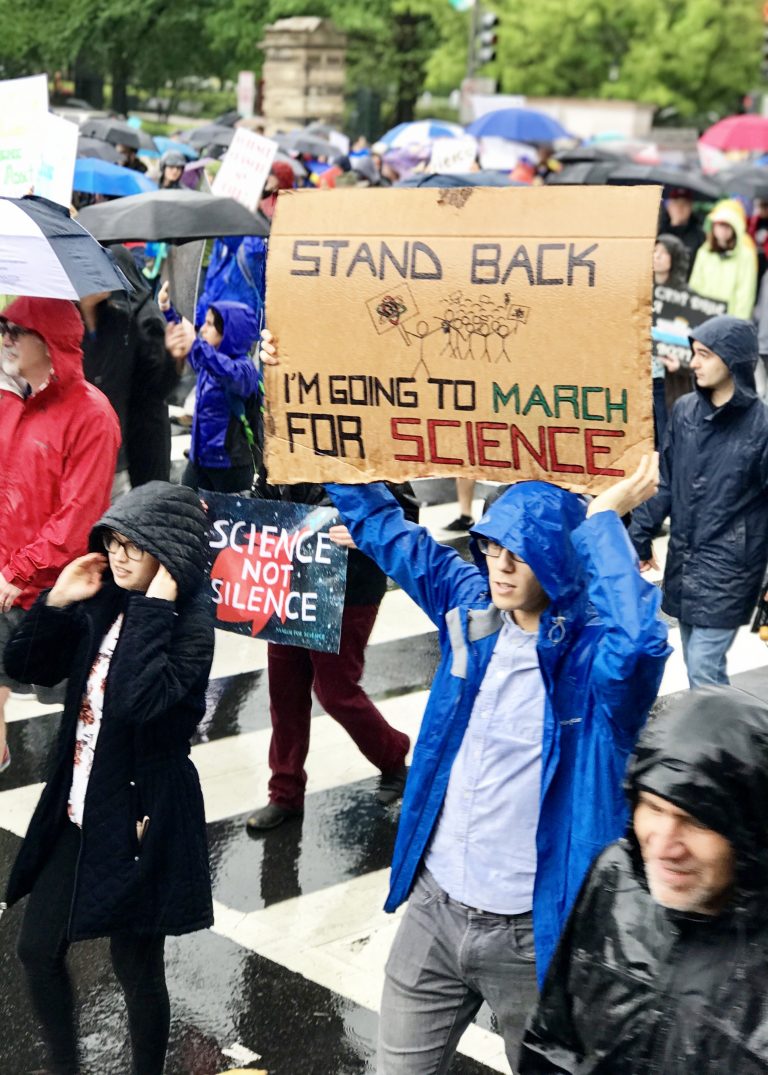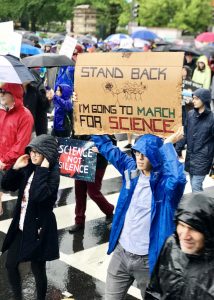 "I think that science is separate from politics and religion and that investing in science is like investing in life," says Richard Legro, MD, the Endocrine Society's secretary-treasurer and a clinical scientist with Penn State College of Medicine in State College, Pa. "It's a fundamental thing that we can never let up on. I think what a lot of people don't realize is that an investment often doesn't come true right away. It takes years or decades, but the things that science finds, other minds apply to new endeavors and new aspects of health. There's no dollar in science that I think is really wasted."
Muppets, Dinosaurs, and Scientists…Oh My!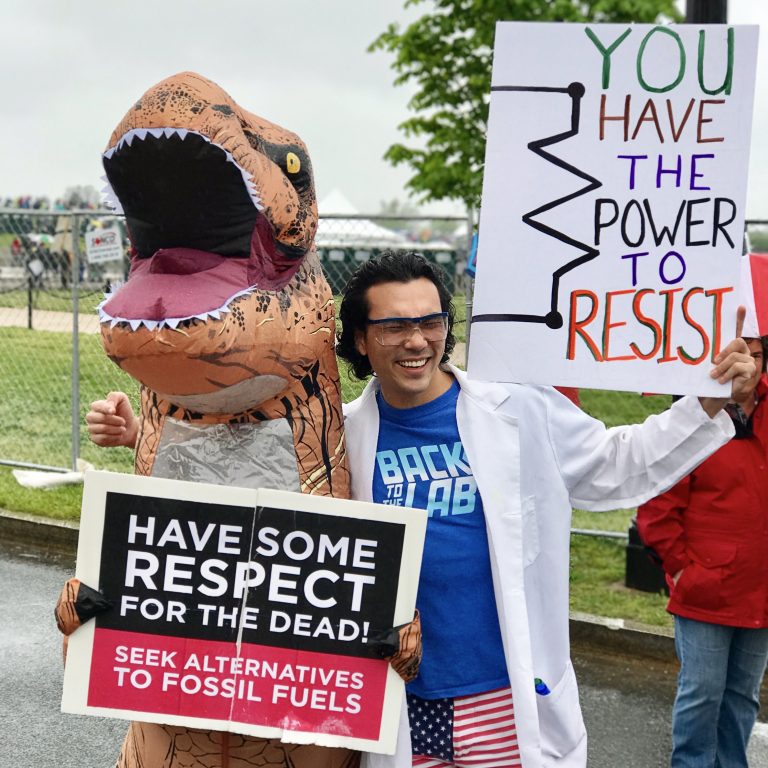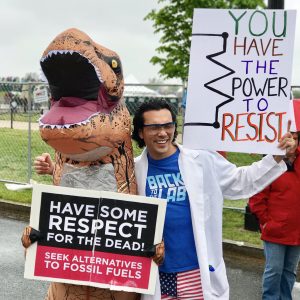 Still, the organizers of the March for Science insisted that this was not a protest, but a ceremony – a testament to evidence-based research and peer review in the search for answers that could improve lives and influence public policy. And in truth, it could be viewed as a party. Celebrities and science luminaries showed up. (Questlove, of the band The Roots, hosted an event; Bill Nye spoke, as did Mona Hanna-Attisha, who first raised awareness of the water crisis in Flint, Mich., and Lydia Villa-Komaroff who discovered mammalian insulin in bacterial cells.)
"This is not just an American movement, but it's important from a global perspective. The problems that we have in the United States are problems in other places, and we'd like to be able to help." – Lynette K. Nieman, president, Endocrine Society
Even in the pouring rain, colorful and thoughtful signs outnumbered umbrellas, and their creators were proud to show them off. Some favorites included: "What do we want? Evidence-based research! When do we want it? After peer review!" and "There is no plan-et B" and "Got science? It does everybody good". Rob Bartel, Endocrine Society chief innovation officer carried a sign that read "Fund NIH Bigly," and Jessica Harris, a specialist in the Society's government and public affairs department, carried a sign that quoted astrophysicist Neil Degrasse Tyson: "The good thing about science is that it's true whether or not you believe in it." Some marchers even took the opportunity to dress as their favorite Muppet scientists or wear full T-Rex costumes.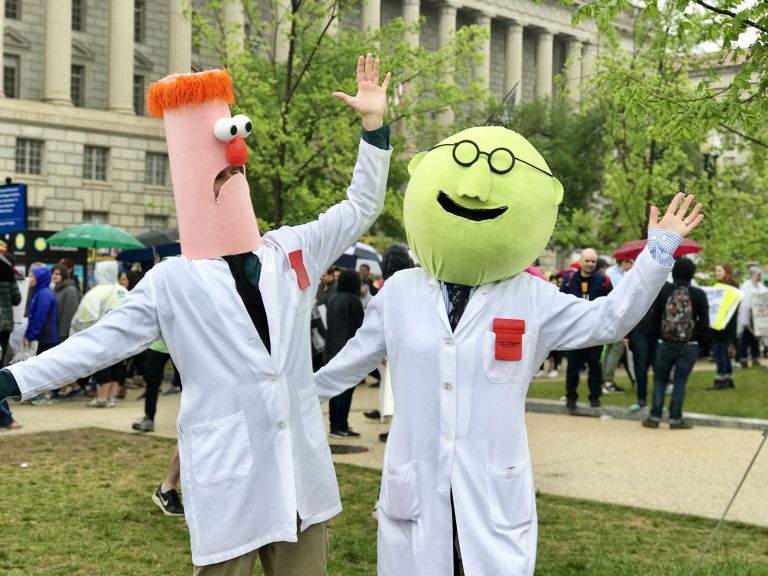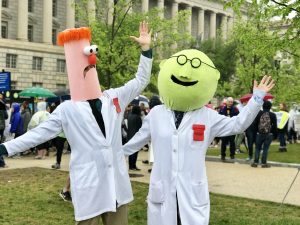 And that was just in Washington. Six hundred more cities had their streets filled with similar scenes, which led to massive amounts of media exposure. Google "March for Science" and dozens of articles will appear. The hashtag #marchforscience was at the top of Twitter's trends all weekend long. A retweet from the Society's EndoMedia account garnered 37,000 impressions (times viewed), a record for that account.
For Endocrine Society president Lynnette K. Nieman, MD, a clinical scientist with the NIH in Bethesda, Md., that exposure is a lynchpin of the March. "I think one of the things the March means is to call attention to regular people, the public, to science," she says. "To also let people know what the breadth of science is, from computing and physics to healthcare. And then also to interest young people in going into science, particularly young girls, because they tend not to do that."
"We're All in This Together"
The March for Science was just the beginning. The Endocrine Society is committed to remaining a visible leader and continuing to offer activities to keep members engaged for as long as necessary. Federal funding of biomedical research has led to major accomplishments in endocrinology such as understanding: how the hormone insulin works, resulting in treatments for diabetes; the effects of hormones such as aldosterone on the heart, leading to new treatments for heart failure; and thyroid hormones, resulting in the development of new, better and safer therapies for patients with thyroid disorders. Removing one-fifth of the budget of the organization that made all this possible seems, well, ill-advised. "An attack on science is an attack on health and an attack on medicine," Legro says. "So I think we're all in this together."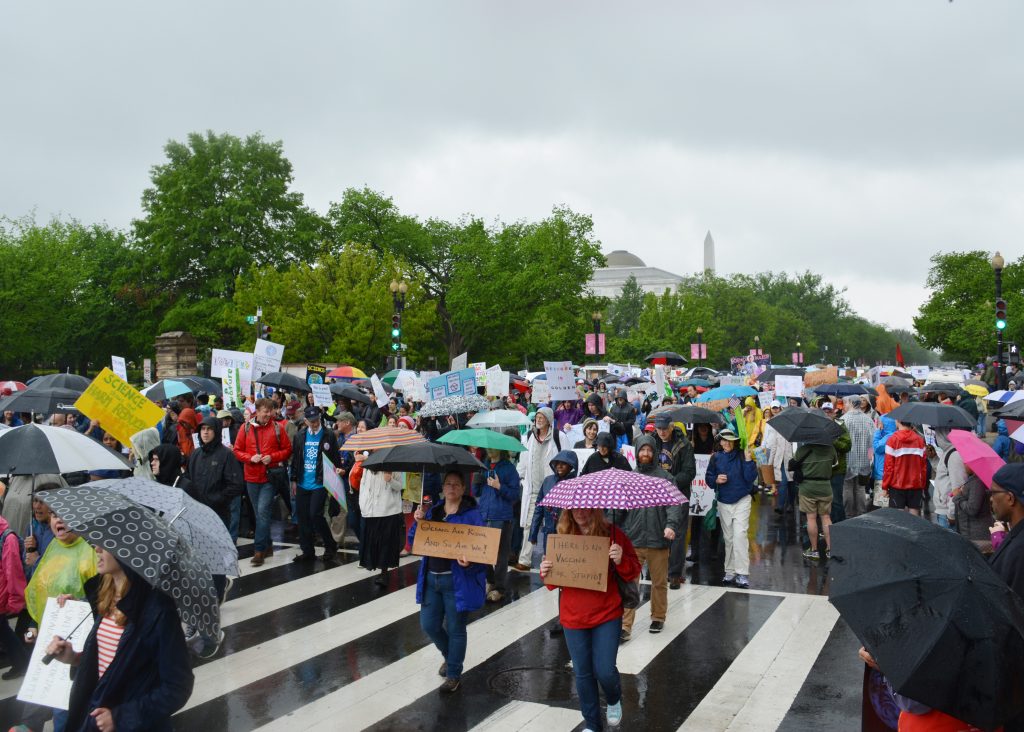 March for Science organizers are crafting plans and to all scientists and supporters of science to remain active on a local level, according Joanna Spencer-Segal, MD, PhD, University of Michigan, Ann Arbor, a member of the Steering Committee for the March for Science. "Local policy makers need to hear that their constituents value continued scientific progress and the incorporation of scientific evidence into policy," she says. "We hope that after participating in this event, scientists will continue to participate in advocacy and that members of the public will continue to demand attention to science in all policy making. A continued partnership between scientists and the public is one of the long-term goals of this event."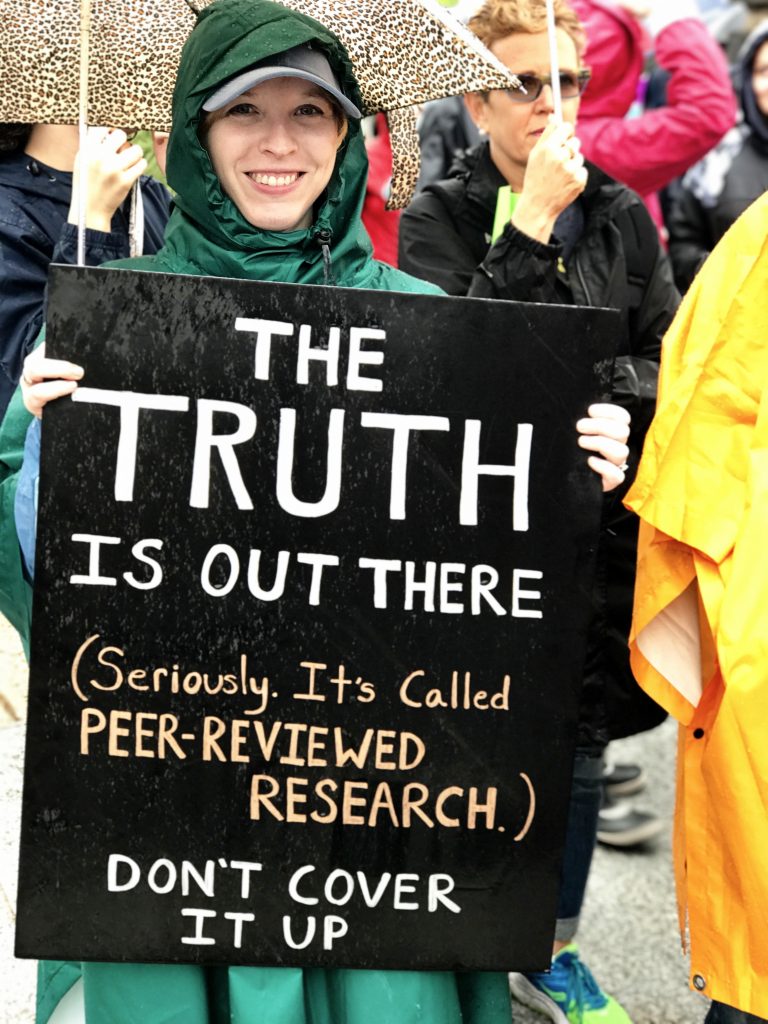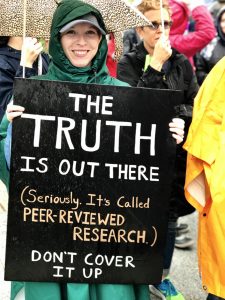 Nieman adds that people can be active and activists in various ways. "Some people have a march they can go to," she says. "Some people can email their senators and congressmen or their heads of state in Europe and other parts of the world. This is not just an American movement, but it's important from a global perspective. The problems that we have in the United States are problems in other places, and we'd like to be able to help."
"An attack on science is an attack on health and an attack on medicine, so I think we're all in this together." – Richard Legro, MD, secretary-treasurer, Endocrine Society; clinical scientist, Penn State College of Medicine, State College, Pa.
During the march to the Capitol building, a chant went up: "Science is real, not what you feel!" That's true; as Harris's poster quoting Tyson said, good science is based on evidence and reason, and is therefore real, no matter what you believe. Or to put it more succinctly, as in the case of one sign: "I can't believe I have to march for facts."
Bagley is the senior editor of Endocrine News.
Photos by Elizabeth Bagley.
More exclusive photos of the March for Science in Washington, D.C.