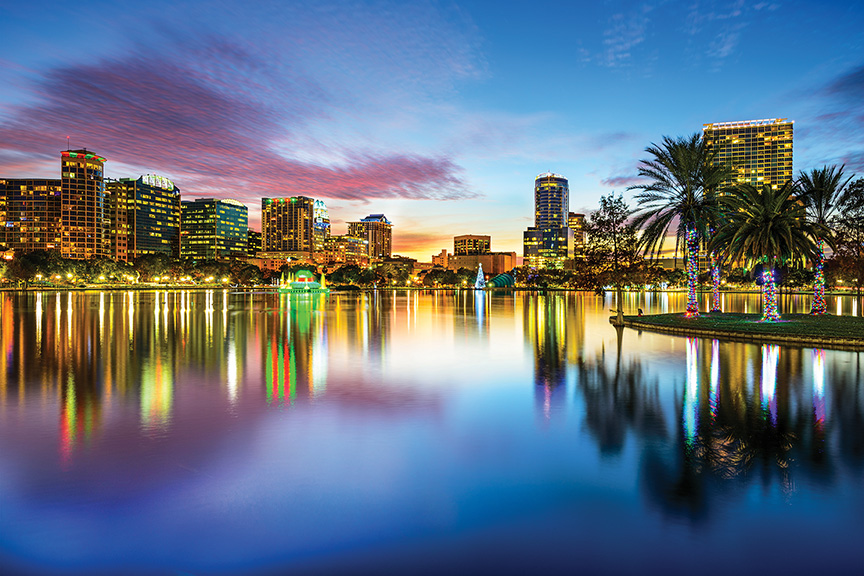 For the first time in its history, ENDO 2017 is taking place in Orlando, Fla., an idyllic location to become immersed in the latest endocrine research from around the world. However, due to the many attractions nearby, once the curtain comes down on the final scientific session, you may find yourself – and your family – ready for some fun in the sun. Mouse ears not included.
ENDO 2017 is the world's largest event for presenting and obtaining the latest information on endocrine science and practice. With an extensive program covering a broad array of topics, various networking opportunities, and continuing medical education, ENDO is a "must-attend" event for endocrinologists around the world.
Since it spans basic and clinical science and clinical care by delivering the most comprehensive content to a wide-ranging global audience of endocrine practitioners, researchers, educators, fellows, and students at a single event, endocrinology professionals come to ENDO to be part of the movement to lead endocrine science and medicine toward improved human health, and accelerate medical discoveries and new therapies. The continuum from bench to bedside comes together at ENDO each year, and participation is essential.
ENDO 2017 attendees will connect with the leaders in the field for the latest treatment options, case-based content, and best practices. Access to cutting-edge science and the researchers behind the latest discoveries will help you see what's coming next in the field of endocrinology and keep you informed of the latest trends and advancements in the field.
While in Orlando's Orange County Convention Center – ENDO 2017's venue – you can also learn about the latest industry information, products, and technologies presented at the ENDOExpo in West Hall B. Here you can visit and connect with exhibitors and learn how their latest product innovations can help improve research or patient care and outcomes.
So if you're setting up your appointment calendar, the first events get underway as part of the pre-conference activities as early as Tuesday March 28 with the 2017 Rachmeil Levine-Arthur Riggs Diabetes Research Symposium at the Rosen Plaza Hotel, near the Orange County Convention Center. On Friday March 31, a variety of Endocrine Society preconference events take place and last all day (see page xx in InTouch for details).
ENDO 2017 officially begins on Saturday April 1 with the Presidential Plenary: The Influence of the Microbiome in Childhood and continues through Tuesday April 4 with the last sessions ending at 1:15 p.m. Don't you think you owe it to yourself to spend a few extra days in the Sunshine State getting some rightfully earned rest and relaxation before journeying back to your respective practices and laboratories?
Notice A Theme?
You can't mention Orlando without Disney – the names are synonymous. Known for its theme parks, Orlando appeals to travelers of all ages.
Imagine walking into one of Walt Disney's most famous scenes – when Cinderella arrives at the Royal Ball and every head turns her way, or when Aladdin and Jasmine discover "A Whole New World" flying on a magic carpet, or even as a Disney film begins and viewers are transported to the famous castle, a dazzling fireworks show above – and being transported to a world that seems only to exist in childlike dreams, Walt has proven otherwise. Stepping through the gates of his parks, guests of every age are transported to a reality seeming only to exist in storybooks.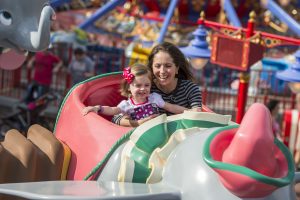 Disney World consists of four main parks – The Magic Kingdom, Hollywood Studios, Epcot, and The Animal Kingdom. Each park features a mix of thrill rides, character experiences, dining for tastes, and seasonal festivities.
Magic to Do
Although Disney World may seem to reign supreme (see Sidebar), one of the largest draws to the Orlando theme park scene has no relation to Disney. Located in Universal Orlando, The Wizarding World of Harry Potter welcomes millions of visitors annually. Drawing from the popularity of J.K Rowling's adventure series, The Wizarding World transports guests to the places made famous by the writer. The Hogwarts Express transports wizards and muggles alike between Diagon Alley and Hogsmeade.
Diagon Alley, located in Universal Studios Florida, is home to the famed eatery the Leaky Cauldron, famous for its butterbeer, Olivanders where wizards can see which wand chooses their fate, and Gringotts. Arguably the most famous ride at Universal Orlando, Escape from Gringotts takes riders on a breathtaking, mind-blowing, 3D multi-dimensional journey through the vaults of the only bank in this wizarding world.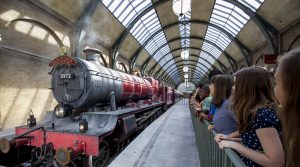 Just a train ride away, Hogsmeade is located in Universal's Islands of Adventure. Hogsmeade is home to Hogwarts, which guests can explore on Harry Potter and the Forbidden Journey, a motion-based dark ride which utilizes never-before-seen technology which transforms "the theme park experience as you know it." In Hogsmeade, guests can also take flight with a Hippogriff, the magical creature with the head of an eagle and body of a horse or twist and loop on a high-speed, intertwining roller coaster chase on Dragon Challenge. Three Broomsticks is a rustic tavern in Hogsmeade featuring fish and chips, shepherd's pie, and turkey legs, along with family-friendly favorites like Butterbeer and pumpkin juice, or more spirited options for adults like the pub's selection of beer, wine, or specialty cocktails. Before leaving Hogsmeade, shoppers can take a piece of the magic home with a visit to specialty stores including Filch's Emporium of Confiscated Goods and the Owl Post.
And The Wizarding World of Harry Potter is only the beginning of what Universal Orlando has to offer. Islands of Adventure offers the perfect mix of kid-friendly rides like Dr. Suess's Carousel, and for the more daring, Dr. Doom's Fearfall. Just a stone's throw from Islands of Adventure is Universal Studios where guests can fly on a bike with E.T. in the front basket on a thrilling (but gentle) ride through the sky or fight aliens from Men in Black – fun for the whole family!
It is clear why Central Florida is known as the mecca of theme parks with the abundance of opportunities for both kids and kids at heart to escape the real world and experience what dreams are made of during a vacation not soon to be forgotten.
More Than Fun & Games
For travelers who want to take a different approach while visiting Orlando, there are myriad options that don't include mouse ears, roller coasters, or the crowds often associated with theme parks. Orlando is the perfect place to slow down and soak up all the Sunshine State has to offer.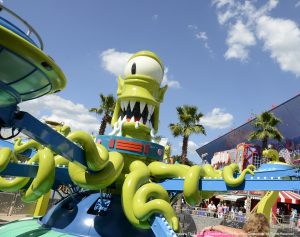 One might assume the largest collection of Tiffany glass in the world would be located in New York, but it's actually in Orlando's Charles Hosmer Morse Museum of American Art in historic Winter Park.  For those looking to spend time with Mother Nature, a kayak eco-tour through mossy, cypress-lined Shingle Creek at the headwaters of the Everglades is the perfect way to enjoy the great outdoors. The Ritz-Carlton and JW Marriott at Grande Lakes offer two-hour guided tours twice daily, or experienced kayakers can venture out on their own from Shingle Creek Regional Park.
To go along with the slower pace of meandering through museums and taking in central Florida's gorgeous views, a visit to a spa is always a great way to relax and really enjoy a vacation. The luxurious, 24-000-square-foot Waldorf Astoria Spa by Guerlain at the Waldorf Astoria Orlando is known for amazing facials; Florida-fresh citrus-based treatments are a specialty the Ritz-Carlton Spa at the Ritz-Carlton Orlando Grande Lakes; and the Poseidon Spa at the Grand Bohemian Hotel offers a heated shell massage. And golfers will delight in the abundance of options for their game. Orlando is home to the Golf Channel, Tiger Woods, and more than 170 courses, many designed by top names such as Jack Nicklaus, Tom Fazio, and Pete Dye.
ENDO 2017 is a can't miss event and registration is filling up quickly so don't delay in reserving your spot. Come join thousands of your colleagues for an educational experience that will enhance your professional development, improve your work, build your reputation, and shape the future of the field, all while enjoying a vacation not soon to be forgotten.
Disney Decoded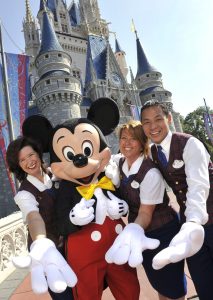 The Magic Kingdom – The Magic Kingdom is home to the iconic Cinderella's Castle. Truly capturing all things Disney, The Magic Kingdom is known for its family-friendly rides including an international trip on It's A Small World, a spin in a tea cup on The Mad Tea Party, and a flight on Dumbo the Flying Elephant. Those looking for a faster pace will love the amped up speed of Space Mountain and the thrills and spills on Splash Mountain. For those looking to meet Mickey, Minnie, or most any Disney character it's easy to find them posing for photos and signing autographs around almost every corner at the Magic Kingdom.
Hollywood Studios – Visitors take center stage in the world of television and movies at Hollywood Studios. Move magic comes to life with live productions – A Frozen Sing-Along celebration, Fantasmic (a pyrotechnic and fireworks show), and the most popular, Jedi Training School where Star Wars fans learn the art of light saber battles and find Darth Vader and his Storm Troopers. The rides in Hollywood Studios, not for the faint of heart, include a 13-story drop on the haunted Tower of Terror and high-speed twists and turns on the Rockin' Rollercoaster.
Epcot – The park's name, Epcot, is an acronym for Experimental Prototype Community of Tomorrow, a utopian city of the future planned by Walt Disney. This park features Future World, which consists of a variety of pavilions that explore innovative aspects of technology and science. In Future World, guests can take a spin on the Test Track – a ride that starts out slowly, but hold on for a few surprises along the way – and Spaceship Earth, a time machine adventure into history. Epcot is also home to the World Showcase, a large area reminiscent of a permanent world's fair containing 11 pavilions, each themed and dedicated to represent a specific country. Eat (and even drink!) your way around the world with special tours throughout the showcase.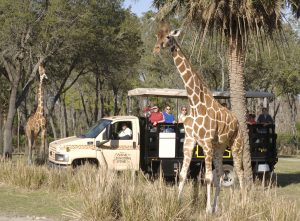 Animal Kingdom – Behold the magic of nature with rare animals and world-class entertainment at Disney's Animal Kingdom. Guests enjoy up-close animal encounters with exotic animals, wander fascinating jungle trails, and even come face-to-face with dinosaurs. For those who are looking for the best rides in the park, Expedition Everest is a rollercoaster journey that does not disappoint, while Kali River Rapids twists and turns through a very wet journey!
In addition to all the magic Orlando is known for, guests can experience two special events during ENDO2017!
Epcot International Flower and Garden Festival — Walt Disney World Resort guests welcome spring with a full dose of beauty. From elaborate gardens and incredible topiaries to helpful seminars and nightly musical entertainment, the festival offers an array of special activities for all green-thumb levels.
Seven Seas Food Festival — Guests can enjoy yet another theme park, SeaWorld Orlando, and its popular music and food events which will expand to a total of 14 weekends in 2017 as part of the all-new Seven Seas Festival. Inspired by street food from Asia, the Caribbean, South America and the Mediterranean, this expanded festival will bring new culinary offerings to guests throughout the park. Plus, guests will be able to indulge in a variety of international, local and seasonal craft brews on tap giving their taste buds a worldly delight. 
Eat Your Heart Out
While the best dining may not always be associated with theme parks, several hot spots prove otherwise in Orlando.
Victoria & Albert's – The ultimate in fine dining at Walt Disney World Resort and one of the finest restaurants in the Southeast, Victoria & Albert's features modern American cuisine with exquisite products sourced from around the world – truffles from Italy, the finest caviar, fresh herbs from Ohio, beef from Japan, poulet rouge from North Carolina, and oysters from North Florida. Chef Scott Hunnel's approach is imaginative and his food is an art form, featuring vivid colors and textures, with exquisite wine pairings offered with each course.
Be Our Guest – Named for the famous scene in Disney's Beauty and The Beast, this restaurant, located in the Magic Kingdom, features a quick fine dining scene for breakfast and lunch, while offering a more formal atmosphere for dinner. French and American cuisine reign supreme at this Disney hotspot featuring three scenes from the famed film – a grand ballroom, Belle's library, and the Beast's study.
Vivo Italian Kitchen – Located at Universal Resort's CityWalk, old world meets modern day at Vivo Italian Kitchen. Time tested family recipes are served in a sleep contemporary setting. The expo kitchen showcases chefs whipping up delicious homemade sauces, making fresh mozzarella, and throwing pizza dough in the air as they create pizza masterpieces.
Mythos Restaurant – A feast for the senses, Mythos, located in Universal's Islands of Adventure, offers a seasonal menu ranging from top-notch burgers to salmon and risotto. Guests step into a grotto with intricate carvings of mythical creatures on the walls of this restaurant known just as much for its atmosphere as its delicious meals.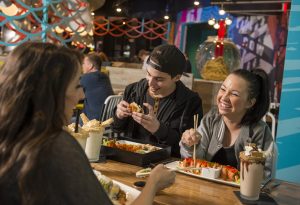 Cowfish Restaurant – The name says it all – burgers and sushi are the draw at this hot spot in Universal's CityWalk. While the restaurant features great sushi and prime burgers, it is also known for its Burgushi menu – sushi rolls made with hamburger-style ingredients. And whether guests are in the mood for milkshakes or sake, they will be pleased with the variety offered in this establishment known for its fresh, never frozen ingredients (except the milkshakes, of course!).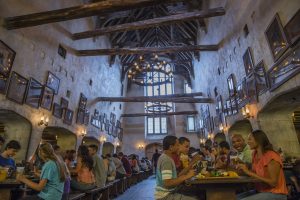 The Leaky Cauldron – Known as the most popular eatery in theme parks in the U.S., The Leaky Cauldron serves up tasty, traditional British fare in The Wizarding World of Harry Potter at Universal's Orlando Resort. The Leaky Cauldron is a small, grubby-looking pub and inn. In Harry Potter and the Prisoner of Azkaban, Harry stayed there for several weeks over the summer before heading off to Hogwarts for his third year. Once inside, guests find themselves under a cathedral ceiling with views towards the guest rooms in the inn with mouth-watering treats ranging from Fish and Chips to Bangers and Mash.
Courtney Carson is a writer based in Birmingham, Ala., who has previously contributed to a variety of travel and destination publications throughout the South, most notably Southern Breeze magazine where she was the assistant editor.