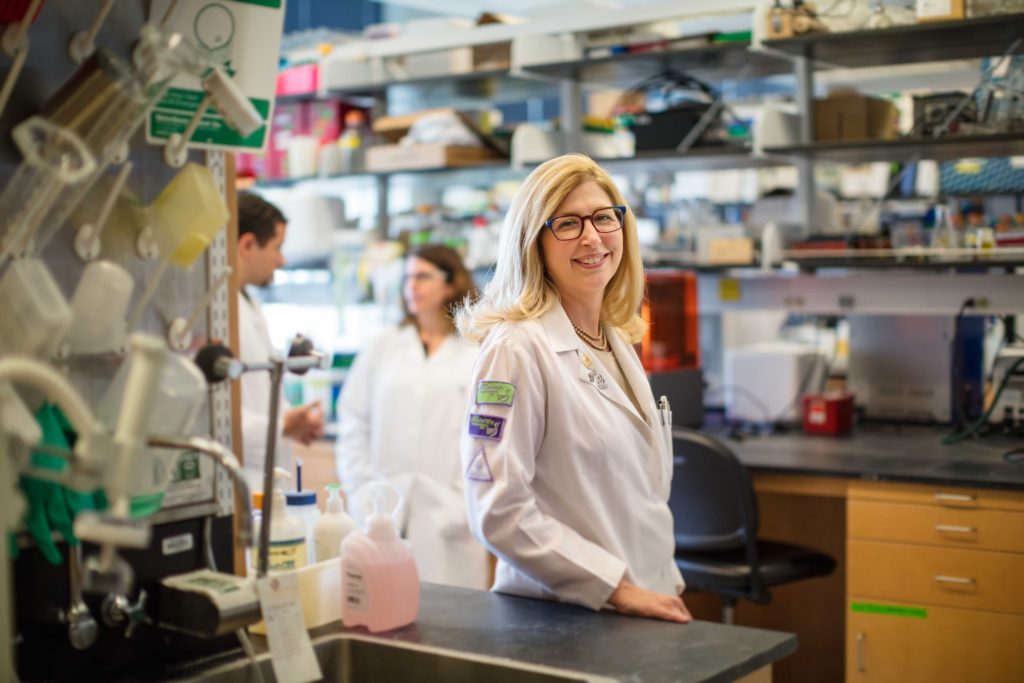 The 2019 Delbert A. Fisher Award recipient is Teresa K. Woodruff, PhD, dean of The Graduate School and Chief of Reproductive Biology Research in the Department of Obstetrics and Gynecology at Northwestern University in Chicago. Each year, the Delbert A. Fisher Research Scholar Award provides a $2,000 honorarium to a scholar demonstrating exceptional work in the preservation of the history of endocrinology. The scholar also delivers the Clark T. Sawin Memorial History of Endocrinology Lecture at ENDO, the Endocrine Society's Annual Meeting.
Woodruff's work focuses on ovarian biology and especially restoring fertility in women who may be infertile due to cancer and subsequent treatments – she even coined the term "oncofertility." During her ENDO 2019 Clark T. Sawin Memorial History of Endocrinology Lecture, titled "Engineering Reproduction: A Brief History of Reproductive Tissue Transplantation for Endocrine and Fertility Restoration," Woodruff spoke about her interest in developing strategies that would allow endocrinologists to engineer ovarian constructs that could restore fertility and endocrine function for young women and girls who have a cancer diagnosis and have been treated with life-preserving chemotherapy or radiation. "But those same life-preserving treatments may also render them infertile," she says. "For children who are pre-pubertal, this may result in their inability to go through pubertal transitions without the aid of exogenous hormones."
True to her lecture's title, Woodruff took the audience through the history of humanity's understanding of reproduction, including when people thought life came from non-living things like the mud. This obviously began to change once doctors and researchers began to dissect bodies, but there was still a long way to go. "The ovaries were not understood – the ovary itself was detached from the fallopian tube," Woodruff says. "It did not seem like the ovary had anything to do with generation because it was away from the womb. These follicles were not known, the egg was not known, and the development of an embryo through insemination was not known."
Woodruff then details the story of three scientists who earned their PhDs in the late 1600s at Leiden University in the Netherlands, which at the time was one of the most progressive universities in the Western world – they had a botanical garden to grow medicinal herbs and test them with scientific technology and an amphitheater that allowed the human anatomy to be studied by more than the number of people who could surround a single corpse. These scientists were Niels Stensen, a clinical investigator who discovered Steno's duct; Jan Swammerdam, a basic scientist interested in respiration; and Regnier de Graaf, a clinician interested in acid-base relationships, bile, pancreas, and the stomach. "All were interested in our various aspects of our tripartite mission – clinical, clinical research, and pure research," Woodruff says.
It was de Graaf who first described the development of ovarian follicles after observed pregnancy in rabbits. He first called them female testicles, but they are now of course known as Graafian follicles. It would be another 150 years before Baer would discover and describe the mammalian ovum in 1826. In 1895, scientists performed the first human transplant, a heterotypic transplant from an adult woman to a female patient with a delayed onset of sexual maturity. Then in 1899, doctors transplanted an ovary from a 17-year-old into a 29-year-old woman who was experiencing menopausal symptoms. Within a week, the 29-year-old patient was menstruating and regained mental and physical equilibrium within eight months.
"It did not seem like the ovary had anything to do with generation because it was away from the womb. These follicles were not known, the egg was not known, and the development of an embryo through insemination was not known."
Woodruff then takes the audience through the modern era of transplantation and in vitro fertilization but ends her talk with the hope that scientists can begin to develop tissues, since tissues from these cancer patients are biopsied and cryopreserved. "Tissues come from a patient prior to that first sterilizing treatment, which means the cancer cells may still be embedded within them," she says.    "Thus, the next wave of development has to be creating new artificial ovaries, or ovarian bioprothetics that can restore endocrine function and fertility."
"I learned a lot," Woodruff concludes, "and I look forward to continue to develop in this particular area."