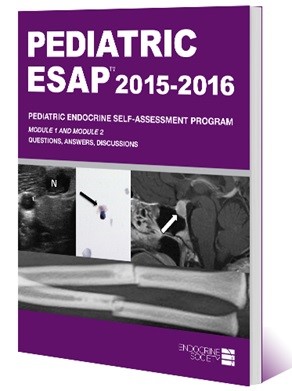 This issue highlights Pediatric Endocrine Self Assessment Program. Test your clinical knowledge and prepare for your exam. Available on the online store.
Clinical Vignette
In clinic you are seeing a 14-year-old African American boy who is obese (BMI = 31 kg/m2). He has a family history of type 2 diabetes mellitus in his father and maternal grandfather. On physical examination, you note central obesity and marked acanthosis nigricans. His fasting blood glucose concentration is 101 mg/dL (5.61 mmol/L) (reference range, 70-110 mg/dL [3.88-6.11 mmol/L]), and his blood pressure is 134/86 mm Hg.
Which of the following findings is the greatest predictor of insulin resistance in this child?
Normal insulin concentration
Elevated LDL-cholesterol concentration
Elevated triglyceride concentration
Elevated small, dense LDL particle number
Elevated HDL-cholesterol concentration
SEE CORRECT ANSWER AND EXPLANATION