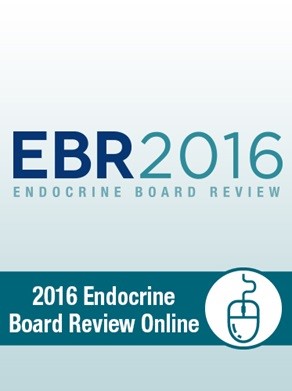 This issue highlights Endocrine Board Review Online. Test your clinical knowledge and prepare for your exam with access to live course session recordings and case questions. Available on the online store.
Clinical Vignette
A 50-year-old woman presents to your office with concerns of hirsutism and male-pattern balding. She had normal menarche at age 12 years and regular menses with 2 uncomplicated pregnancies. Her periods stopped 1 year ago, and she has noticed increased facial hair in a beard-like distribution over the past 18 months, some male-pattern balding, and increased hair on her breasts.
On physical examination, her BMI is 27 kg/m2, and blood pressure is 150/90 mm Hg. She is very muscular. She has terminal hairs on her chin in a full-beard distribution, 15 hairs on her areolae, and hair above and below the umbilicus. Her clitoris measures 2.8 × 1.7 cm.
Laboratory test results:
LDL cholesterol = 151 mg/dL (3.91 mmol/L)
Testosterone = 350 ng/dL (12.1 nmol/L)
DHEA-S = 120 μg/dL (3.3 μmol/L) (reference range, 15-200 μg/dL [0.41-5.42 μmol/L])
Prolactin = 15 ng/mL (0.65 nmol/L)
FSH = 19 mIU/mL (19 IU/L)
LH = 18 mIU/mL (18 IU/L)
Hemoglobin A1c = 5.8% (40 mmol/mol)
Which of the following is the best next test to evaluate this patient?
Transvaginal ultrasonography
Dexamethasone suppression test
Pituitary MRI with and without contrast
Ovarian vein sampling
SEE CORRECT ANSWER AND EXPLANATION