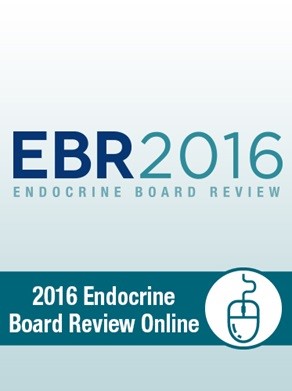 This issue highlights Endocrine Board Review Online. Test your clinical knowledge and prepare for your exam with access to live course session recordings and case questions. Available on the online store.
Clinical Vignette
A 36‑year‑old man is referred for evaluation of a 3-month history of tender gynecomastia and a high total testosterone concentration. He tells you he has been following the "hCG diet" for the last 2 months, which combines oral hCG and a very low-calorie diet (500 calories/day). He has lost 10 lb (4.5 kg), but has been feeling tired. He reports no heat intolerance, diaphoresis, or tachycardia. His medical history is remarkable for hepatitis C and premature male-pattern baldness. His medications include finasteride, 1 mg daily, which he started 1 year ago to treat alopecia.
On physical examination, his height is 73 in (185.4 cm), BMI is 22 kg/m2, and pulse rate is 72 beats/min. His thyroid gland is normal. He has tender bilateral gynecomastia measuring about 3 cm bilaterally. His phallus is normal, and testes are 15 mL bilaterally.
Laboratory test results:
Total testosterone = 900 ng/dL (31.2 nmol/L) (reference range, 300-900 ng/dL [10.4-31.2 nmol/L])
Free testosterone (calculated) = 28.0 ng/dL (0.97 nmol/L) (reference range, 9.0-30.0 ng/dL [0.31-1.04 nmol/L])
Estradiol = 90 pg/mL (330.4 pmol/L) (reference range, 10-40 pg/mL [36.7-146.8 pmol/L])
FSH = 0.5 mIU/mL (0.5 IU/L) (reference range, 1.0-13.0 mIU/mL [1.0-13.0 IU/L])
LH = 0.5 mIU/mL (0.5 IU/L) (reference range, 1.0-9.0 mIU/mL [1.0-9.0 IU/L])
Which of the following most likely explains his hormone profile?
Elevated sex hormone–binding globulin due to hepatitis C
Primary hypothyroidism
Oral hCG
Decreased 5α-reduction due to finasteride
Testosterone abuse