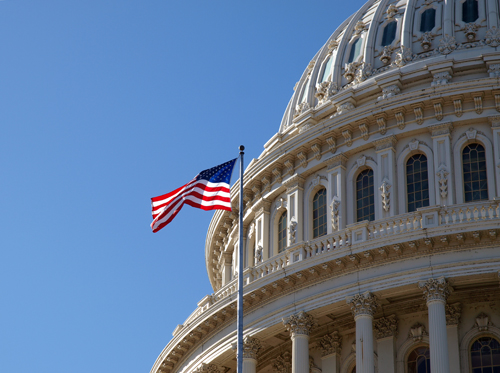 Here is a quick run down of major issues being discussed by policymakers from an endocrine perspective and the Society's current advocacy work. Let us know if you would like additional information or have any questions.
What's Happening in Washington
The "Skinny" on the President's Proposed Budget –On March 11, the White House unveiled a summary of its fiscal year (FY) 2020 budget request. The request is not detailed and, therefore, known as a "skinny" budget proposal in DC. We anticipate that this "skinny budget" will be followed by a more detailed budget request on or around March 18. As a result, details pertaining to all federal agencies and departments are not yet available, but here is the skinny on the skinny:
The budget request adheres to the Budget Control Act spending caps in current law. As a result, non-defense discretionary spending would be reduced by approximately $55 billion (9%) compared to FY 2019 (consequently, we continue to advocate for Congress to raise the caps).
The President proposes to cut a number of science funding agencies, including that National Institutes of Health and the National Science Foundation. Under the proposal, the NIH budget would decrease by nearly $5 billion to approximately $34.4 billion, while NSF would see its budget decrease by approximately $1 billion to $7.1 billion.
As in previous years, the administration's proposal is being considered "dead on arrival" on Capitol Hill; it is likely that the administration's proposals for non-defense spending will be largely if not completely ignored by House and Senate Appropriations Committees as they begin drafting FY 2020 bills. However, the proposed budget does identify the administration's priorities and 2020 campaign platform, so it is an important document to understand.  For example, the administration included a fact sheet with its broad ideas for reducing drug prices.
Even more disturbing than the President's proposal is that the Administration notified Congress of its intent to reallocate $385 million of FY 2019 appropriated funds from programs at the Department of Health and Human Services to the Office of Refugee Resettlement. The reallocation takes money away funds for medical research at NIH and prevention programs at CDC among others. You can click here for more information about which programs will be hurt most by the transfer.
Drug Pricing – Congress continues to investigate causes for increasing drug prices and identify potential solutions.  This week the House Energy & Commerce Committee conducted a hearing on reducing barriers to market competition and the Senate Finance Committee announced it will bring in the leaders of the major Pharmacy Benefit Managers (PBMs) in April to learn more about drug price rebates and their impact on consumers.
Women's Health Research – The NIH announced a 5-year strategic plan for research on the health of women.  The trans-NIH strategic plan provides a new framework for NIH-funded women's health research, representing a commitment to fill gaps in knowledge about the health of women across a wide range of diseases and conditions. Additionally, the plan addresses the professional development of women in biomedical careers.  We had provided comments to the Office of Women's Health Research in 2017 to help develop the plan and many of our recommendations were incorporated:
The Endocrine Society is hard at work advocating Congress to increase funding for NIH in FY2020 and reauthorize the Special Diabetes Program before September 30. It is critical that all members of Congress hear from YOU about why these issues are important!
If you have any trouble navigating our advocacy software, please refer to our Contact Congress guide.
What We Are Working On:
Grassroots Advocacy Campaigns – We currently have online advocacy campaigns on two priority issues:  funding for the NIH and the Special Diabetes Programs.  All Endocrine Society members are urged to take action today by joining these campaigns.
Drug Pricing – This week Endocrine Society member Al Powers came to DC to join us in visiting House and Senate committees investigating drug pricing.  We shared our recommendations from our position statement and urged Congress to address insulin pricing as a special case.  Dr. Powers also joined Chief Professional Services Officer Rob Lash and Chief Communications Officer Aaron Lohr to tape a podcast on insulin pricing and educating physicians about older, lower cost insulins.  We will keep you apprised when the podcast is ready to air.
Accurate Testing of Hormones – We sponsored a congressional briefing with the Partnership for the Accurate Testing of Hormones (PATH) on Public Health and Hormone Test Standardization.  Endocrine Society member and Director of Clinical Standardization Programs at the Centers for Disease Control and Prevention Hubert Vesper educated congressional staff about CDC's program, why all hormone assays are not standardized now, and how standardized tests improve quality and benefit public health.  More information is available on PATH's website www.hormoneassays.org 
Telehealth – We are working on a response to the request for information by the Congressional Telehealth Caucus and a bipartisan coalition in the Senate as they begin to craft bicameral telehealth legislation.  We continue to meet with congressional offices to promote our idea for a new telehealth pilot that would allow endocrinologists to use telehealth to treat Medicare beneficiaries in skilled nursing facilities with osteoporosis.
Endocrine Society in the News – A New York Times op ed focused on how routine glucose monitoring may be unnecessary for people with Type 2 diabetes who are not on insulin cited the Endocrine Society recommendations for the Choosing Wisely Program.